Oakley
RBISS CH KADENCE ACE OF HEARTS (AI)
DOB: 24 July 2018
8xBCC x 13 RBCC

April 2019 Oakley goes Reserve Best In Specialty Show at 9mths @ The Boxer Club inc under Sandra Parle (UK)
Baby Oakley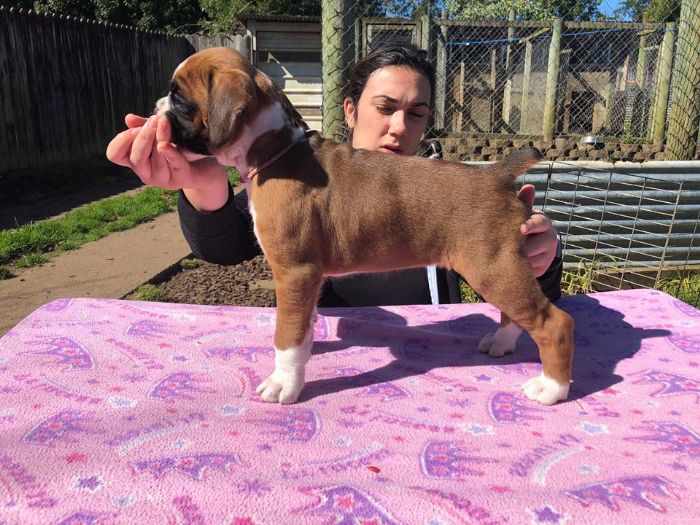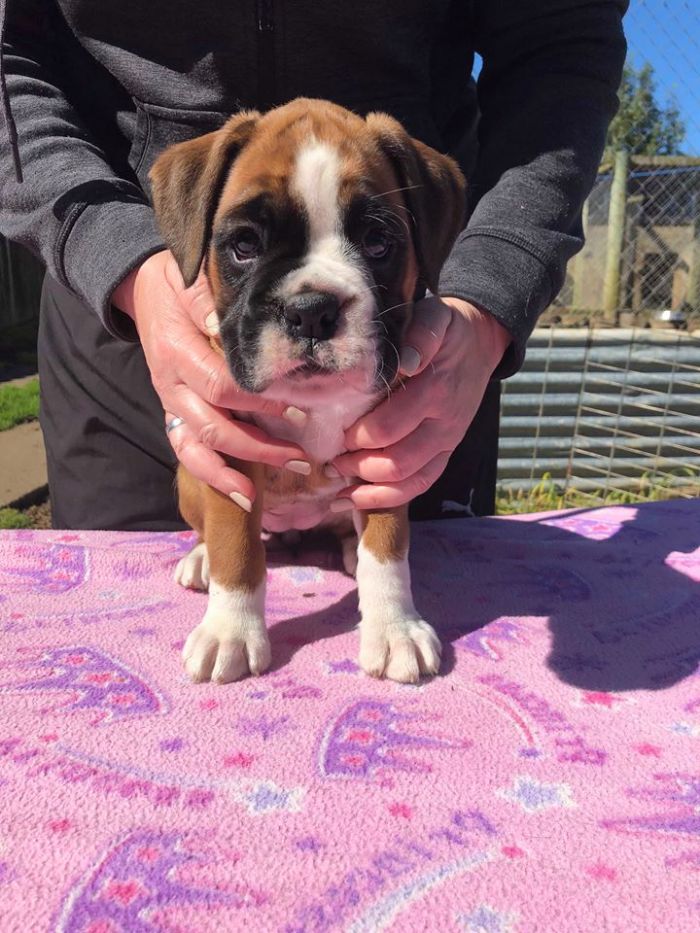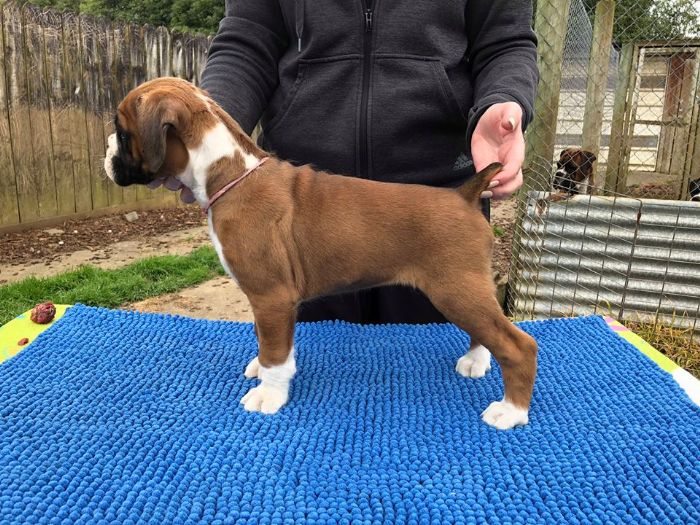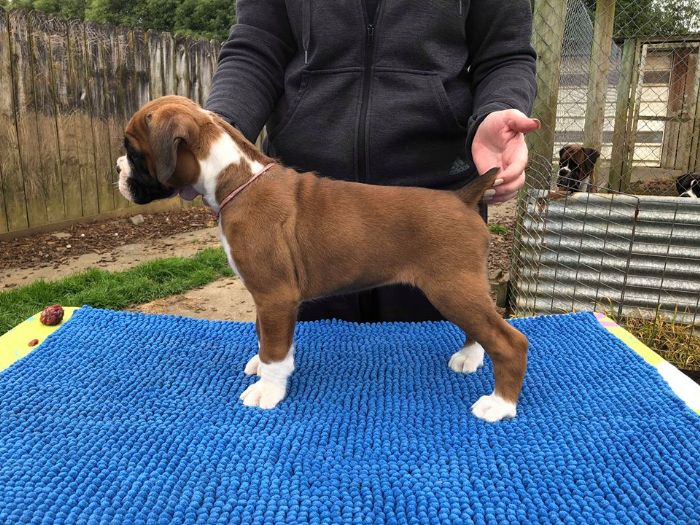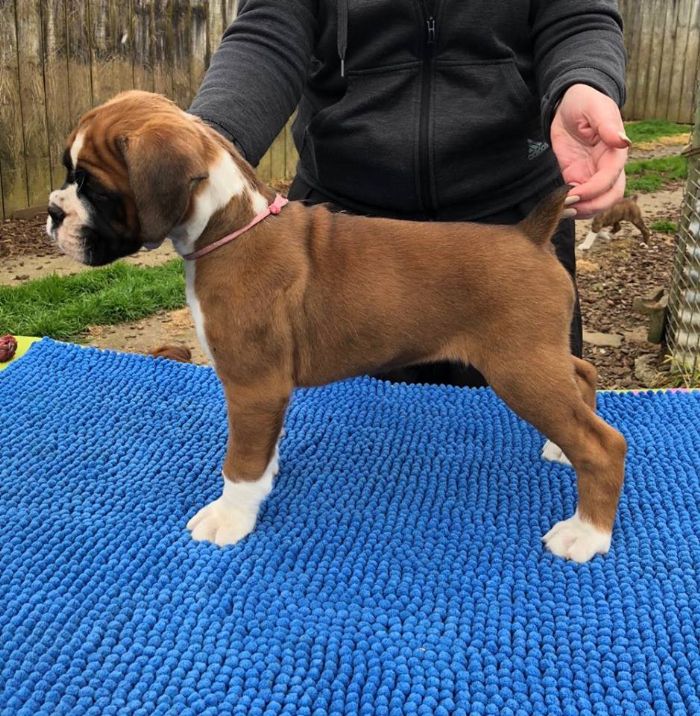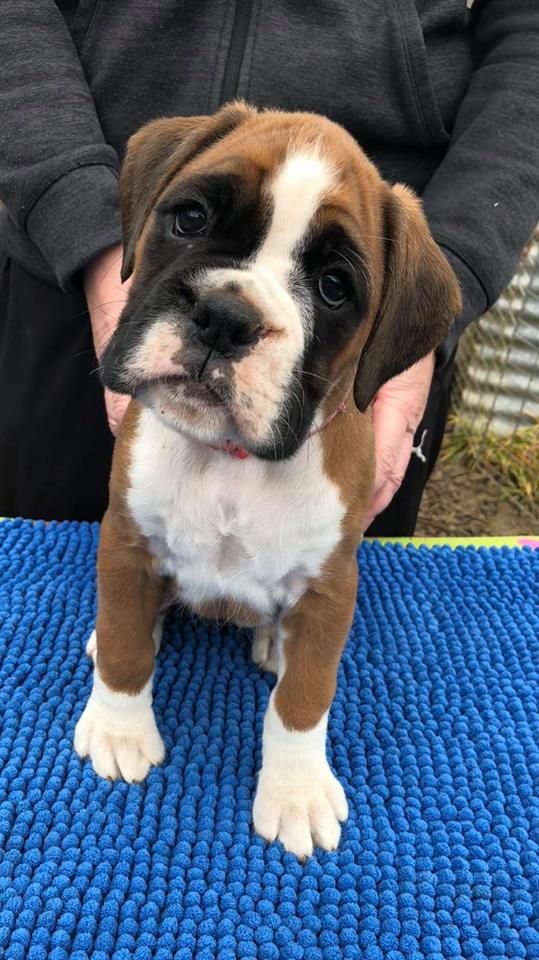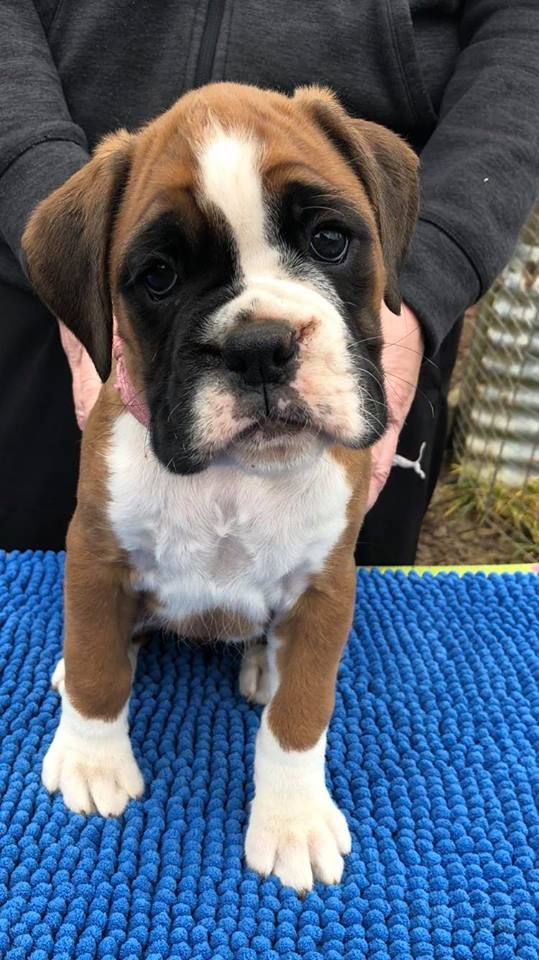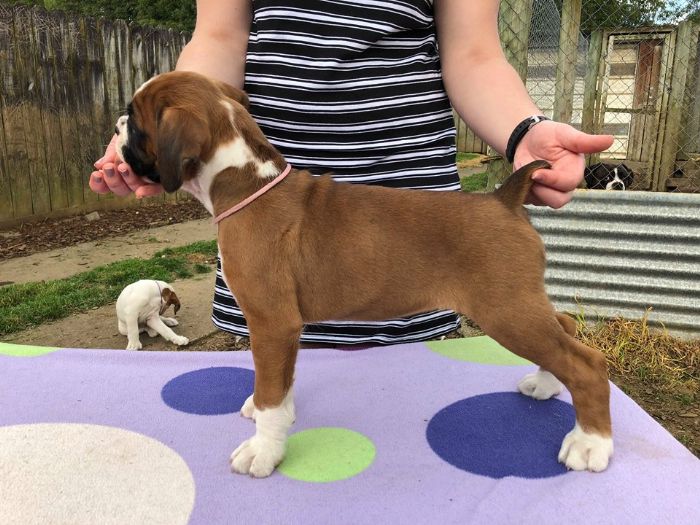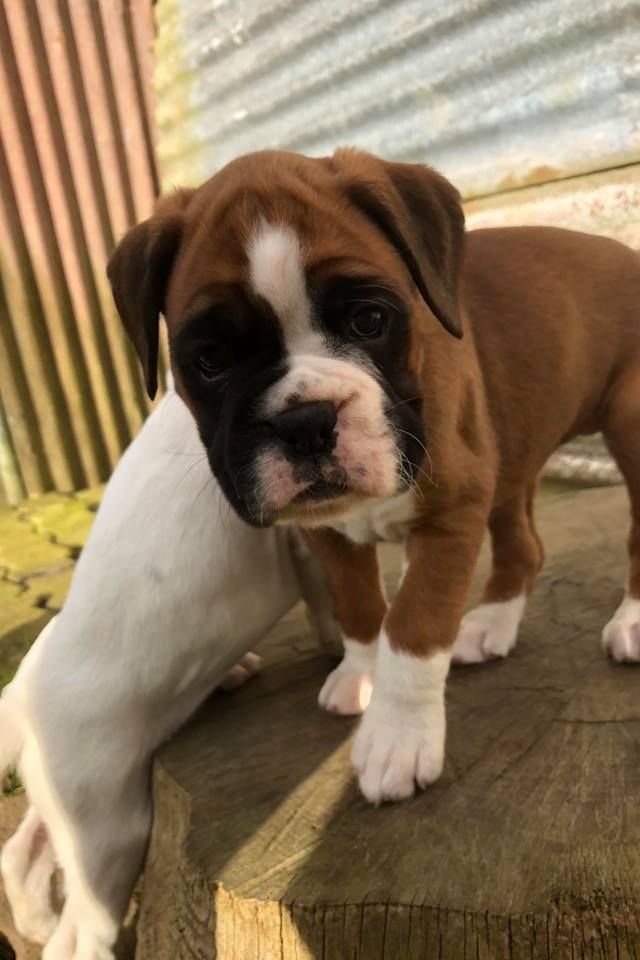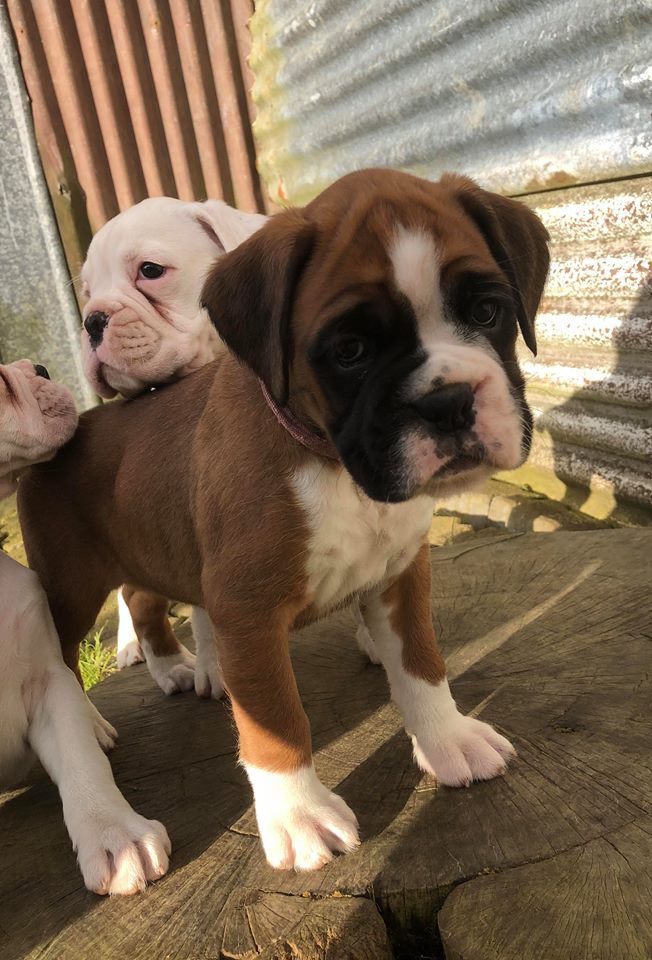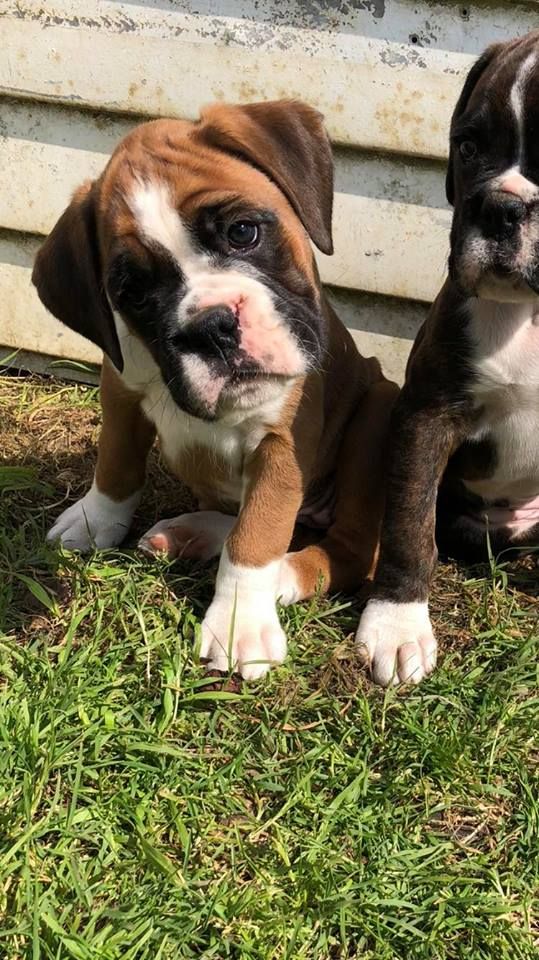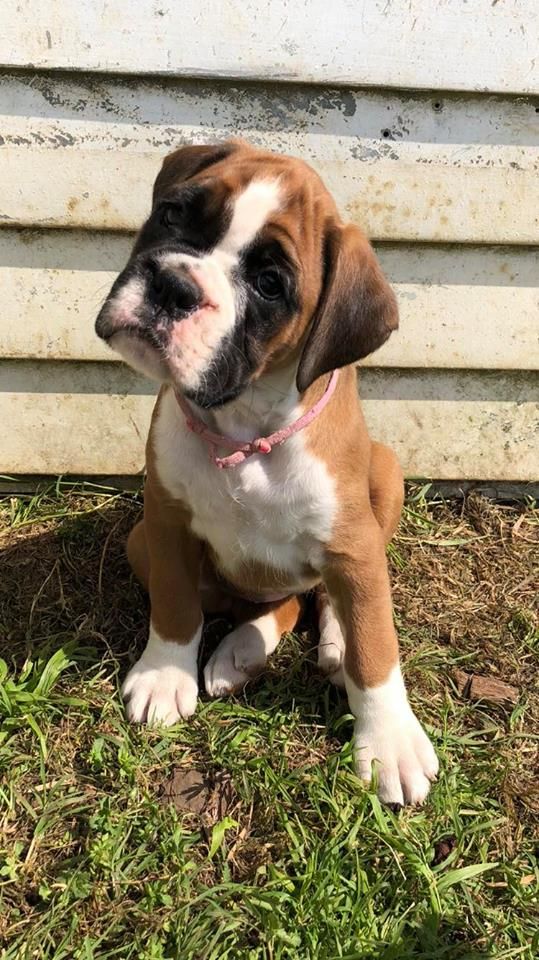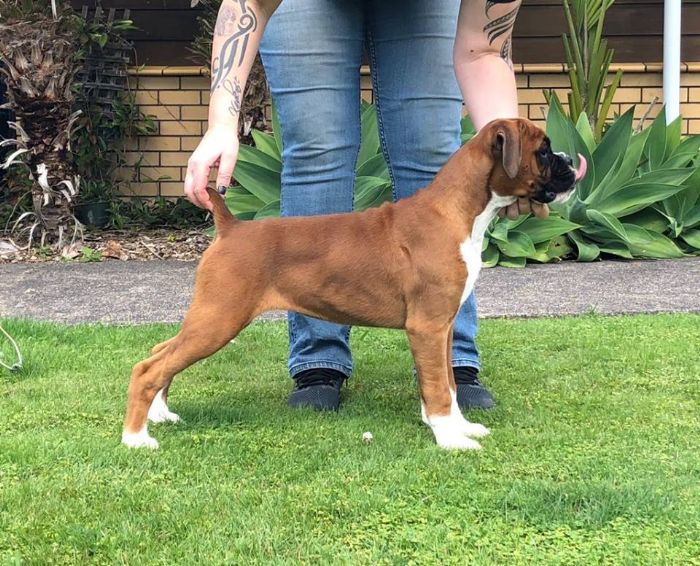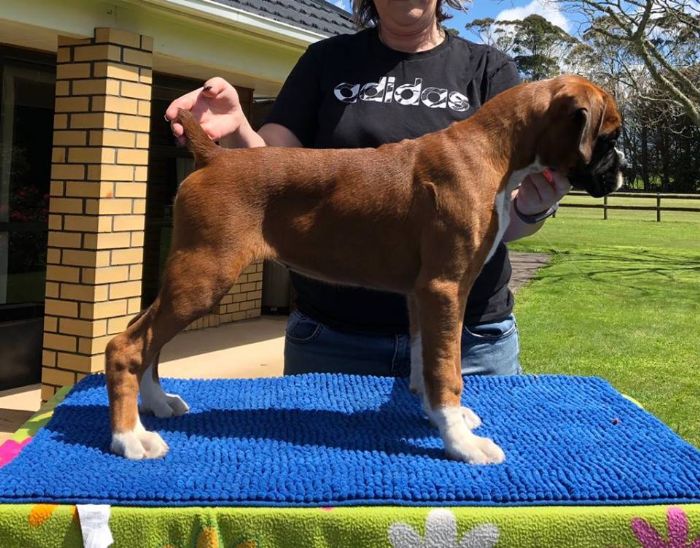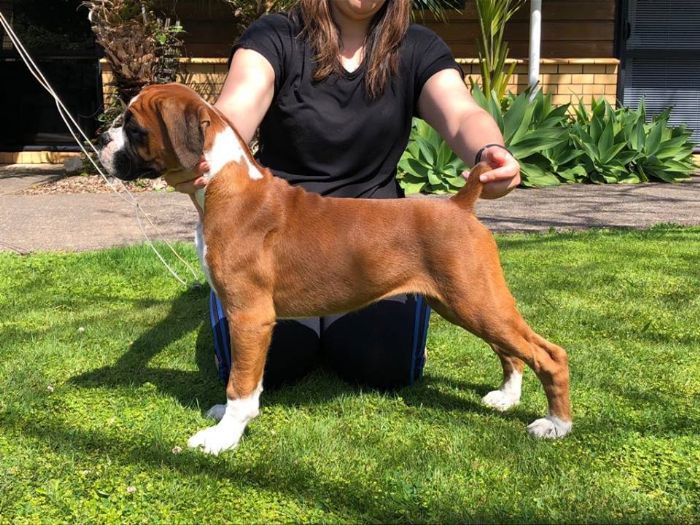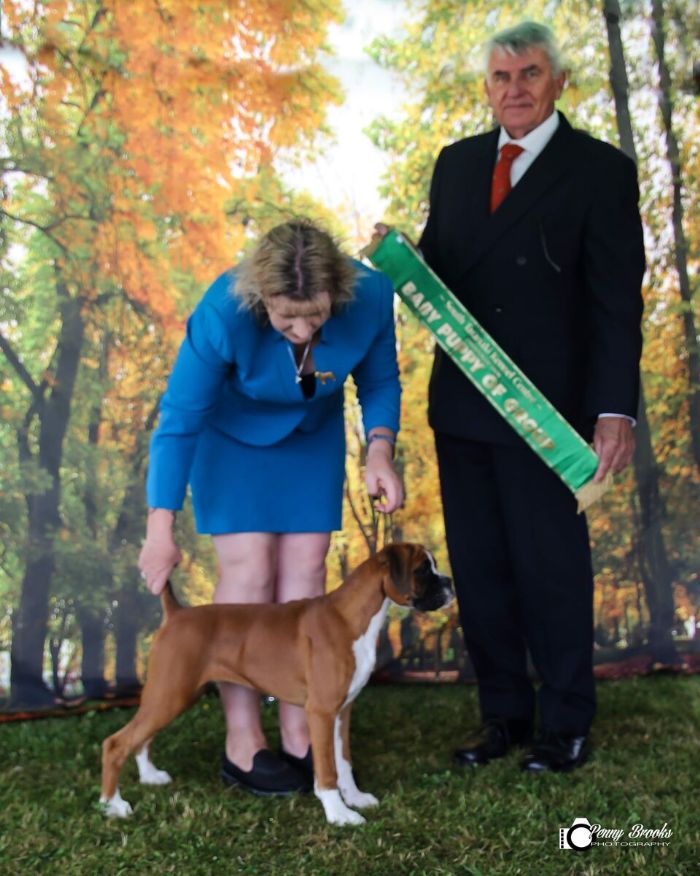 Sth Tarakaki KC - Nov 18 BABY PUPPY OF GROUP under Mr G Maudlen (Sth Aust)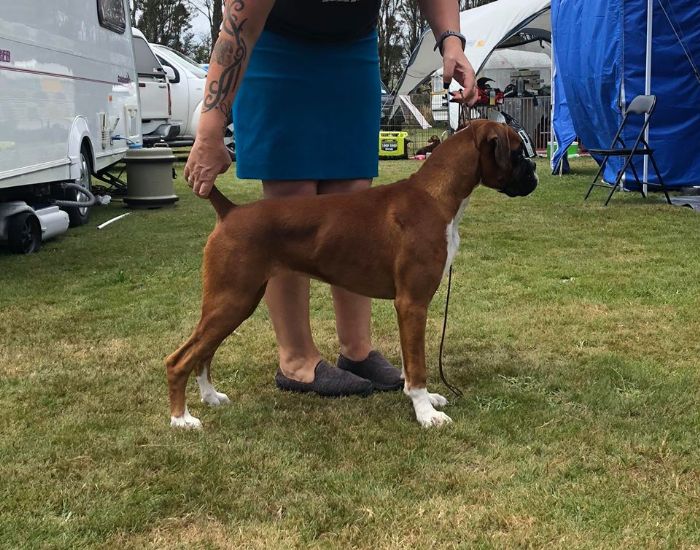 Oakley @ 5 mths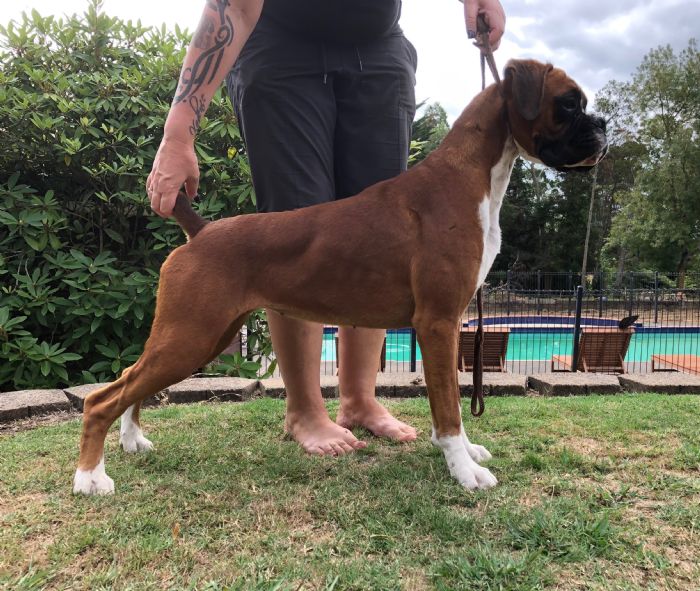 Oakley @ 7 mths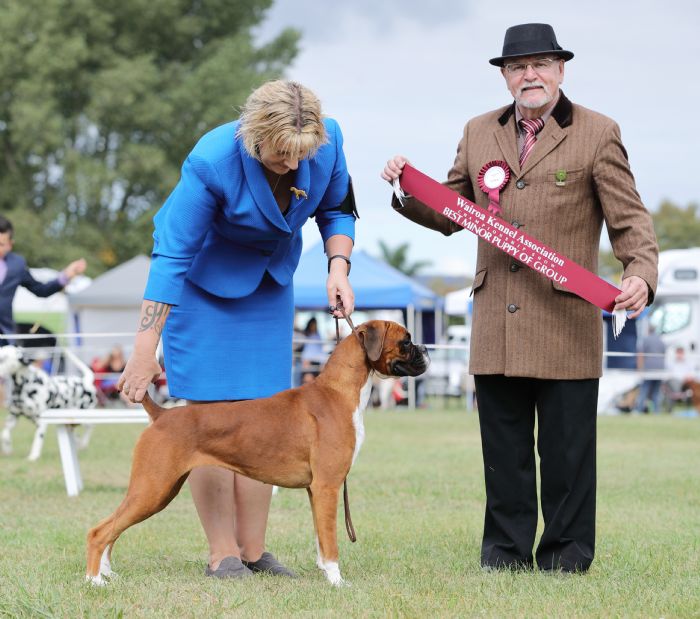 Wairoa KA 30.03.19 MINOR PUPPY OF GROUP under Mr S Warry (WA)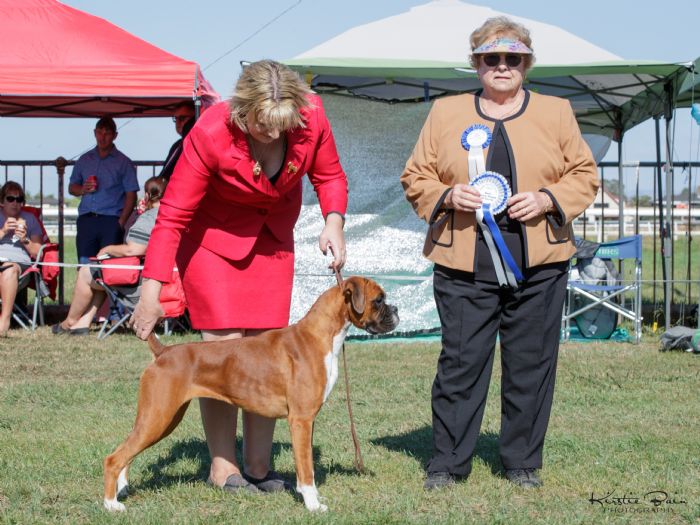 Napier KC 31.03.19 MINOR PUPPY OF GROUP under Mrs V Carter (QSLD)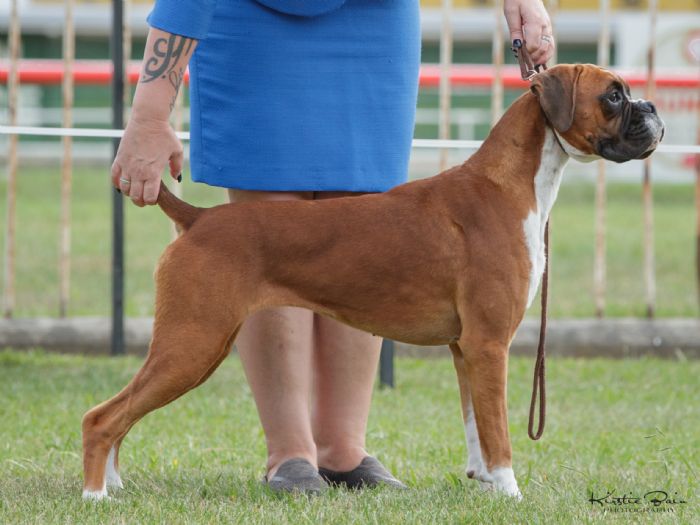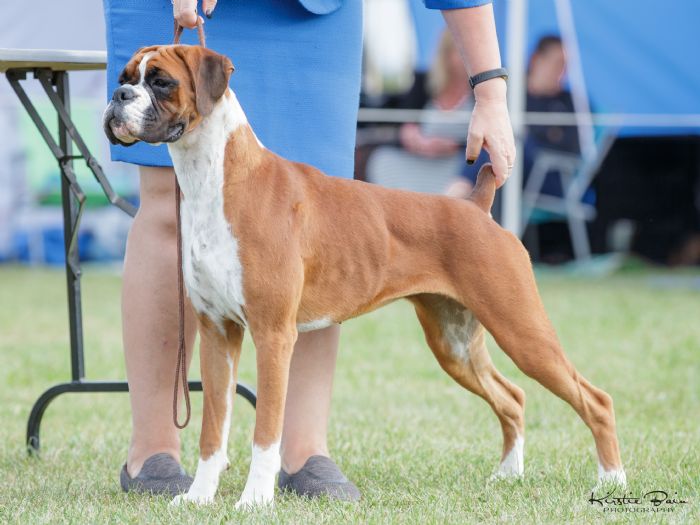 Oakley @ 8 mths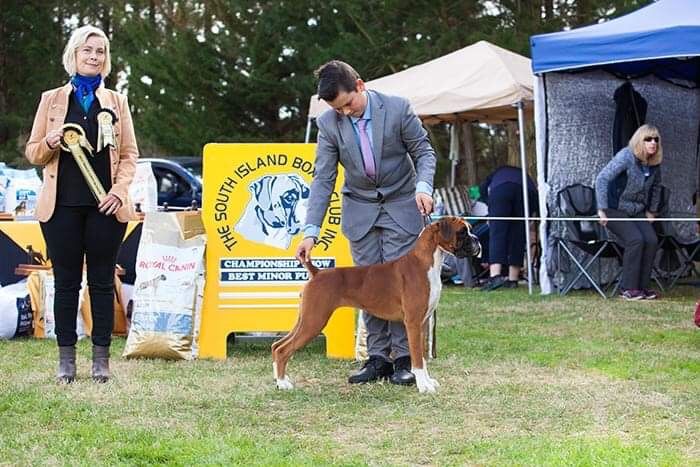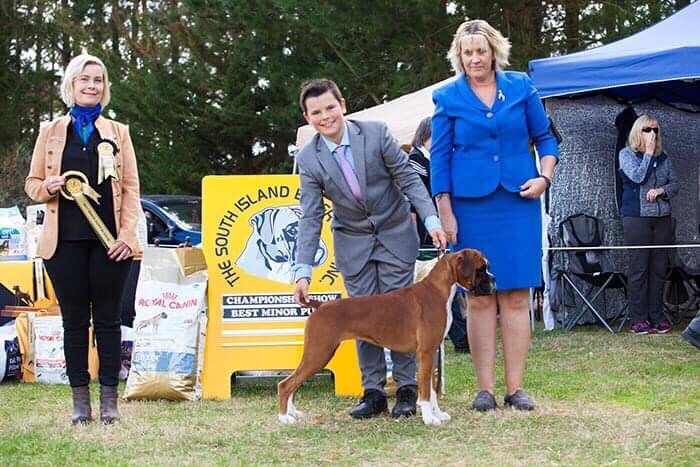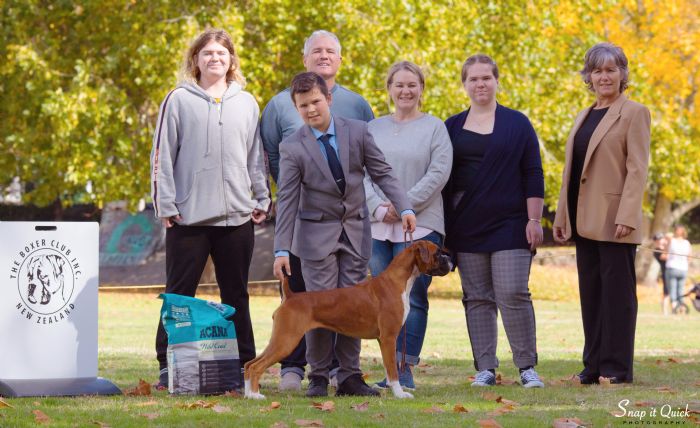 2019 RESERVE BEST IN SHOW - Judge: Sandra Parle (UK)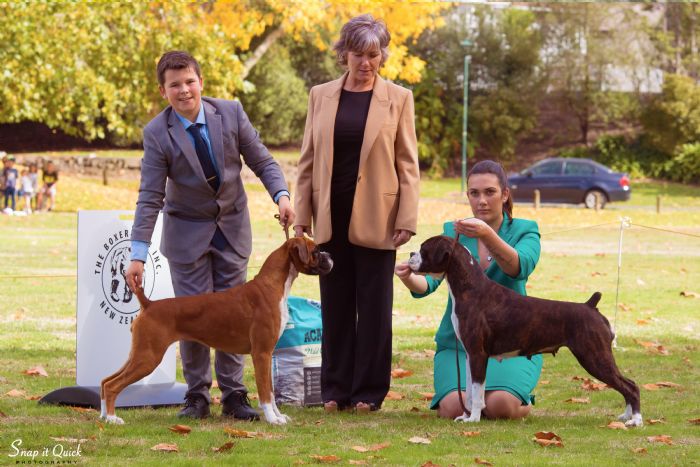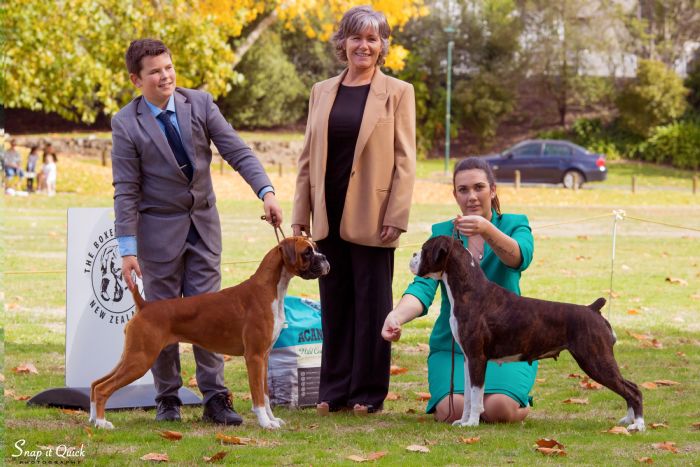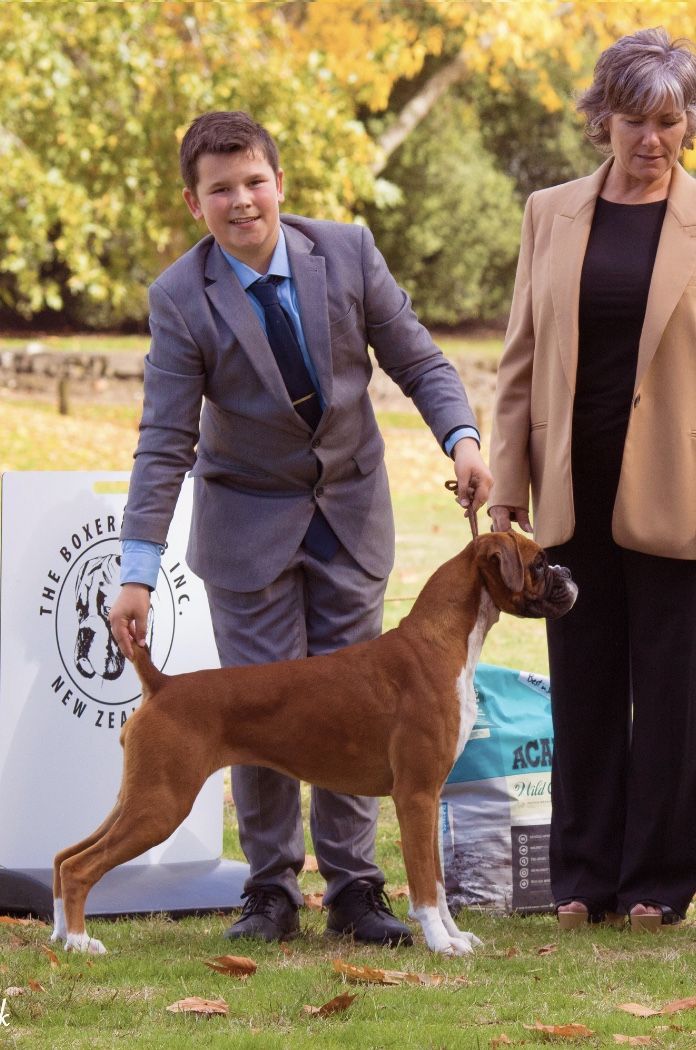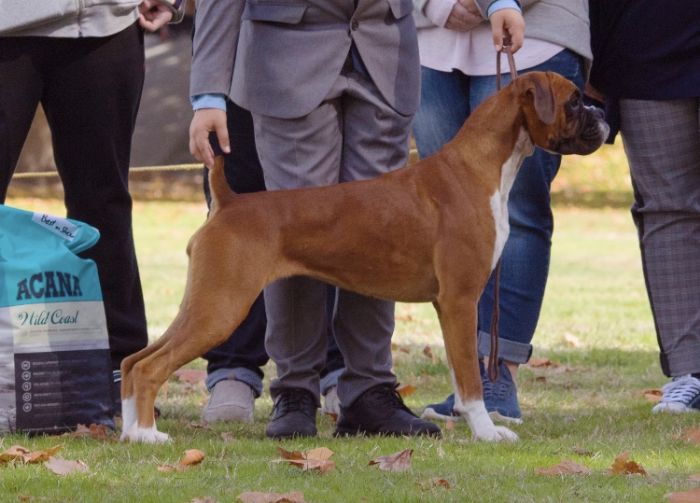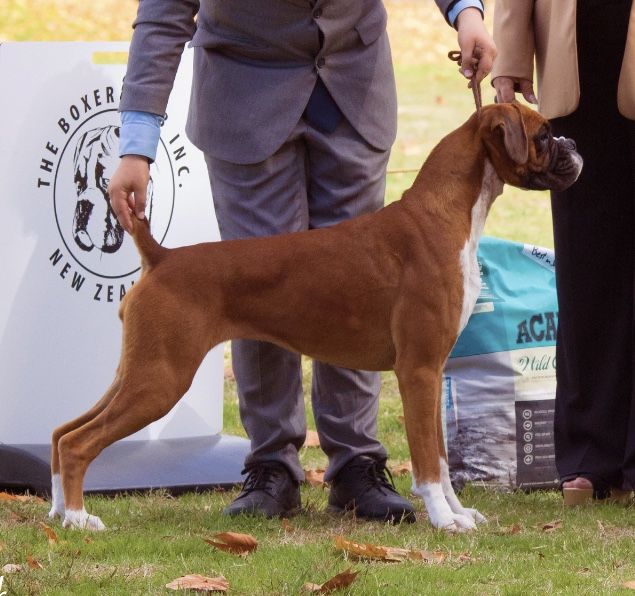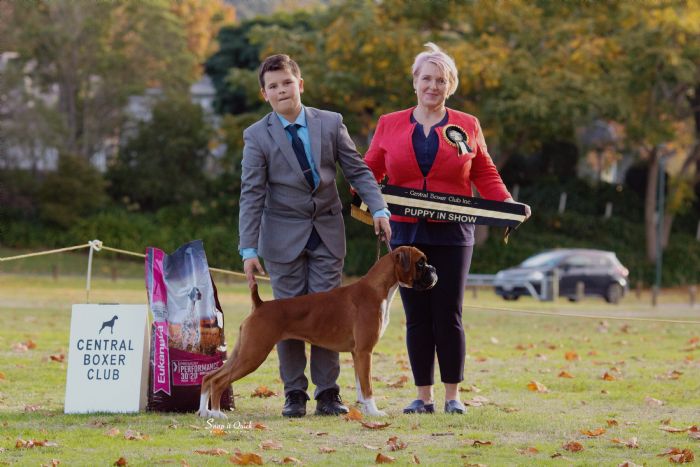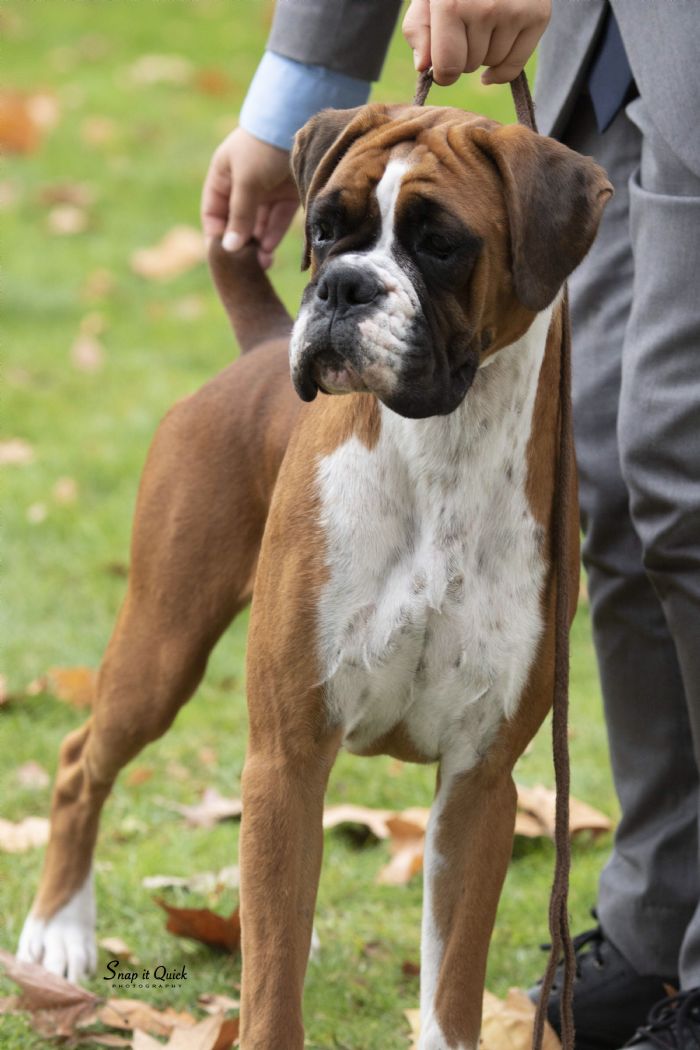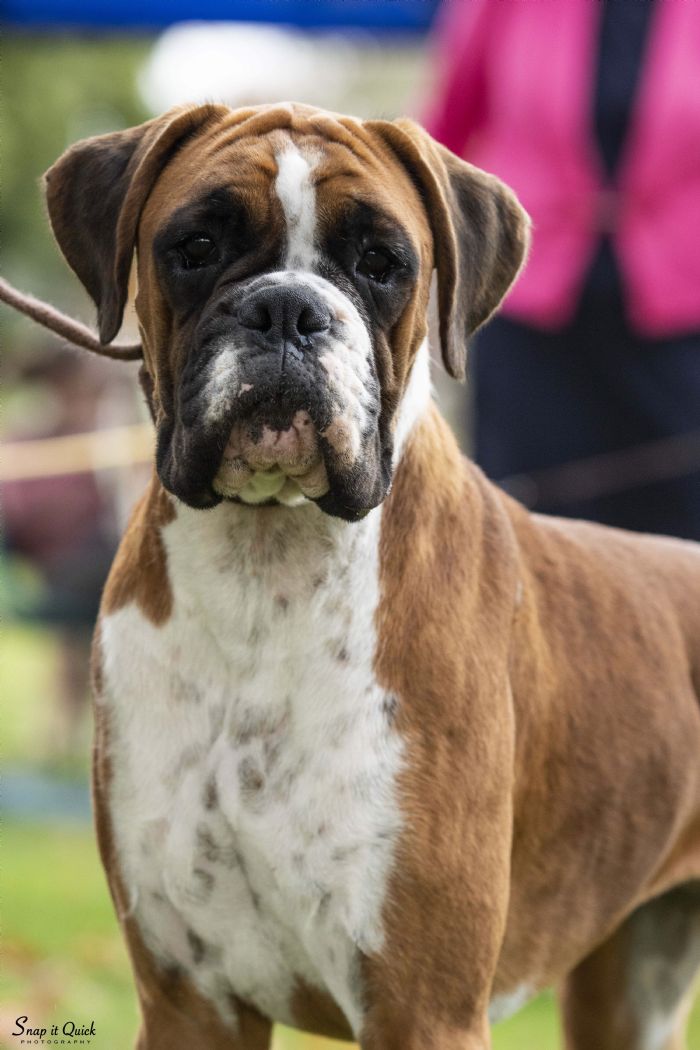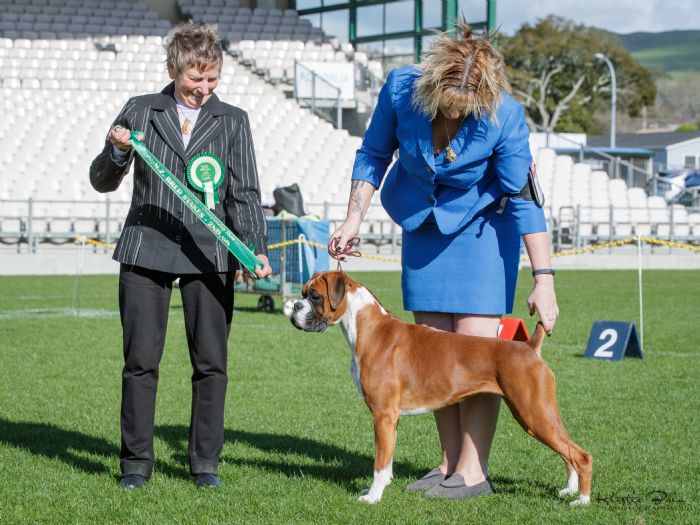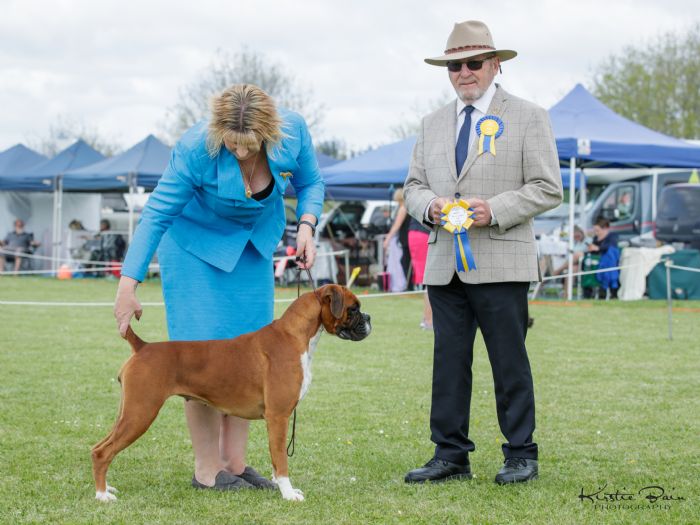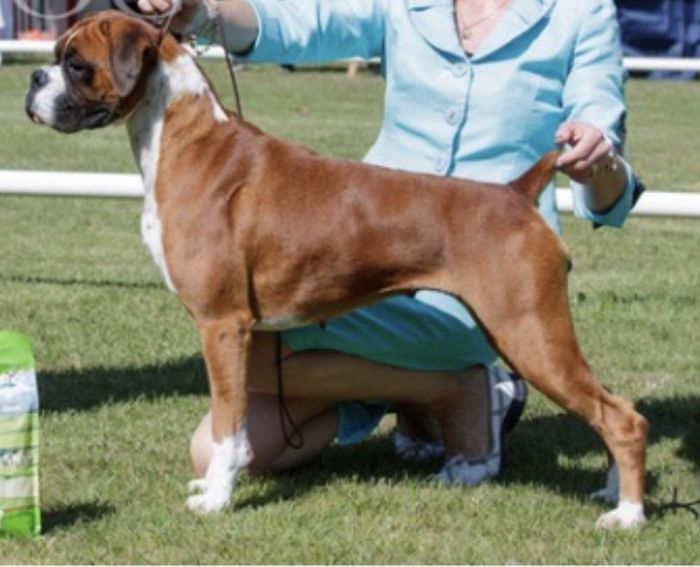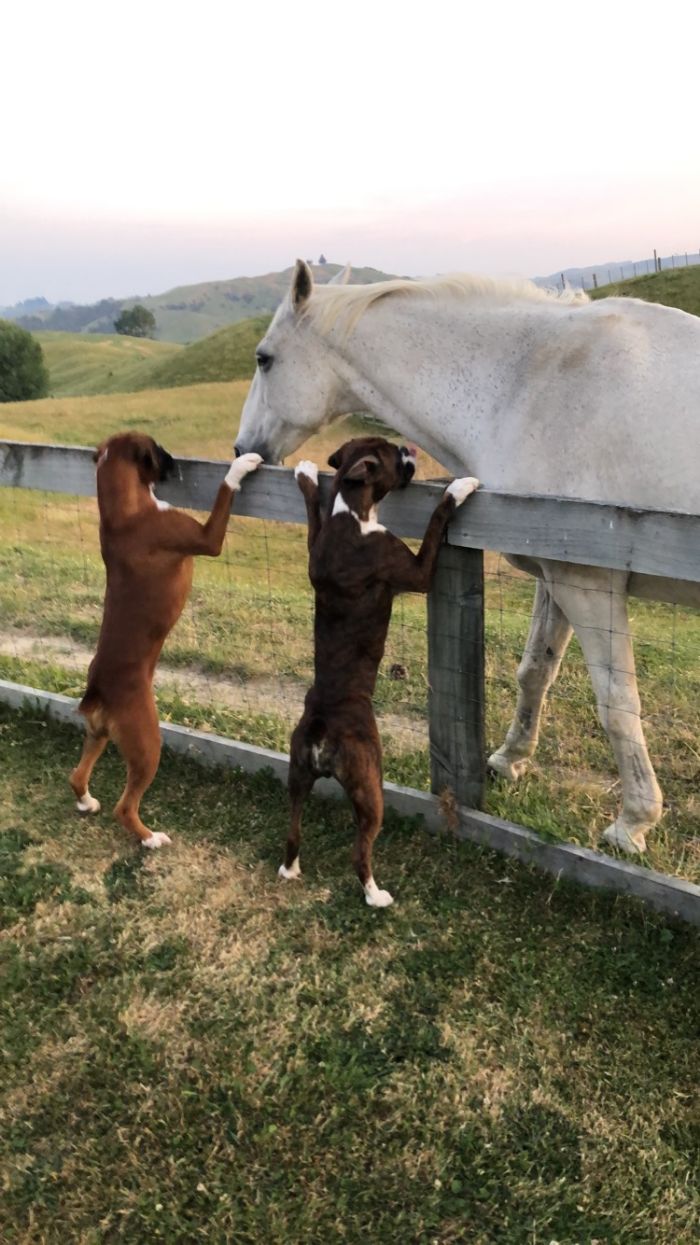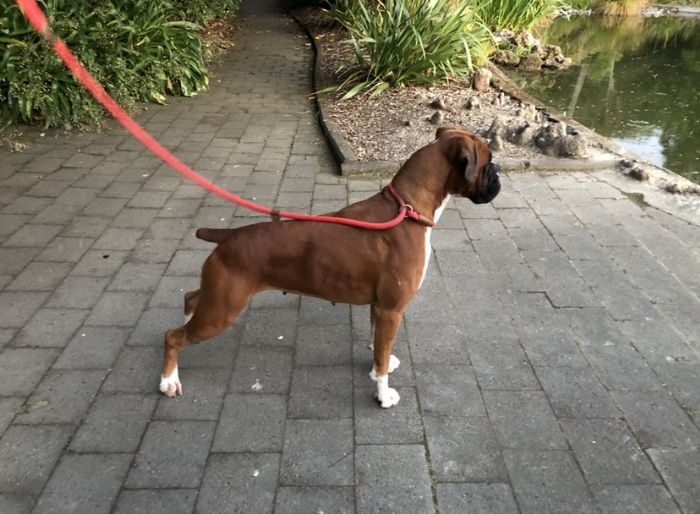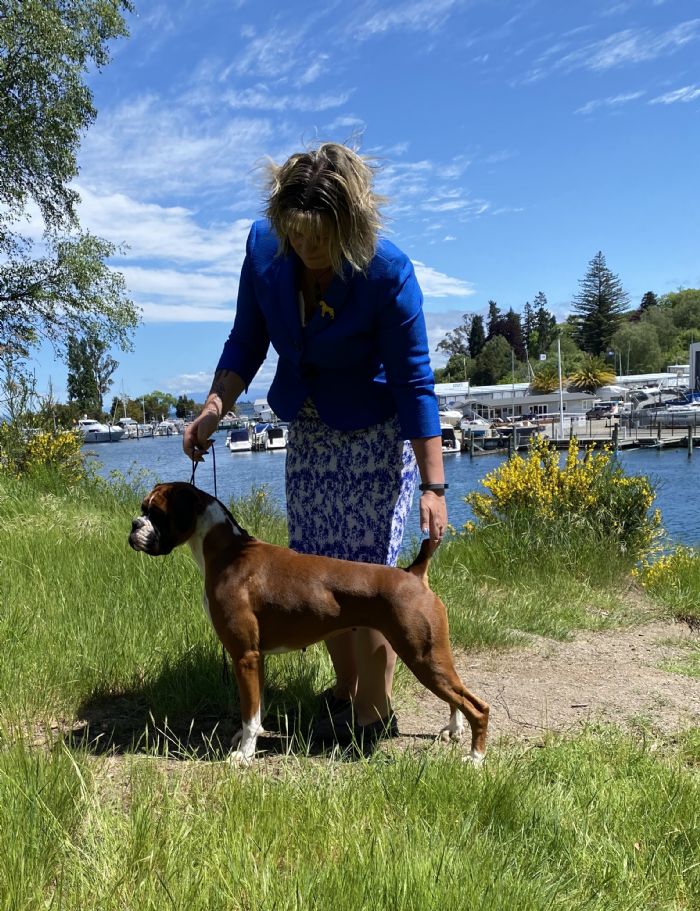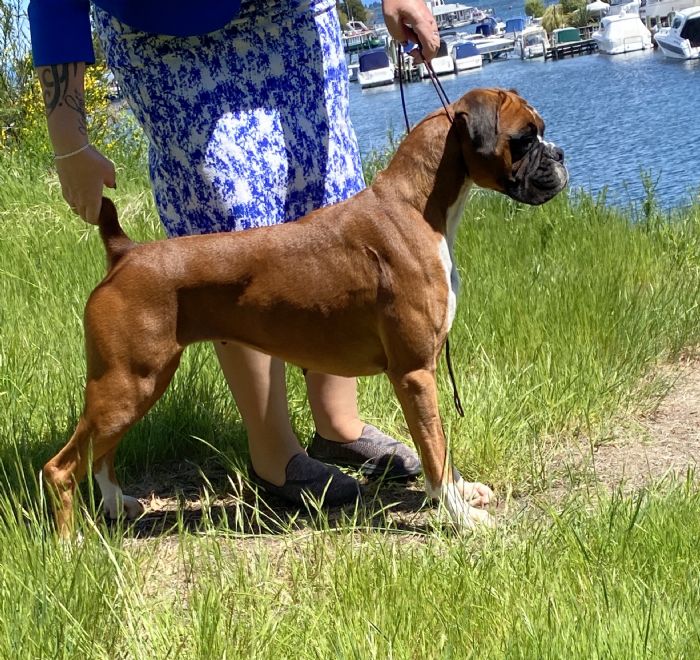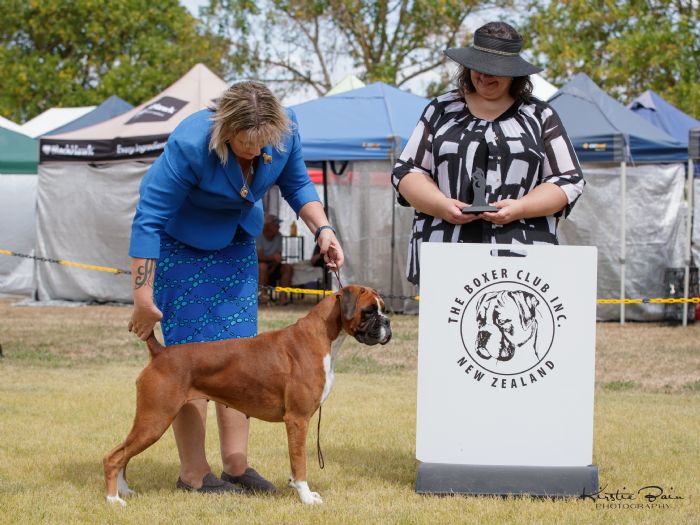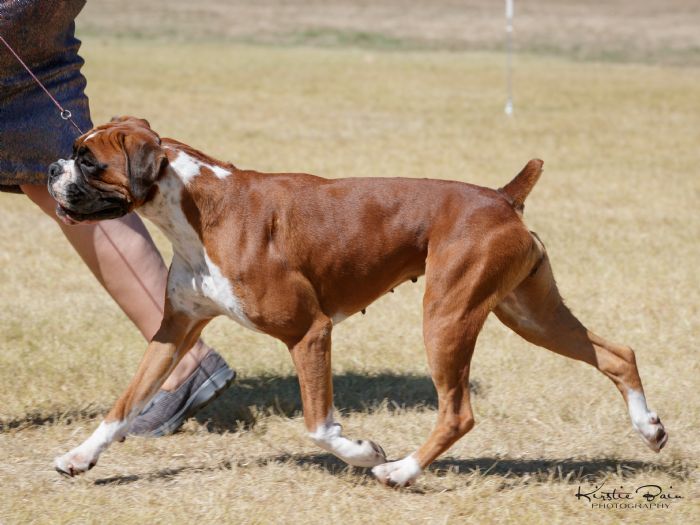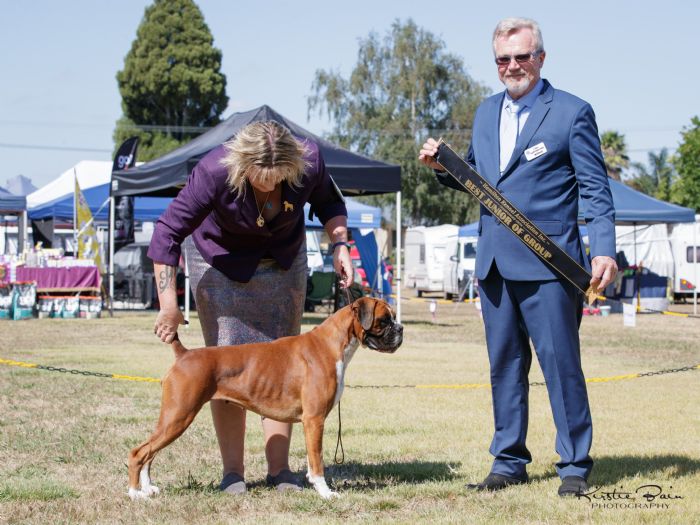 Critiques:
09 March 2020 - The Boxer Club Inc, Judge: Helene Owen (Ronin Boxers NZ)
Junior Bitch
1st: Excellent bitch of good breed type. Elegant and feminine.
Good ribcage and strong loin, slightly higher leg woud complete the square picture.
Strong topline. Good front angulation and excellent hind quarter.
Head could be cleaner but good muzzle. In my final 4 for BCC. JUNIOR IN SHOW & Best Red

27 April 2019 - Central Boxer Club, Judge: Dawn Thomas (Ireland)
Puppy Bitch (4)
1. Kadence Ace Of Hearts, Red bitch super smart outline, long neck follows
into well laidback shoulder, deep chest, good amount of bone for
substance while still being feminine, short coupled bang on tail set good
turn of stifle without exaggeration, well muscled quarters. Moved with
purpose, balanced head, dark eye with typical boxer expression, good
mouth, she along with her young handler will have a very bright future. PUPPY IN SHOW
27 April 2019 - The Boxer Club Inc, Judge Mrs Sandra Parle (UK)
Puppy Bitch 9 - 12 months
1st: Downie's Kadence Ace Of Hearts.
A 9 month r&w bitch with such a promising future and I'm sure she won't be long in gaining her title.
One to look for in the Groups I think. Outstanding profile and balanced throughout. Super front and rear
quarters with a shapely muscular body. Depp brisket, well sprung ribs and correct tail set and carriage.
Beautiful feminine head, her ears were set high and wide on her skull, Cheeks were well developed, stop
defined with good muzzle and mouth. Her very talented young handler showed her to her full potential
and I was pleased to award them RCC and RBIS (she pushed the open bitch for the CC, give her another
6-12 months). RESERVE BEST IN SHOW & PUPPY IN SHOW
19 April 2019 -
South Island Boxer Club 65th: Judge Mrs Linda Naslund (Finland)
Minor Puppy Bitch (2)
1. Downie's KADENCE ACE OF HEART (AI) :
MINOR PUPPY IN SHOW
R/W Square. Pretty head with dark eyes and sweet expression, a few less wrinkles would make it even better. Lovely neck & topline, strong back. Good brisket for age, a bit straight in upper arm, excellent hindquarters. Moves very well, nice temperament and in perfect condition.
SHOW RESULTS
1x Reserve Best of Specialty Show
1x Best Minor Puppy in Specialty Show
2x Best Puppy in Specialty Show
1x Best Junior in Specialty Show
1x Reserve Best of Group
3x Best of Breed
5x Reserve Best of Breed
2x Minor Puppy Of Group
1x Junior of Group
3x Intermediate of Group
1x Intermediate in Show
​Oakley's Pedigree:
S. AM GRCH Ho-Pa's Grand Slam (USA)
S.

AM GR CH CARILLON'S M V P

S.

AM CH CAPRI'S WOODS END SPELLCASTER

S.

AM CH WOODS END CROWN SABLE

D.

AM CH RUMMER RUN'S CAPRI

D.

AM CH CARILLON ELLIE'S GRAND FINALE

S.

AM CH DONRAY'S BUTCH CASSIDY THE KID

D.

AM CH CARILLON ELEGANCE RUMMERRUN

D.

AM CH HO-PA'S PENNY FOR YOUR THOUGHTS

S.

AM CH PORT O CALLS FIRST MATE

S.

AM CH SAMPSON CAY

D.

KARIZMA SEASIDE COOBERPEDY

D.

PORTOCALLS BLACK DIAMOND

S.

AM CH RUMMER RUN'S HIGH NOON

D.

CJ'S FINAL ANSWER

D. Kadence The Heartbreaker (AI)
S.

ENG CH Winuwuk The Outlaw

S.

ENG/IRE CH Winuwuk Lust At First Sight

S.

ENG CH Winuwuk Lust In The Dust

D.

ENG CH Winuwuk Story Book

.
D.

Winuwuk All About Eve

S.

ENG CH Designer Game At Glenauld

D.

Faerdorn Chick Flick At Winuwuk

D. NZ CH Kadence Wild At Heart (AI)

S.

AUST CH Galicar Contradiction (IMP UK)

S.

ENG CH Belvern Preminition

D.

Daltamie Riz 'N' Shyne over Galicar

D. NZ CH Natura How You Doin At Kadence
S. Eischied Collaboration
D. Vivyd Summertime (IMP UK)
Contact Details
Aynsley Downie
Pukekohe, Auckland, NEW ZEALAND
Phone : 021 831007
Overseas Ph : +6421 831007
Email : [email protected]