Kennel Profile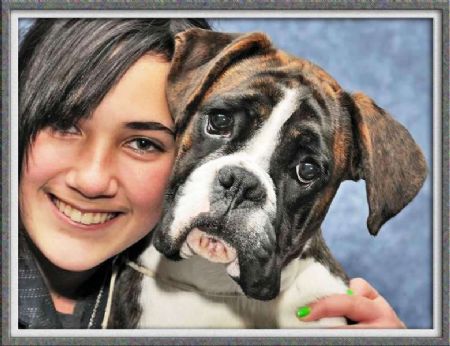 KADENCE BOXERS was Registered with the New Zealand Kennel Club in 2004, we are a small kennel based in South Auckland, New Zealand.
I always had a love affair for the Boxer, but unfortunately they had to take second best to my team of horses, as I was full time Training and Eventing them around the country
The Beginning
But in 2000 I purchased my first Red boxer "Harley" he was a Grandson to the English Import "NZ CH Rustar Play The Double A"
This Lovely boy gave me so much fun & enjoyment.
But at the end of 2001 I lost my pride & joy in a very tragic accident.
After this devastating time I just couldn't cope with not having a Boxer in my life.
So in 2002 I purchased another Red Boxer, but this time a Bitch "Kiya"
In Mid 2004 "Kiya" produced for me my lovely "Aja" NZ CH Kadence Final Fantasy.
The Start
In Nov 2004 we entered our first Dog Show with
"Aja" our 4mth Red & White homebred Bitch, where she continuously took out Baby Puppy of Breed at most shows.
In Jan 05 at only 6mths "Aja" received her first BITCH CHALLENGE
& Res Best of Breed
under Mrs E Norris of Tasmania, Australia.
And from then on the Bug had really set in.
In only 2yrs of campaigning this lovely Bitch she received her 8th CHALLENGE & RESERVE BEST OF GROUP under Mr B G Robinson (SOUTH AFRICA) to make her into a NEW ZEALAND CHAMPION.
And So It Began
At the end of 2007 I was offered "Joey" by her breeder and now a very good friend of mine
Shona Harrison
(Natura Boxers)
as she was moving over to Africa to pursue her career...
Sight unseen Joey was put on a plane and when she arrived at Auckland airport it was
She has been the most spectacular bitch to own and has had some awesome wins in the show ring with a BEST IN SPECIALTY SHOW 2009... she was titled within the first year of coming to us and then produced for us the most amazing litter anyone would dream of watching grow and develop...
We at Kadence Boxers are very proud to call "Joey" our Foundation Bitch and the future looks very promishing with what she is producing for us...
Kadence Boxers is a family affair between myself and my daughter Jaana.
We are loving every moment and are both looking forwards to the future in this awesome hobbie & with this lovely breed that I could never be without.
Thanks for looking at our website for "KADENCE BOXERS" & I hope you enjoy them as much as we do.
Kadence Boxers is now the home of.....
1 New Zealand SUPREME Champion
​1 New Zealand SPECIALIST GRAND Champion
12 New Zealand Champions
3 Australian SUPREME Champion
7 Australian Champions
Website updated August 2021
All our dogs are house dogs and it is normally a fight to find a space on the couch....
Our dogs have 16 acres to run around everyday and spend alot of time swimming in the stream surrounding the farm..
All our dogs love water and are introduce to water at a very early age to build confidence and awareness
...
All our Boxers lines run from the English Bloodlines
so are typical to the UK standard


We are very proud to feed all our boxers with Royal Canin ENERGY 4800 & a natural raw meat diet.
Contact Details
Aynsley Downie
Pukekohe, Auckland, NEW ZEALAND
Phone : 021 831007
Overseas Ph : +6421 831007
Email : [email protected]