Marley
CH KADENCE THE HEARTBREAKER (AI)
Marley
DOB 10 SEPTEMBER 2015
​21x BCC 20x RBCC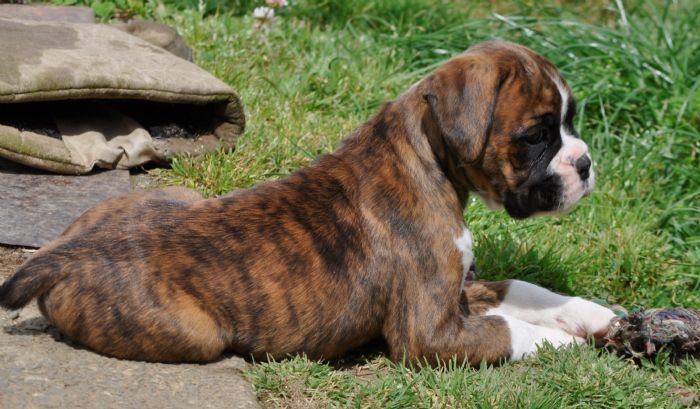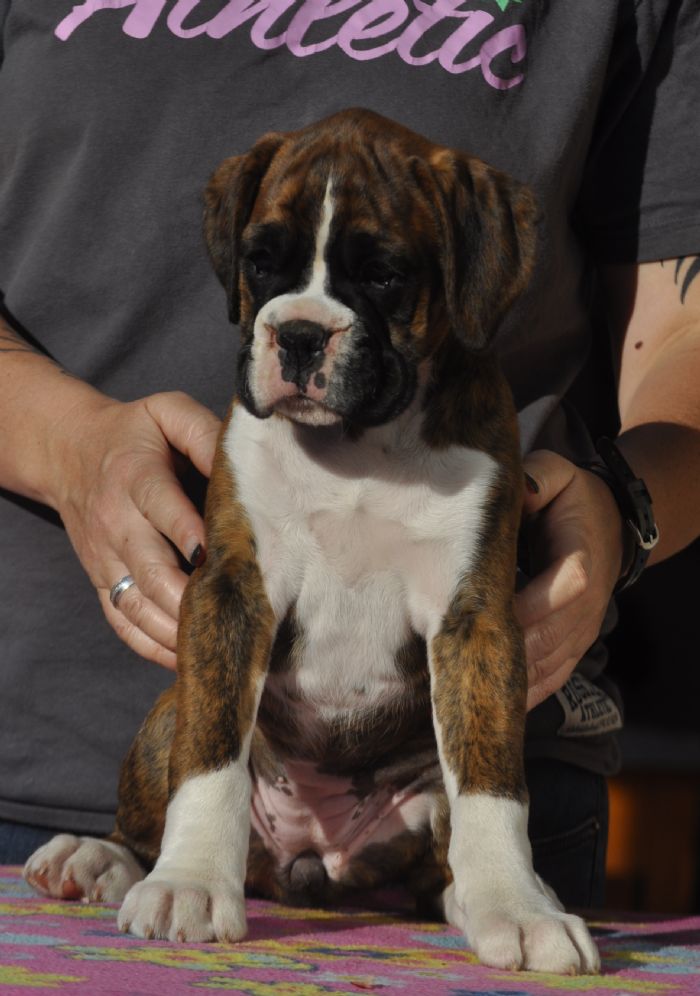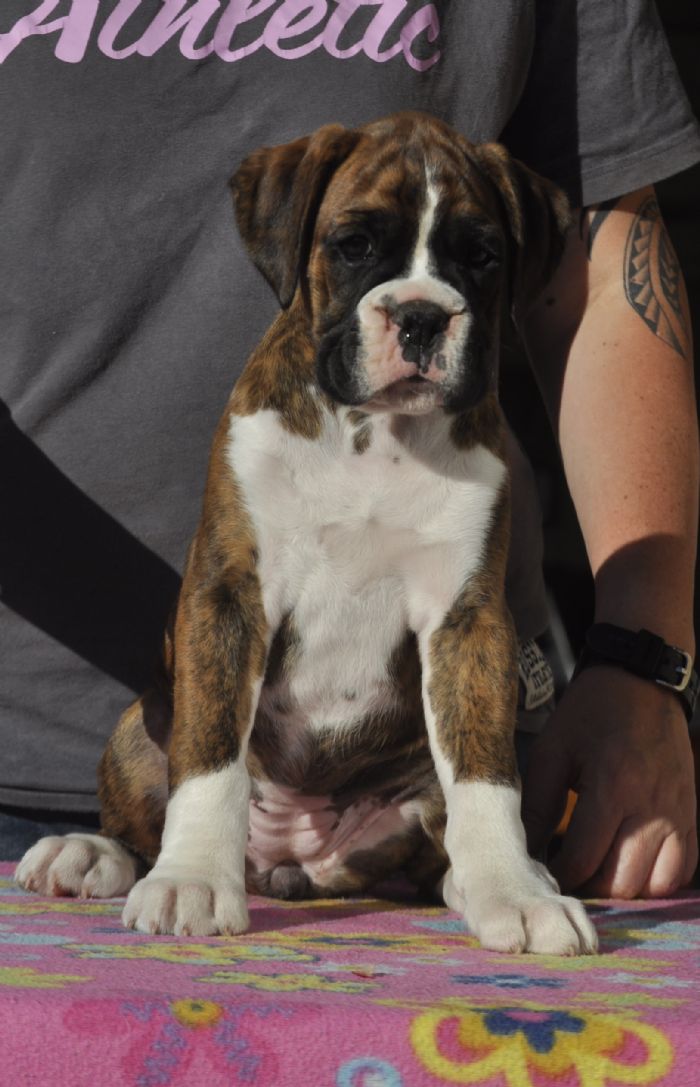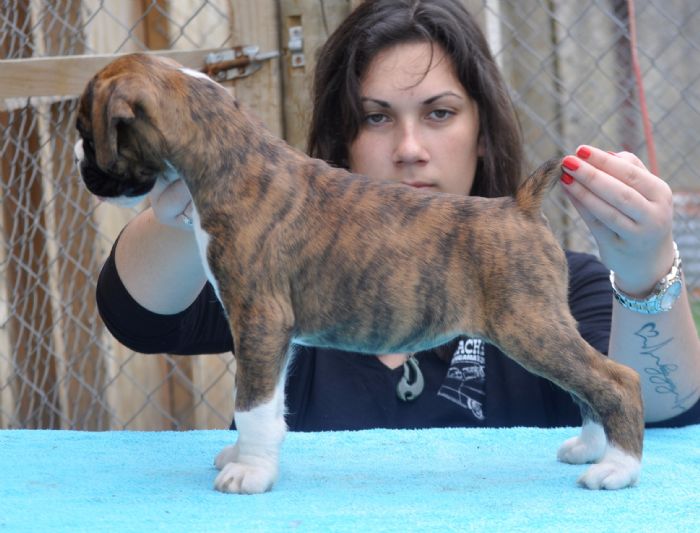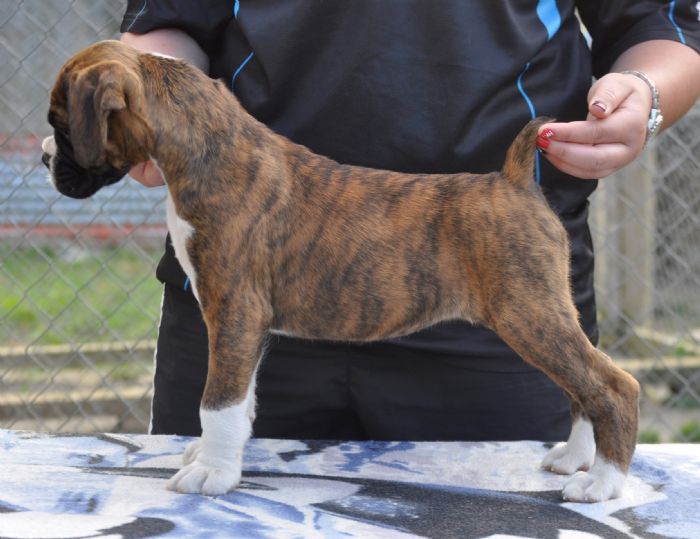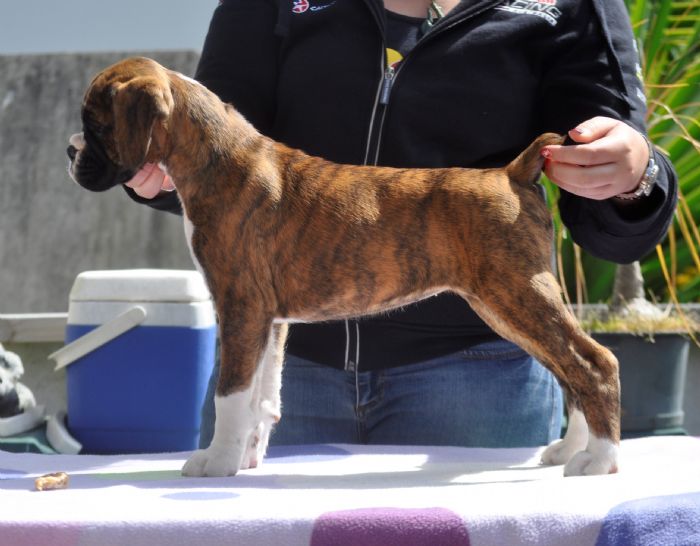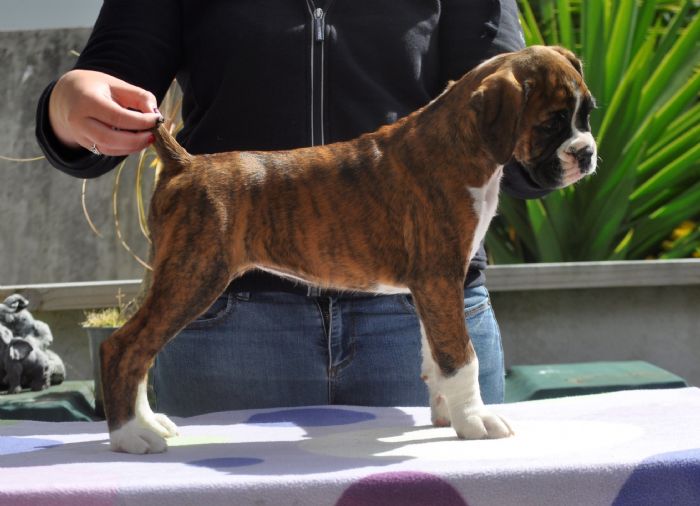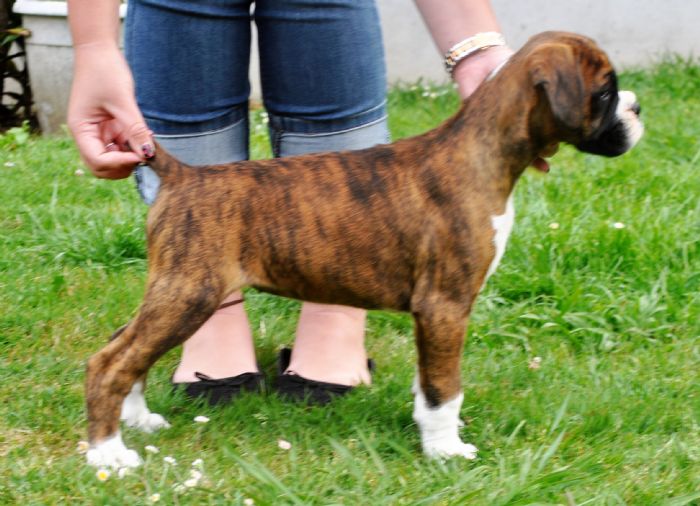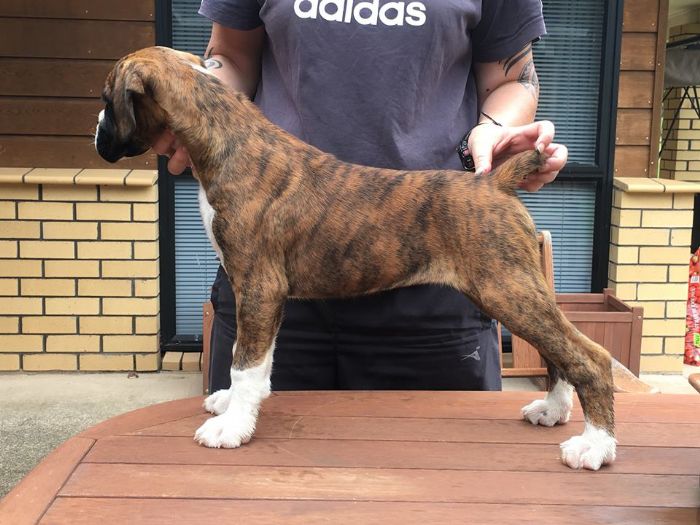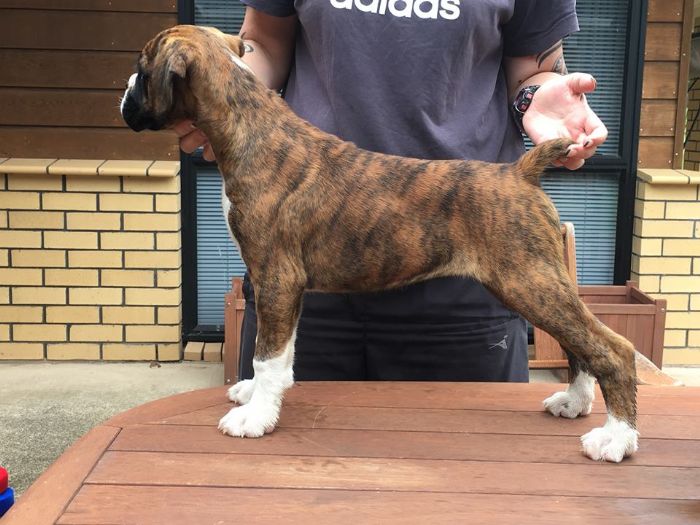 2 Months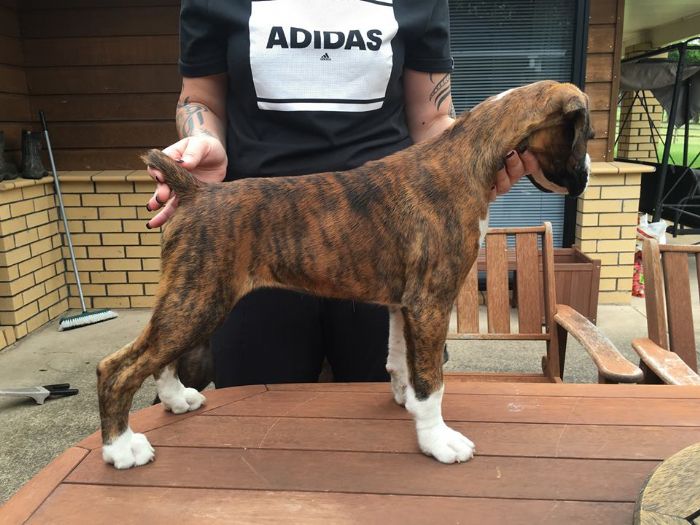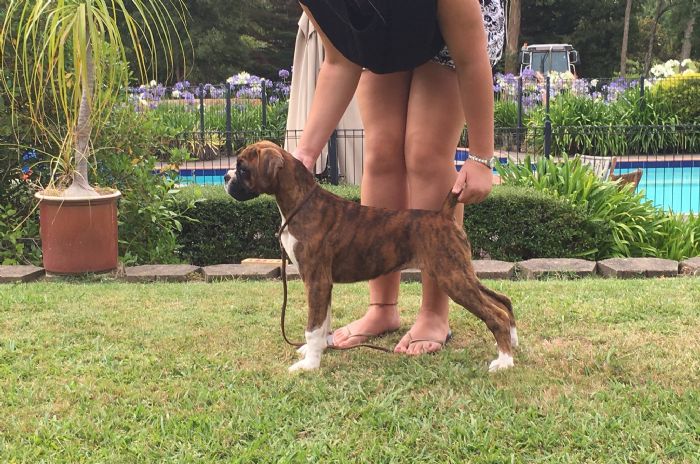 3 Months 4 Months


5 Months
​Marley winning RBCC & PUPPY IN SHOW @ Central Boxer Club Inc under Mrs Brenda Hare - Jimbren Boxers UK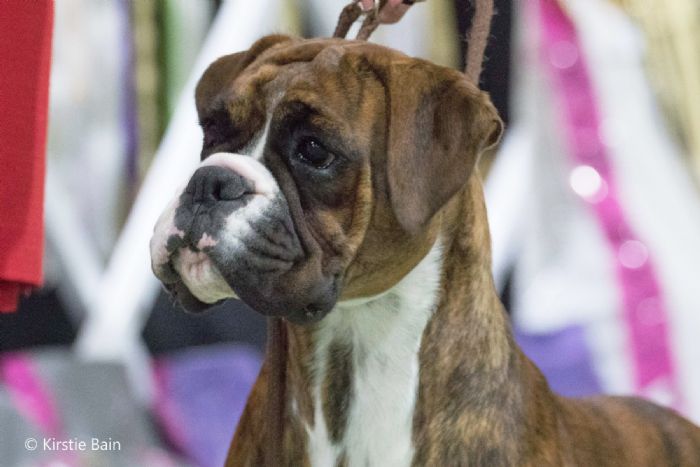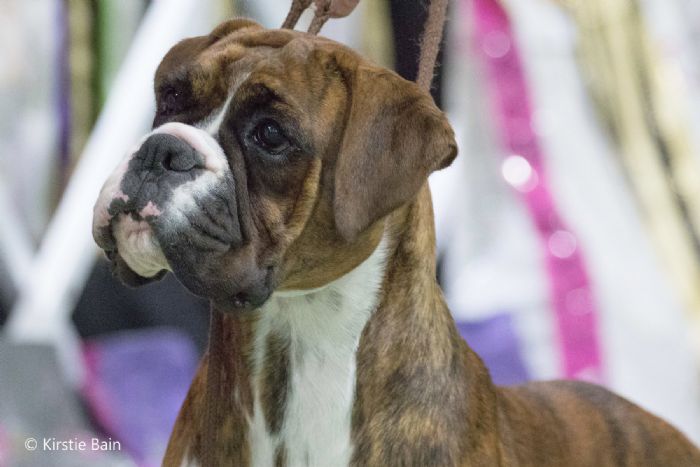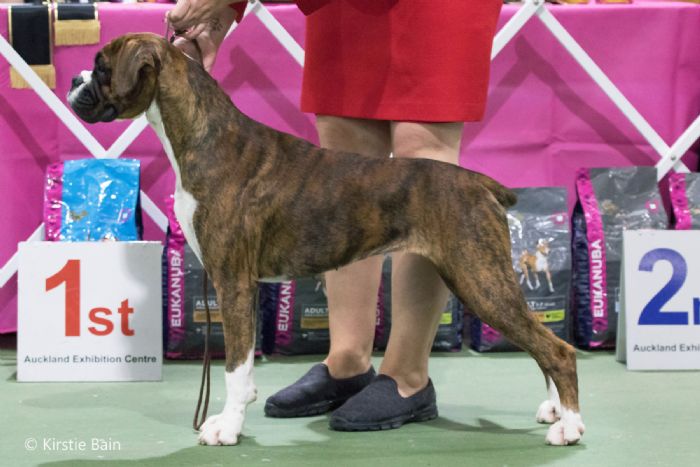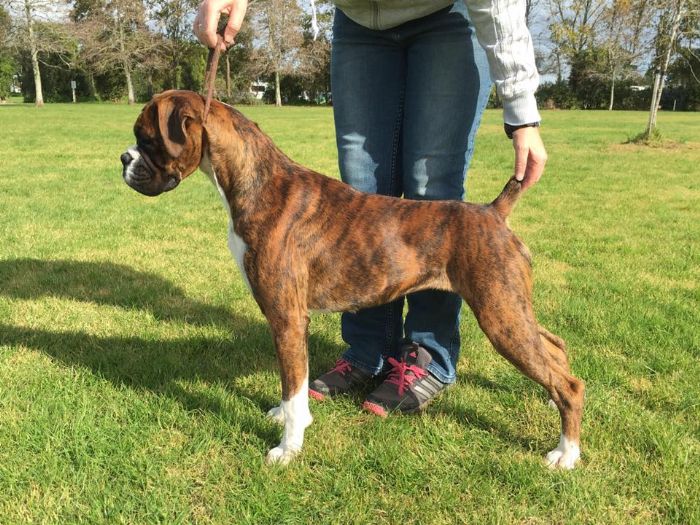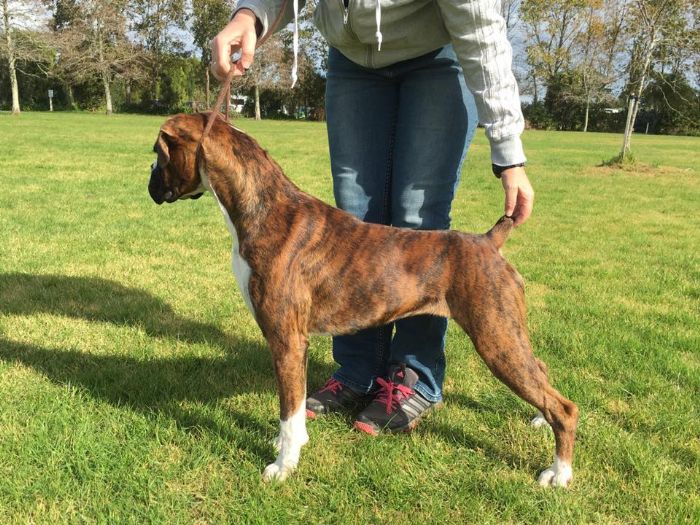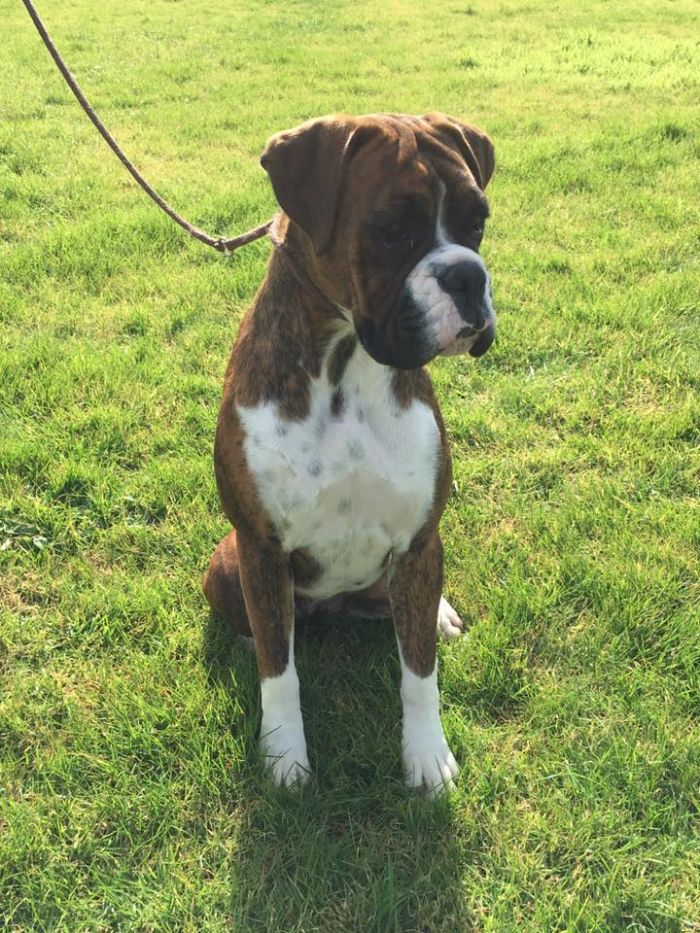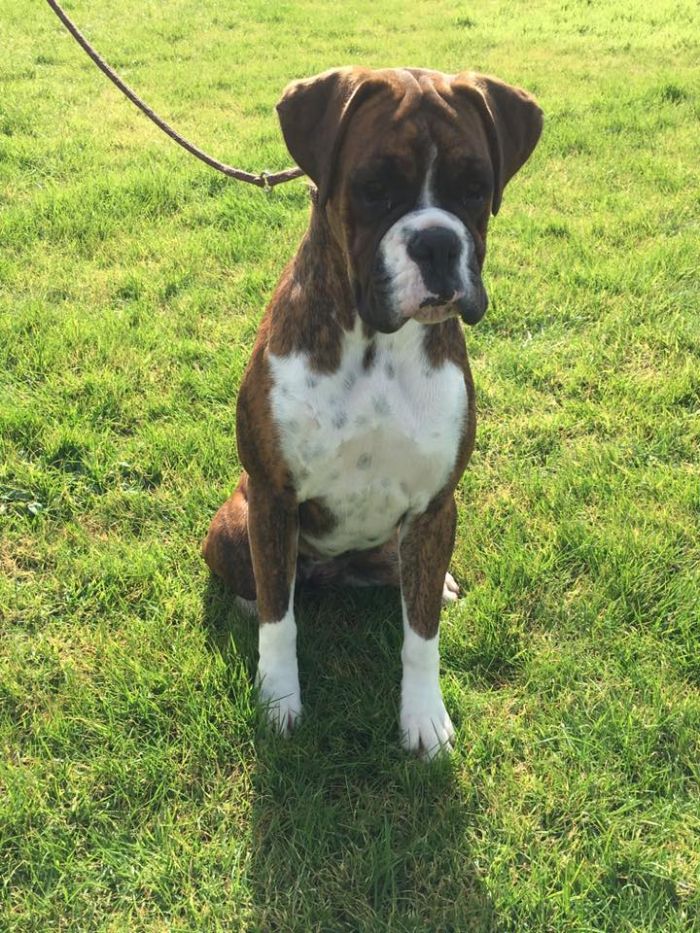 Marley @ 10mths winning her 1st BCC & RBOB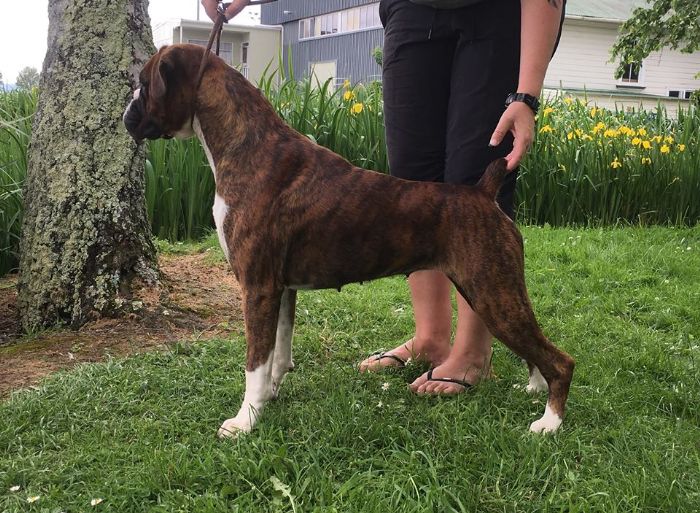 Marley 14mths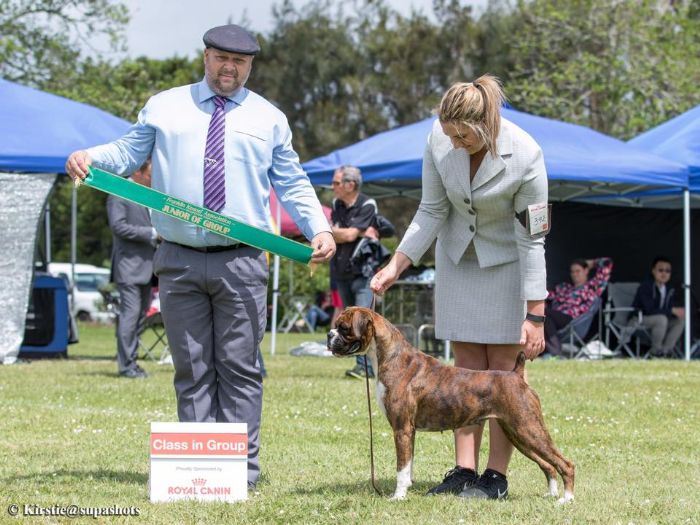 ​Marley winning Best Junior of Group under Mr Scott Sandford (Aust/NZ)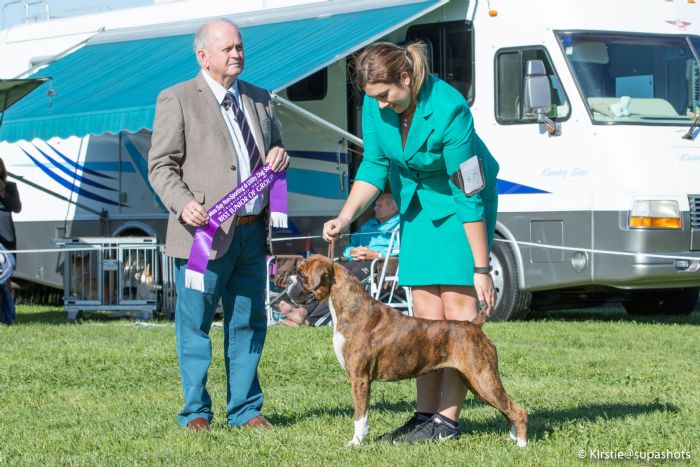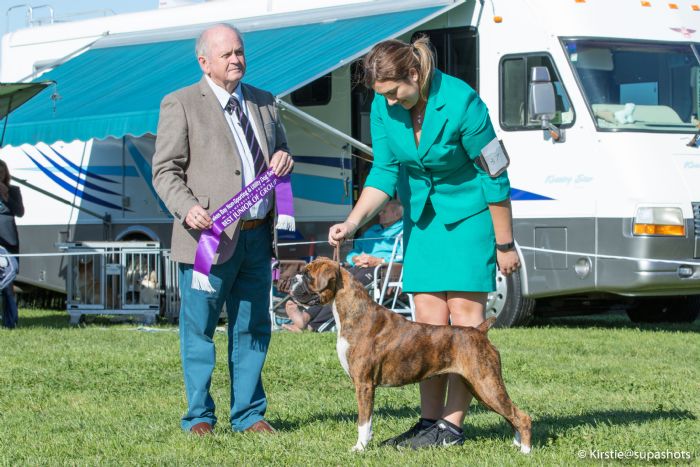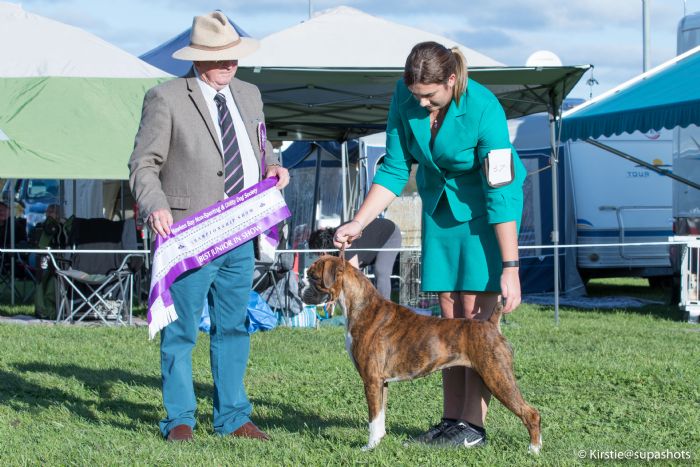 ​Marley winning Best Junior of Group & in Show under Mr John Sheppard (NSW)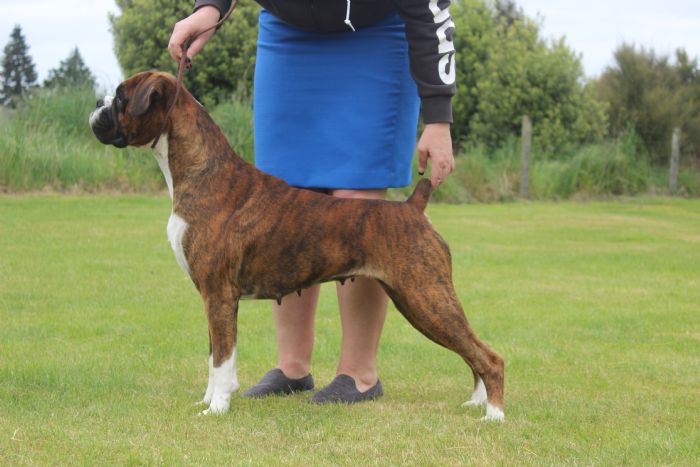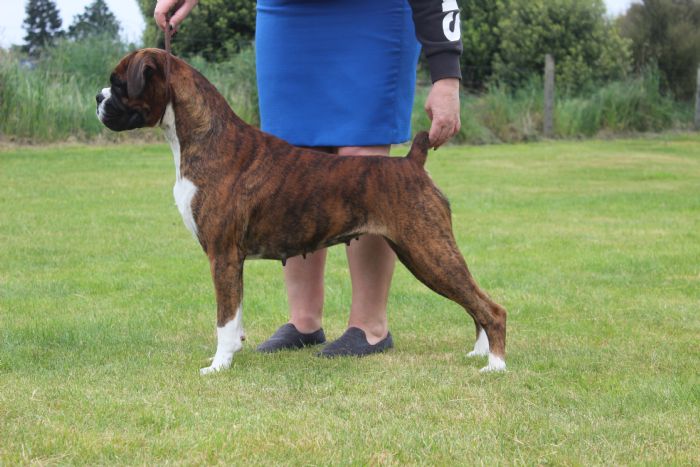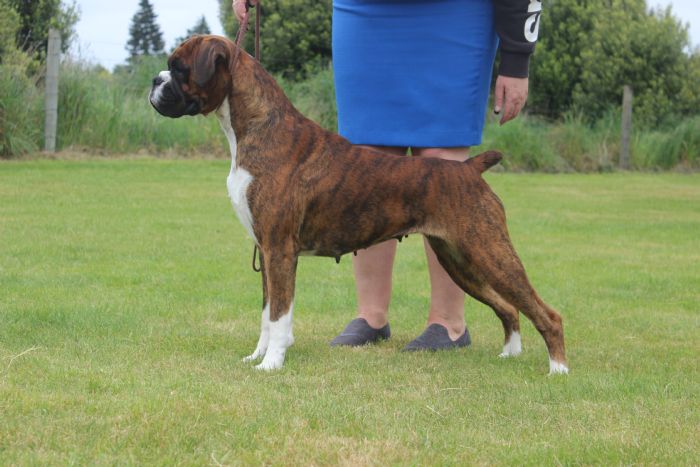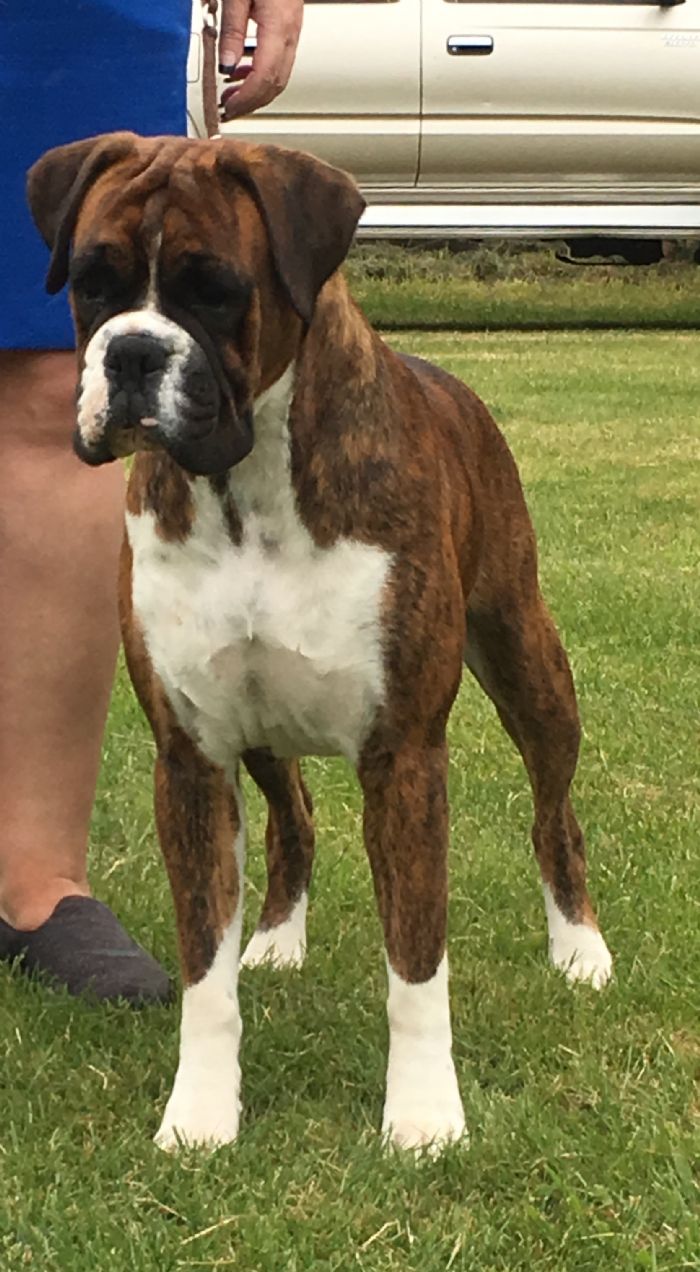 Marley @ 2 yrs

CRITIQUES
27 April 2019 - The Boxers Club Inc, Judge: Mrs Sandra Parle (UK)
Brood Bitch (4 entries)
1st: Downie's - Ch. Kadence The Heart Breaker.
B&w 3 year old bitch of quality and type. Lovely head and expression. Although she was a bit frilly this
didn't detract from her lovely outline. She has lots of substance, good forehand and strong rear quarters
which she uses on the move. BROOD BITCH IN SHOW

19 April 2019 -

South Island Boxer Club 65th: Judge Mrs Linda Naslund (Finland)
1. Downie's CH KADENCE THE HEARTBREAKER (AI):
NZ BRED IN SHOW
B/W Top quality bitch and a true showgirl. Would prefer a little more rise of scull and less wrinkles, dark, well shaped eyes with nice expression, well padded muzzle. Well angulated, today a little loose in underline, would prefer her firmer. Moves with great drive and reach, parallel, excellent bone and feet. Well presented!
SHOW: Central Boxer Club 26th June 2016
JUDGE: Mrs Brenda Grove (UK) Jimbren Boxers
PUPPY BITCH
​1st Downie's Kadence The Heartbreaker
​A very pretty puppy with the most appealing expression, promising head, good mouth with evident chin, long clean neck with good length of foreleg, correct shoulders and rear angles, plenty of bone and stands on tight catlike feet, her movement was sound and true, altough young, I was happy to award her the Reserve Bitch Challenge. - BEST PUPPY IN SHOW
SHOW: The Boxer Club 26th June 2016
Judge: Mr Steve Hare (UK) Jimbren Boxers
PUPPY BITCH
1st Downie's Kadence the Heartbreaker
Another very promising young female showing typical breed characteristics and behaviour, has a strong deep well developed body, good neck, topline and ribbing typical body outline and proportions. Moved with style.
RESULTS
​05/02/16 Hamilton Kennel Ass BPOB Ken Iggleden (Aust)
​26/03/16 Auck Kennel Council RBCC Justinr Blyth (Tas)
​27/03/16 Auck Kennel Council POB Margaret Joyce (Aust)
26/06/16 Central Boxer Club Inc RBCC Puppy In Show Mrs Brenda Hare - Jimbren Boxers UK
​10/07/16 ANSUDA BCC RBOB POB Mrs Joyce Sullivan (Vic)
​28/08/16 Rotorua Kennel Ass RBCC RBOB POB Mr Chris Graham (NZ)
04/09/16 Huntly & District KA RBCC POB Mrs Maureen Gostelow (Vic)
​23/10/16 Tauranga KA #1 JOB Mr Peerapong Pisttwuttinan (Thailand)
​23/10/16 Tauranga KA #2 RBCC JOB Mrs Liz Smith (Aust)
​13/11/16 Wairarapa KA #3 JOB Mr Fred Salud (Phillipines)
​20/11/16 Franklin KA BCC BOB JOB JOG Mr Scott Sandford (Aust/NZ)
21/01/17 Northland CA #1 RBCC JOB Agus Wardhana (Indonesia)
​21/01/17 Northland CA #2 RBCC JOB Kathy Smith (Vic)
​22/01/17 Northshore KA #1 JOB Doug Sidebottom (NSW)
​22/01/17 Northshore KA #2 BCC RBOB JOB Kaye Finlayson (NZ)
​28/01/17 Hibiscus Coast KA #1 RBCC Carol Donaldson (Qsld)
​28/01/17 Hibiscus Coast KA #2 BCC RBOB JOB Antoan Hlebarov (Bulgaria)
​04/02/17 Tokoroa CA #1 RBCC Diane Baillie (Vic)
​04/03/17 Hamilton KA BCC BOB JOB Sue Hewinson (QSLD)
​05/03/17 Hamilton KA RBCC JOB Melissa Starkey (QSLD)
​25/03/17 Wairoa KA #2 BCC BOB JOB JOG Laance Heilmann (Sth Aust)
​02/04/17 Cambridge KA RBCC Mrs N Clarke (Ireland)
​14/04/17 ANSUDA RBCC JOB Margaret Courtney-Reid (Aust)
​15/04/17 Auckland KC #1 BCC RBOB JOB J Watts (Aust)
​15/04/17 Auckland KC #2 JOB JOG M Watson (Aust)
​30/04/17 EBOP BCC S Peel (NZ)
​06/05/17 HBNSUDS BCC BOB JOB JOG JIS Mr John Sheppard (NSW)
​07/05/17 Hawkes Bay KC RBCC Mr Kerry Lee (Vic)​
​17/06/17 Hauraki CA #1 BCC RBOB JOB Mr Dale Wilkinson (NZ)
​09/07/17 Kumeu KA#1 BCC RBOB JOB Ms Glenda Goller (QSLD)
​09/07/17 Kumeu KA #2 BCC BOB JOB Mr Andrew Burt (VIC)
​12/08/17 Ladies KA #2 RBCC JOB JOG Mr Robert Dawson (Korea)
​02/09/17 Huntly & District KA BCC BOB JOB BOG JOG JIS Ms Linda Buckley (ACT)
​03/09/17 Huntly & District KA RBCC RBOB JOB Ms Lynn Harrison (Sth Aust)
​04/10/17 Central Boxer Club IISS Mr Luis Pinto Teixeira (Portugal)
​05/10/17 2017 Prelude Show RBCC RBOB Mrs Francesca Browning (Sth Africa)
​22/10/17 Tauranga KA #2 BCC BOB IOB Mr Damian Bourne (Sth AUST)
28/10/17 Taupo KA BCC RBOB IOB Mrs Margaret Jones (Canada)
​11/11/17 Wairarapa KA #2 RBCC IOB Mr Robert Lucas (NSW)
​18/11/17 Franklin KC RBCC Mrs Lianne Rowles (NSW)
​19/11/17 Franklin KC BCC RBOB Mr Brad Santas (NSW)
​25/11/17 TNSUDS BCC Mr James Camac (NSW)
​20/01/18 Manawatu KA #2 BCC BOB OOB Mr Kostadin Shankov (Bulgaria)
​21/01/18 Kapi Mana KC #2 RBCC OOB Mr Preetham Thukarem (India)
​04/02/18 AEC BCC RBOB OOB Mr Gutenberg Queroz Soares (Brazil)
​24/02/18 North Shore KA #1 BCC RBOB Mrs S Marshall (Vic)
​24/02/18 North Shore KA #2 BCC Mrs D Javanovic (QSLD)
19/04/19 Sth Island Boxer Club NZBISS (Final 4 BCC) Mrs Linda Naslund (Sweden)
20/04/19 Nth Caturbury KA RBCC OOB Mr D Kill (QSLD)
27/04/19 The Boxer Club inc Brood bitch in Show (Final 4 BCC) Sandra Parle (UK)
---
Marley's Pedigree
ENG CH WINUWUK THE OUTLAW - JW

"OLLIE"

ENG / IR CH Winuwuk Lust At First Sight

ENG CH Winuwuk Lust In The Dust

ENG Blueprint Beern Skittles at Walkon

ENG CH Roamaro Scotch Mist of Winuwuk

ENG CH Winuwuk Storybook

ENG CH Winuwuk Hot 'N' Bothered

Winuwuk Love Story

Winuwuk All About Eve

ENG CH Designer Game At Glenauld

Glenauld Game Of Skittles

Glenauld Generosa At Carmondene

Faerdorn Chick Flick At Winuwuk

ENG CH Winuwuk Lust In The Dust

Faerdorn After The Show

NZ CH KADENCE WILD AT HEART (AI)

"SONIC"

AUST CH Galicar Contradiction (Imp UK)

ENG CH Belvern Preminition

ENG CH Surfstone Hot Property

Boxberry Star Struck at Belvern (Imp Aust)

Daltamie Riz 'N' Shyne over Galicar

ENG CH Bucksteps Charlie Brown

Roseanne at Daltamie

NZ CH Natura How You Doin at Kadence

Eishied Collaboration

NZ/AUST GR CH Valeska Lock Up Ya Daughters

NZ CH Eischied Justice Seeker

Vivyd Summertime (Imp UK)

ENG CH Vivyd Stars'N' Stripes

Vivyd Sun'N' Shadow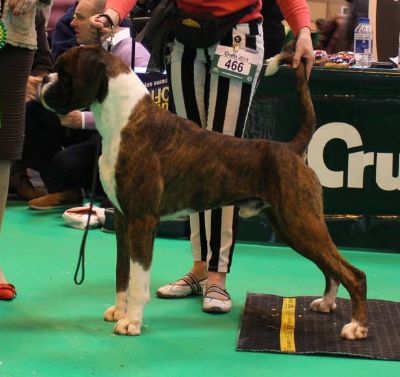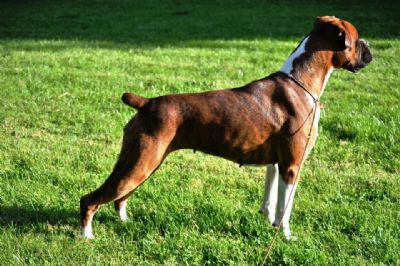 Contact Details
Aynsley Downie
Pukekohe, Auckland, NEW ZEALAND
Phone : 021 831007
Overseas Ph : +6421 831007
Email : [email protected]