LOKI
RBISS NZ CH KADENCE KISS MY ACE (AI)
DOB: 20 February 2018
18x BCC 14x RBCC
*Breaking News Loki gains her Champion Title at 13mths old*

April 2019 Loki goes Reserve Best In Specialty Show at the South Island Boxer Club under Linda Naslund (Sweden)
5 wks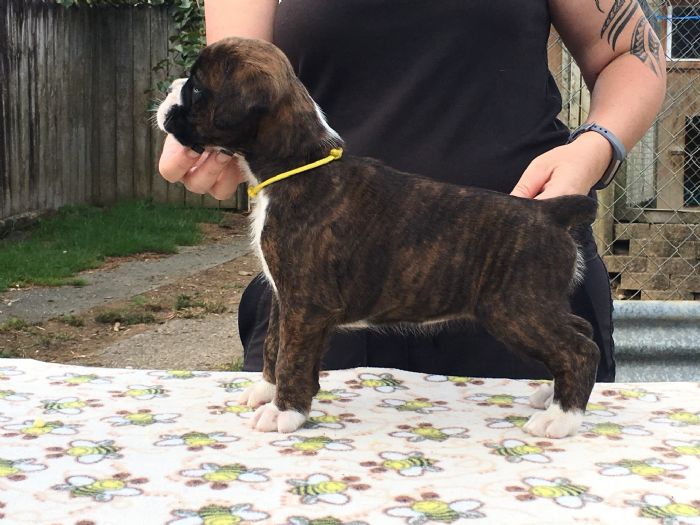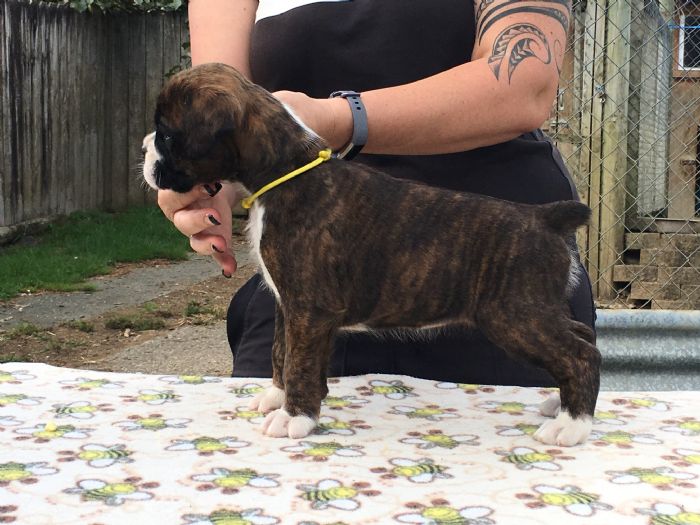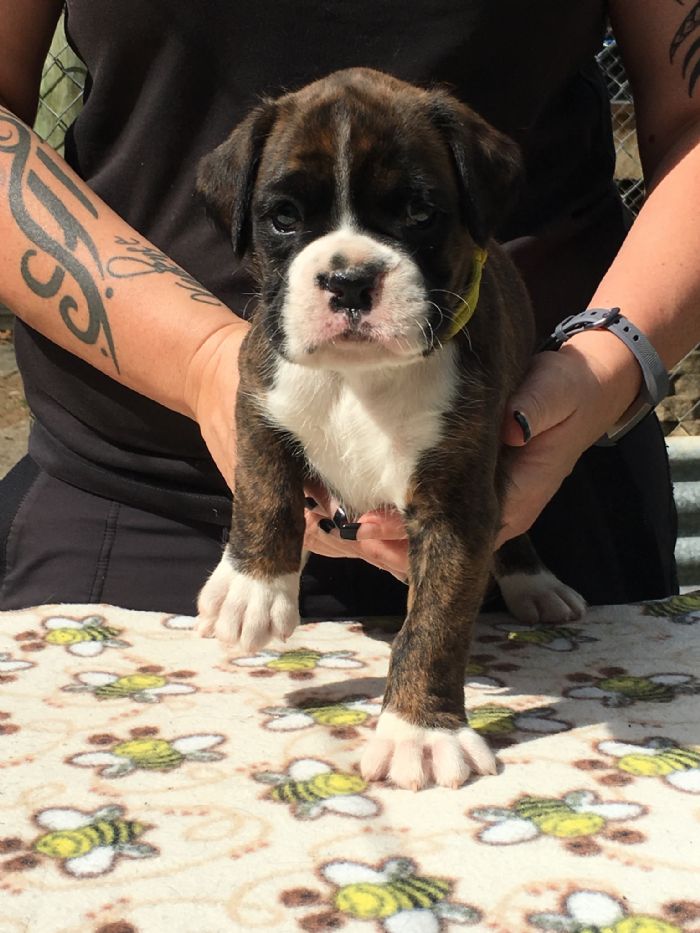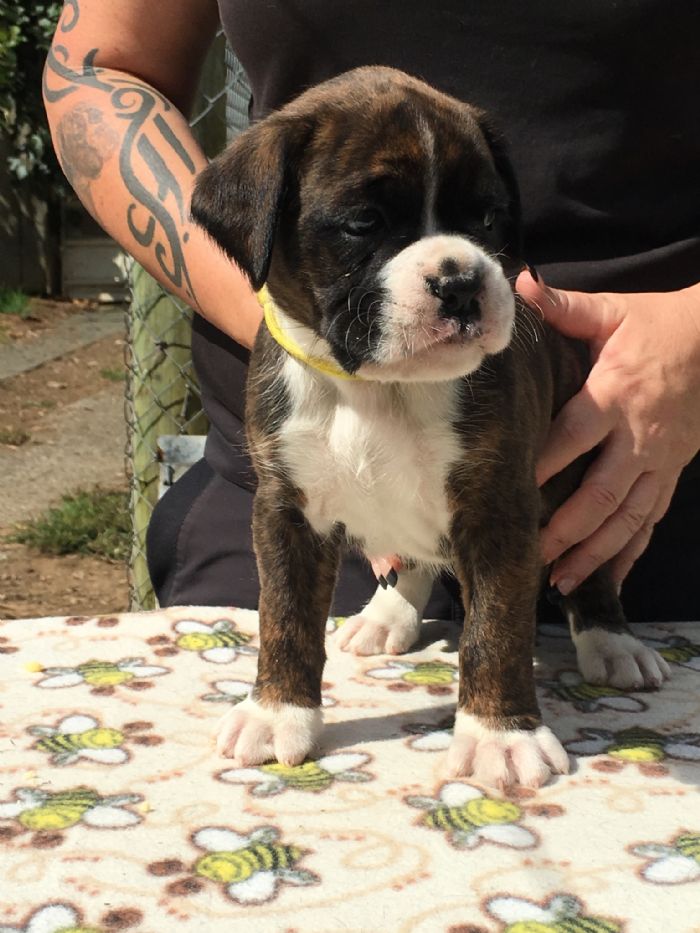 6 wks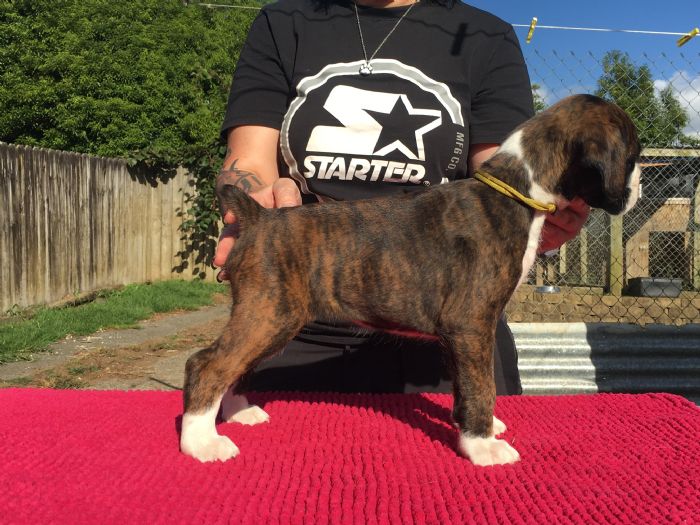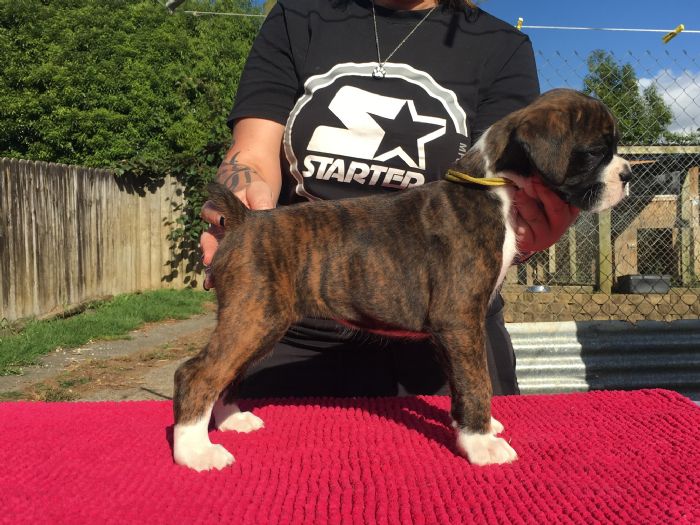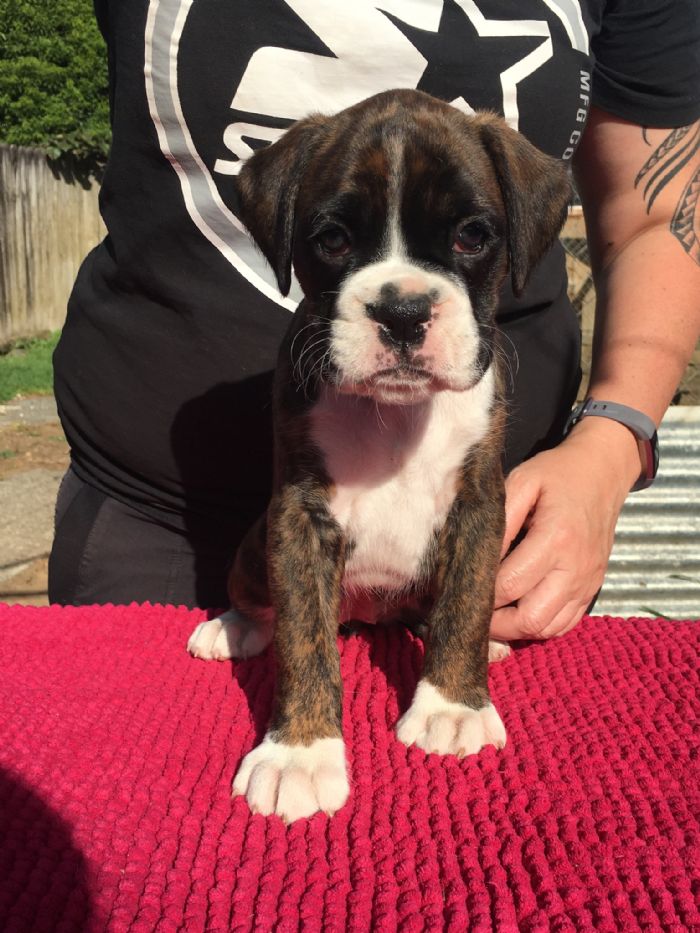 8wks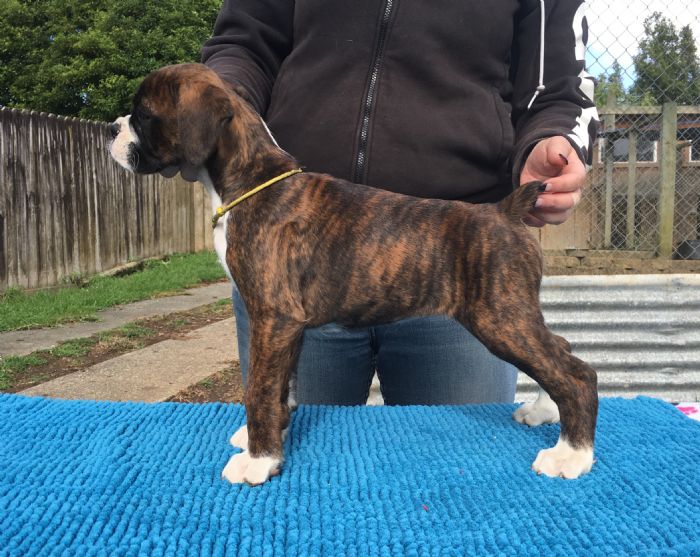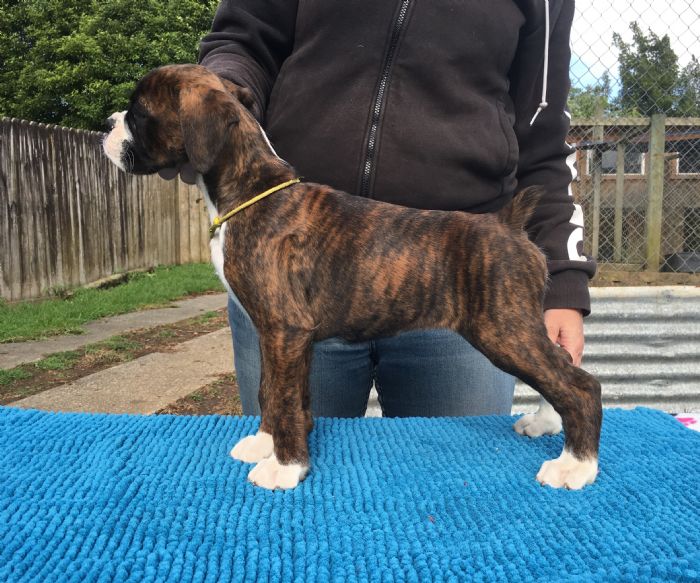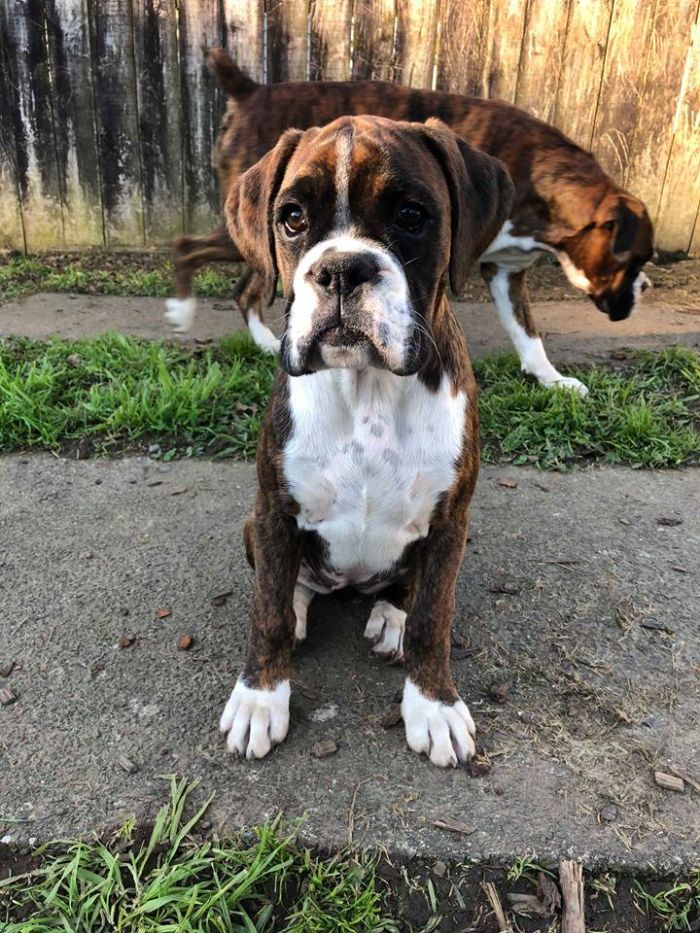 4 mths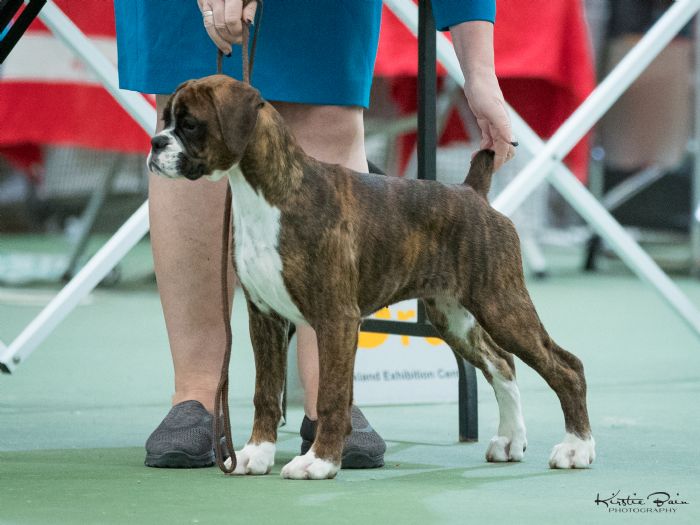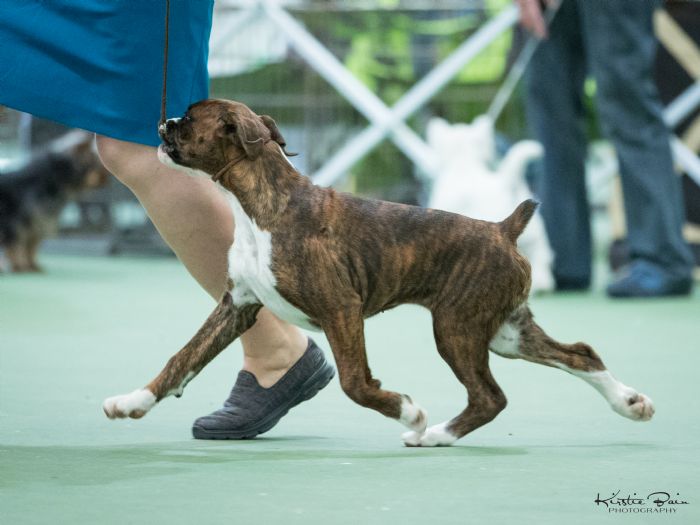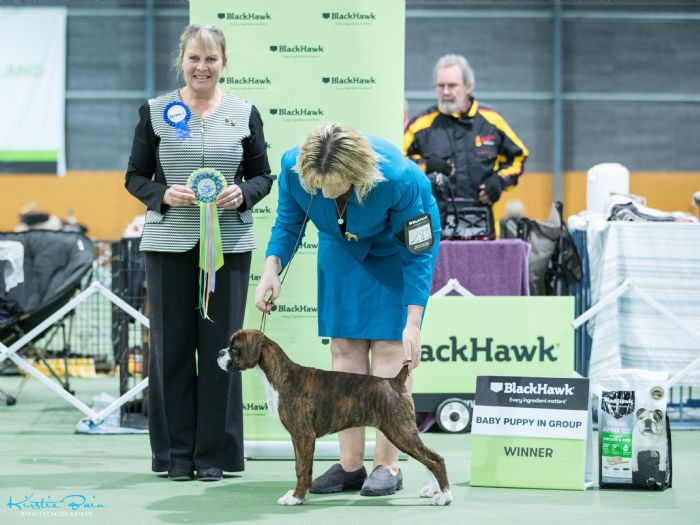 09/06/18: Loki winning her 1st BCC BPOB BPOG under Mrs Diane Riley (NZ)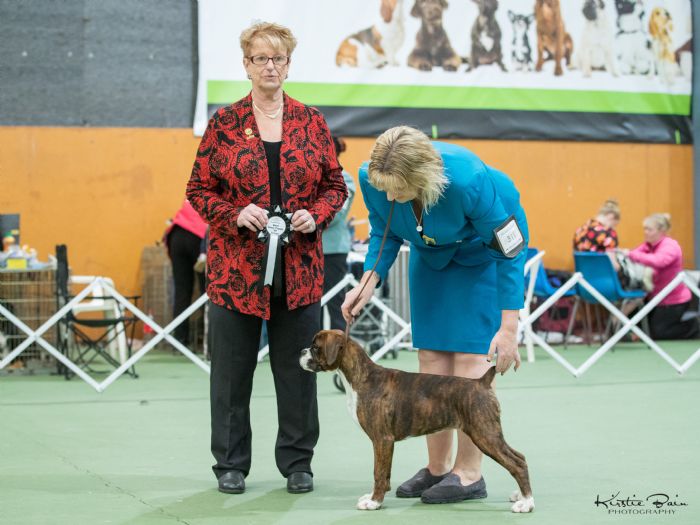 17/06/18: RBCC & BABY PUPPY OF GROUP under Mrs Dianne Besoff (NSW)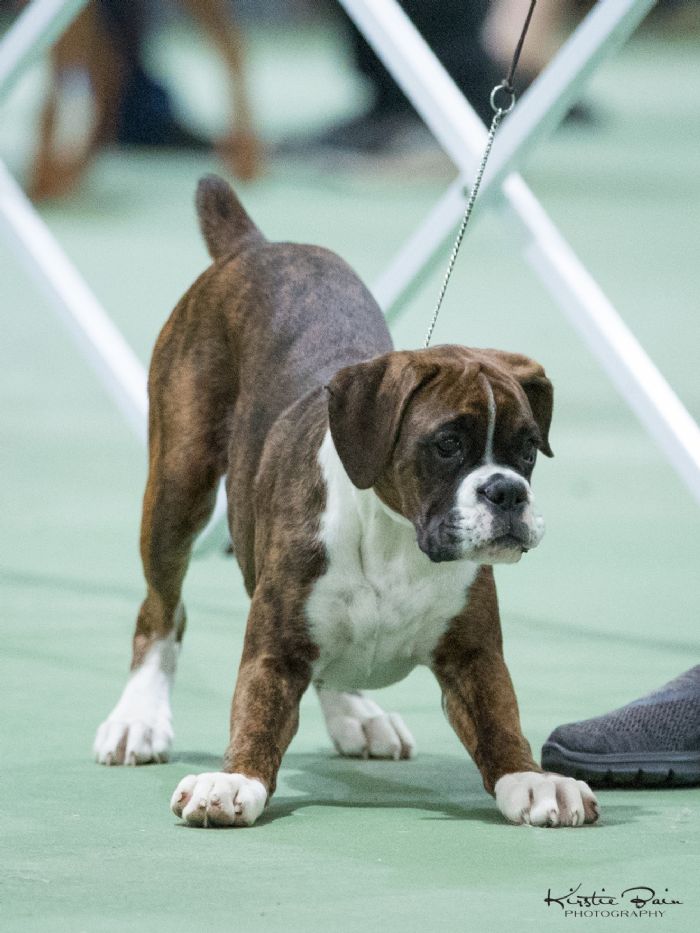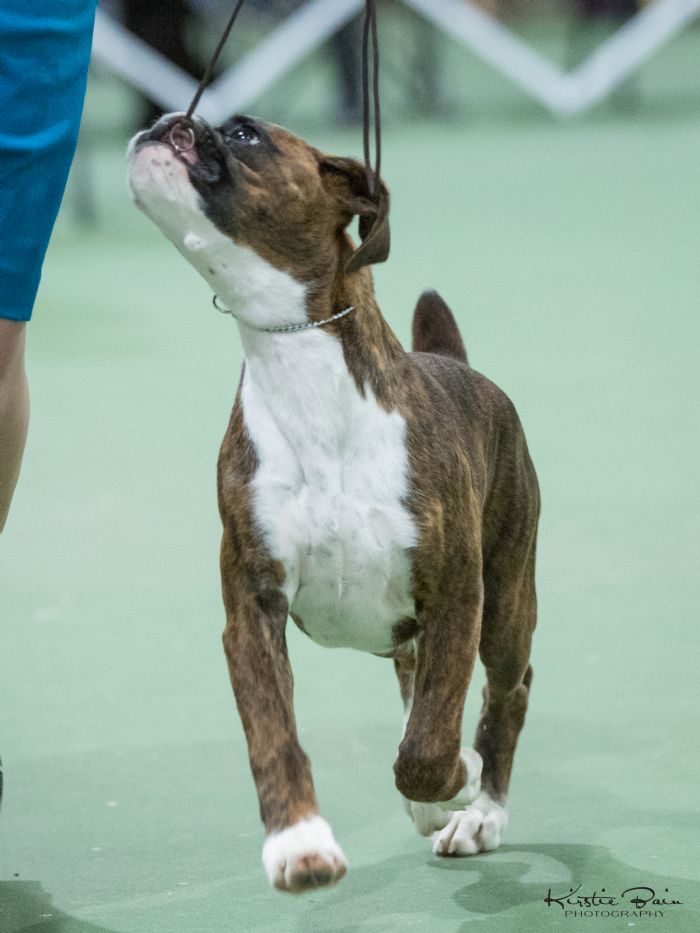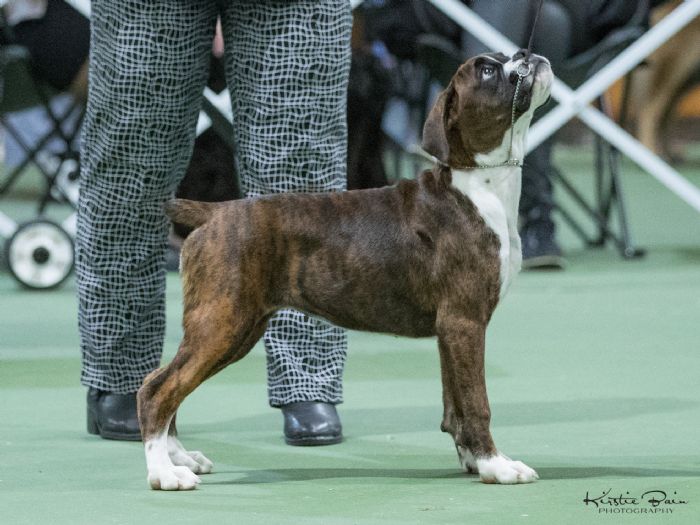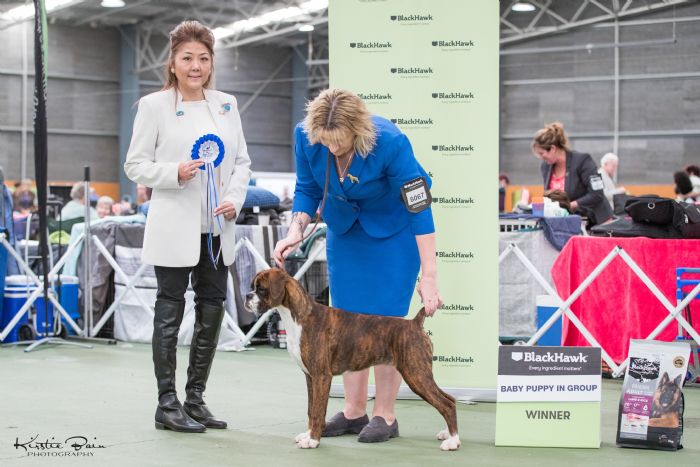 11/08/18: BABY PUPPY OF GROUP under Mrs Elaine Ty (Phillipines)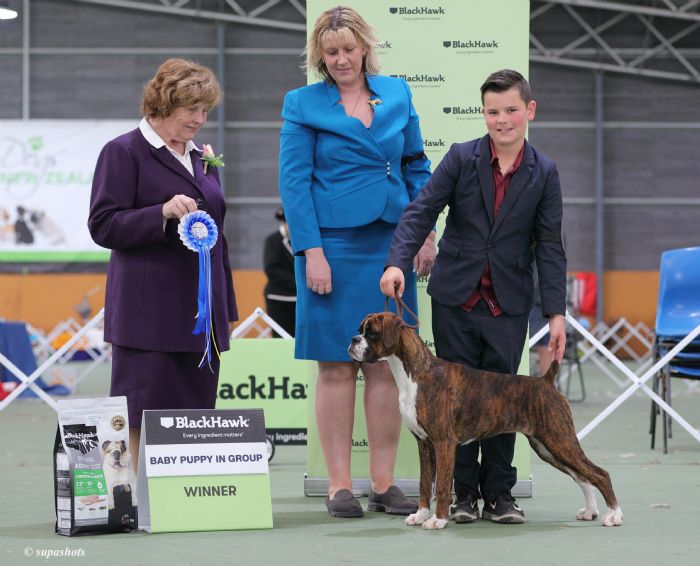 12/08/18: BABY PUPPY OF GROUP under Mrs Donnella Richards (USA)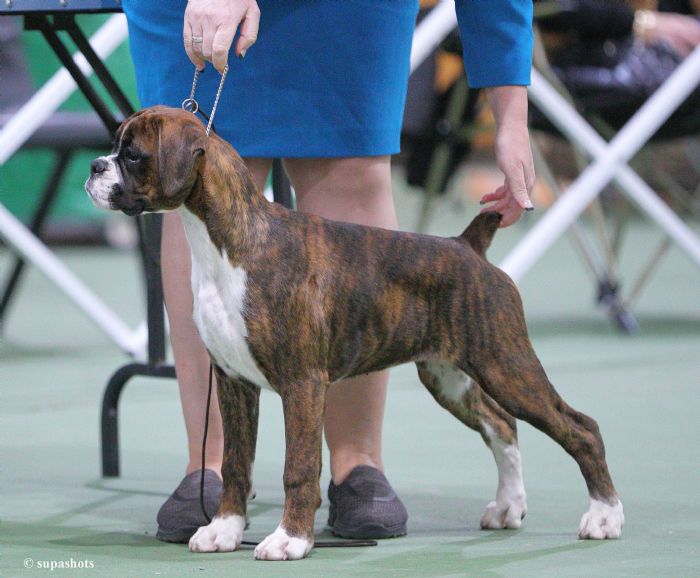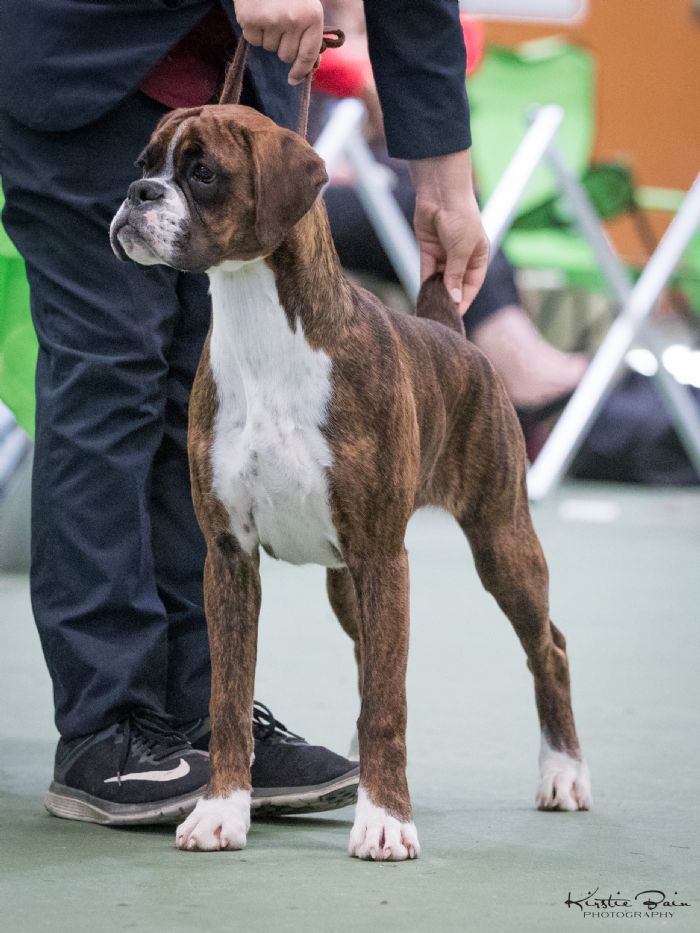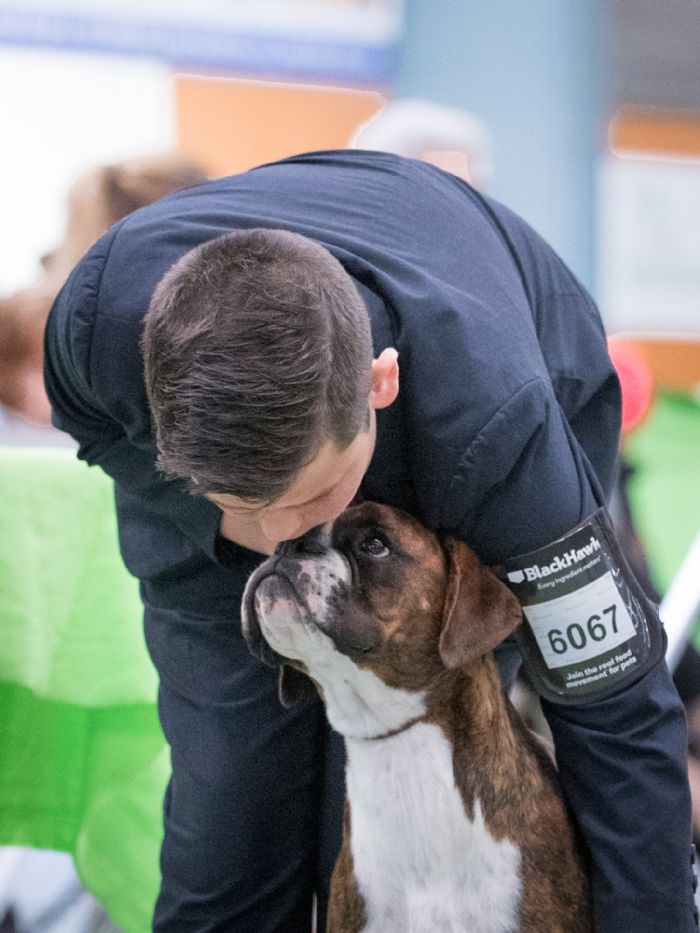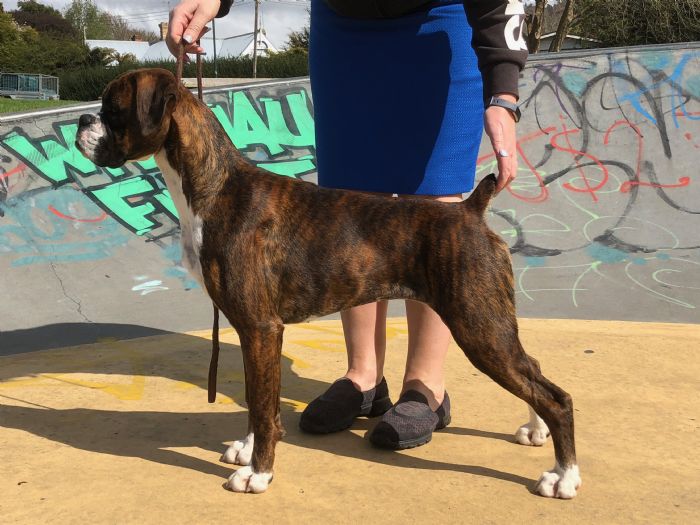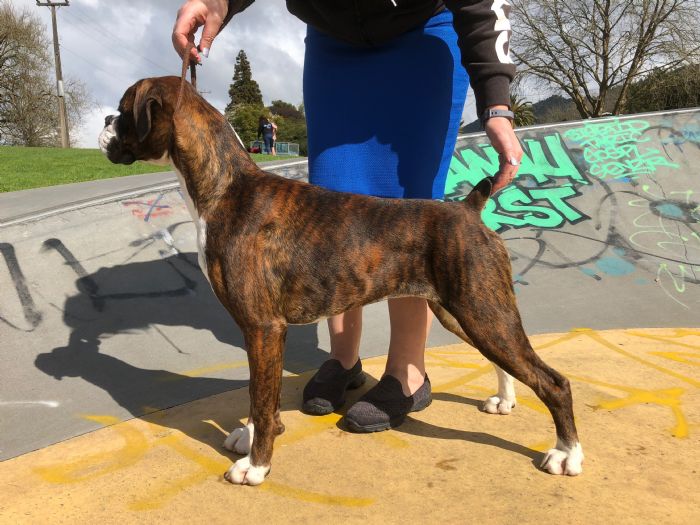 02/09/18 PUPPY OF GROUP under Mrs Kaye McGhie (QSLD)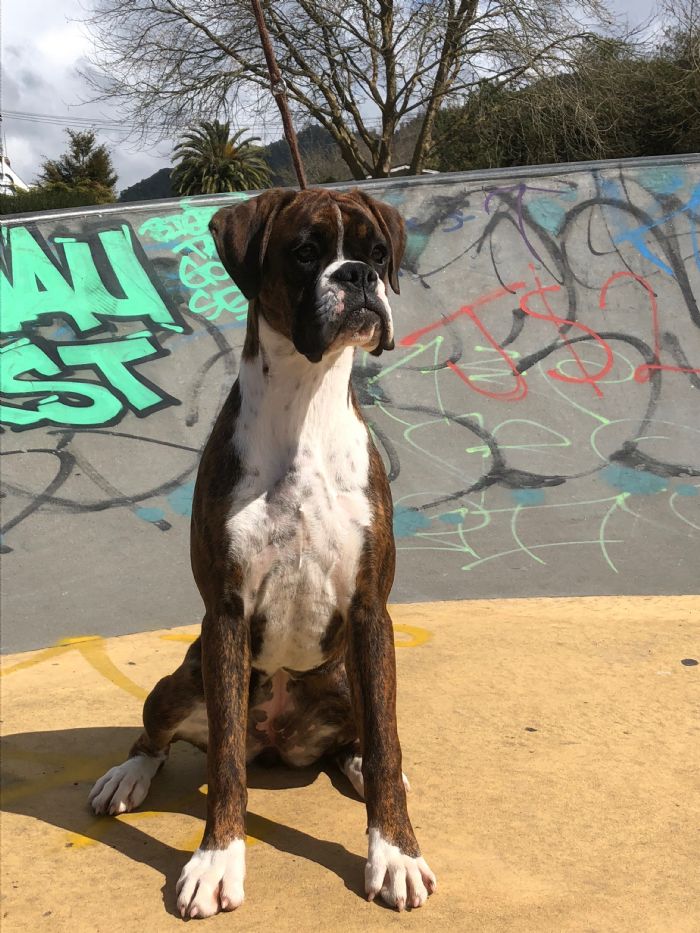 Loki 7mths


Loki gorgeous headpiece @ 9 mths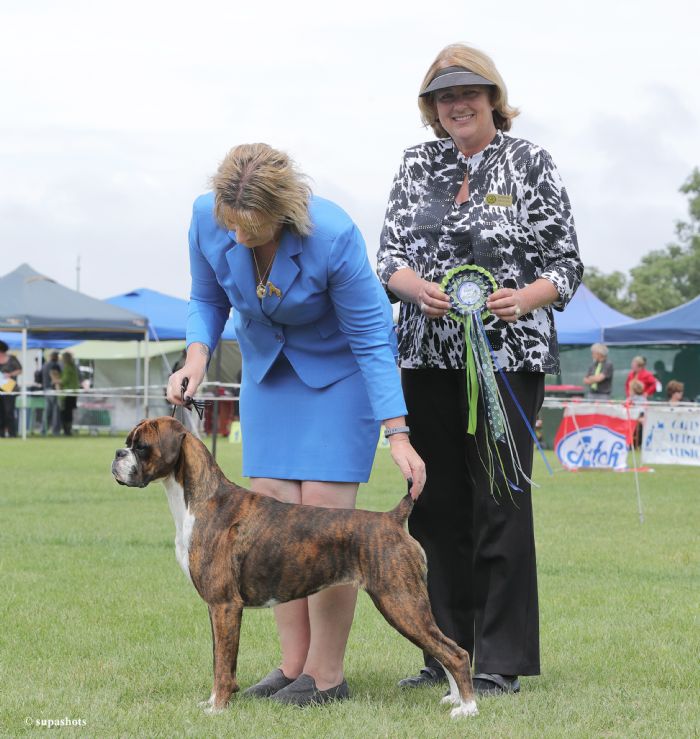 Hawkes Bay Ladies KA - Dec 18 PUPPY OF GROUP under Ms Shannon Lancaster (NSW)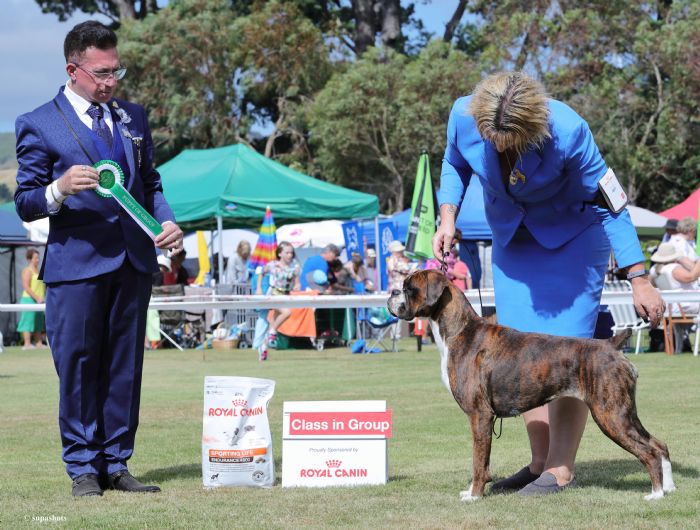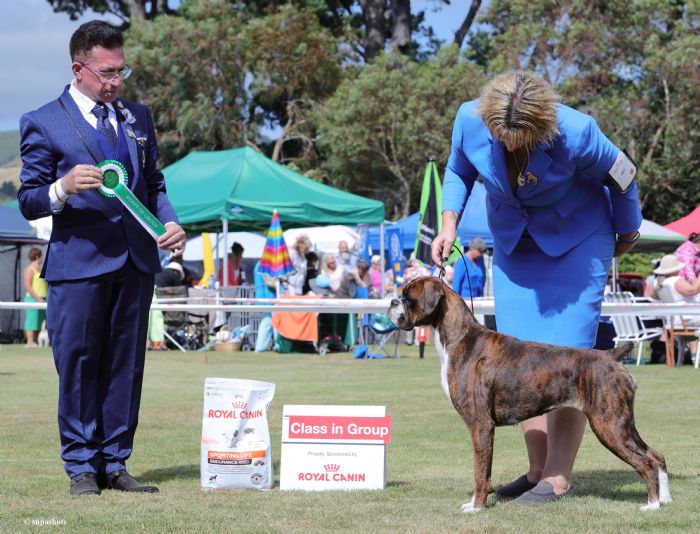 Manawatu KA #2 - Jan 19 PUPPY OF GROUP under Mr Luiz Cabral Costa (Brazil)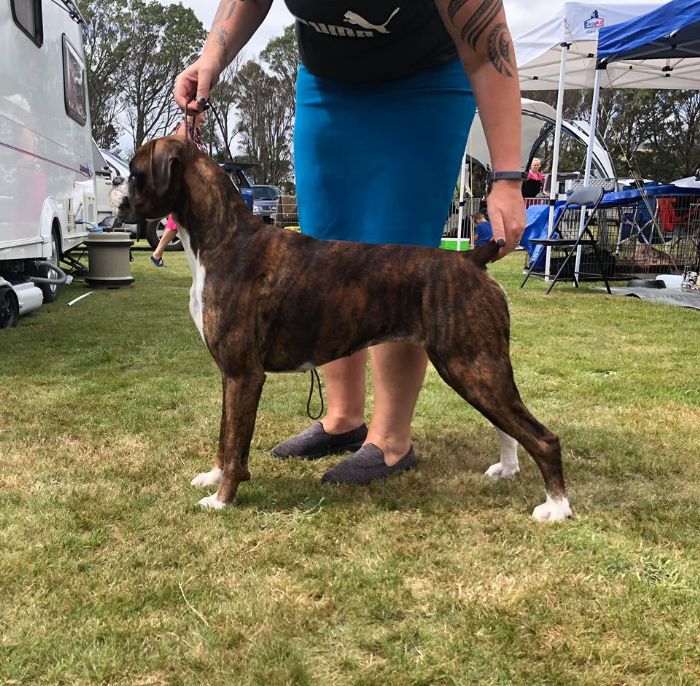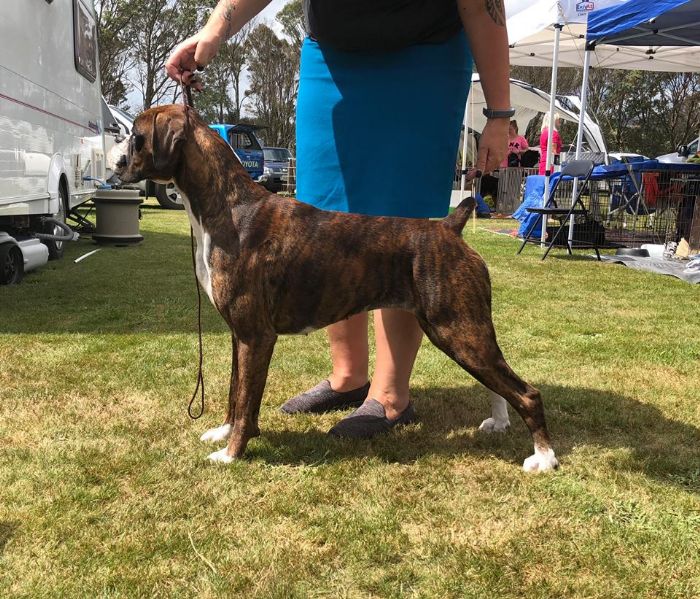 Loki @ 11mths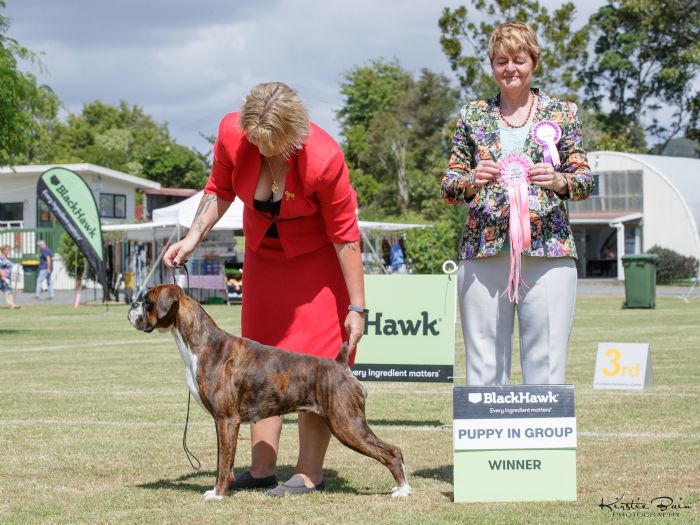 02/02/19 Hibiscus Coast- PUPPY OF GROUP under Mrs Vicki Schneider (Aust)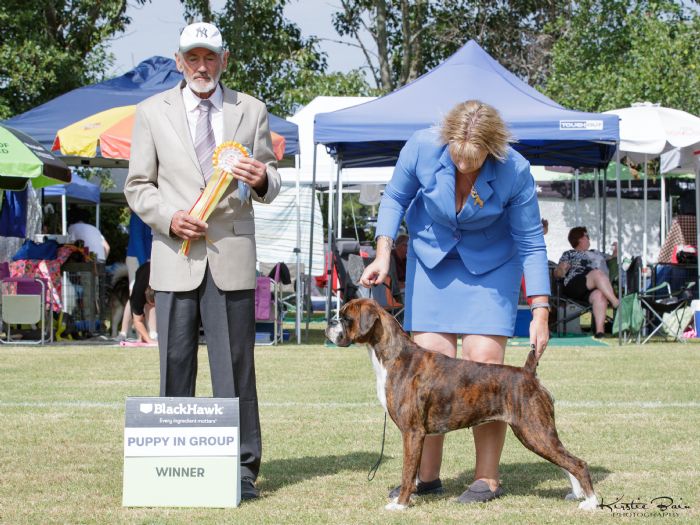 03/02/19 AEC - PUPPY OF GROUP under Mr Zlatko Kraljic (Croatia)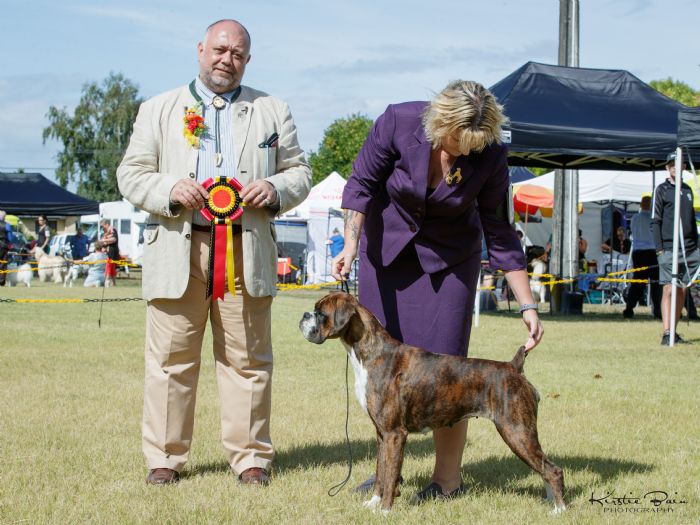 10/03/19 Hamilton KC - JUNIOR OF GROUP under Mr Cristian Stefanescu (Romania)
Critique:
27 April 2019 - Central Boxer Club, Judge: Dawn Thomas (Ireland)
Junior Bitch
1. Ch Kadence Kiss My Ace, excellent bitch looked a picture when viewed
side on, clean skull without excessive wrinkle balance width of muzzle,
wide well shaped nostrils, lip placement good, mouth ok, Strong yet
feminine bitch shown in fabulous had condition front and rear assemble
correct, moved with drive, handled to show all her virtues. JUNIOR IN SHOW
27 April 2019 - The Boxer Club Inc, Judge Mrs Sandra Parle (UK)
This was another lovely class.
1st: Downie's - Ch. Kadence Kiss My Ace
A 14 month b&w girl with a super outline. Good depth of body and spring of rib, excellent neck and
good shoulders. Clean balanced head with evident chin and wide straight mouth. Strong, hammy
quarters with second thigh resulting in her moving well around the ring.
19 April 2019 -
South Island Boxer Club 65th: Judge Mrs Linda Naslund (Finland)
Junior Bitch (3)
1. Downie's KADENCE KISS MY ACE (AI):
Reserve Bitch Challenge RESERVE BEST IN SHOW & JUNIOR IN SHOW
B/W Very attractive, square outline with a quality head to match. Lovely feminine head with the right breed specifics. Excellent proportions muzzle to scull, lovely profile and rise of scull, expressive eyes, well padded muzzle and excellent chin. Excellent neck and topline, excellent croup, good depth of brisket and ribcage, well angulated front and rear, excellent bone and feet. Moves well from all angles. Well presented.
Show Results:
20/05/18 Kumeu KA Blue Open Show Amanda Rutherford (NZ) Res Bitch
20/05/18 Kumeu KA Red Open Show Penny Calman (NZ) Res Bitch
09/06/18 Auckland Exhibition Centre Mrs Diane Riley (NZ) BCC RBOB BPOB BPOG
17/06/18 Hauraki CA #1 Mrs Dianne Besoff (NSW) RBCC BPOB BPOG
17/06/18 Hauraki CA Mrs Jill Brooker (NZ) 3rd Puppy Stakes
11/08/18 Ladies KA Mrs Elaine Ty (Phillipines) BPOB BPOG
12/08/18 Ladies KA Mrs Donnella Richards (USA) BPOB BPOG
02/09/18 Huntly & District KA Mrs Kaye McGhie (QSLD) POB POG
07/10/18 CSK Mr Hiroshi Kamisoti (Japan) RBCC RBOB POB
18/10/18 Tauranga KA #2 Mr B Wright (Canada) POB
18/11/18 Franklin KC Mr Keith Lovell (Aust) RBCC
25/11/18 Sth Taranaki KC Mr S Schwerdt (SA) POB
25/11/18 TNSUDS Mr J Rice (SA) RBCC RBOB POB
01/12/18 East Coast Ladies KA Prof Brian Corbitt (NSW) BCC BOB POB
02/12/18 East Coast Ladies KA Ms Shannon Lancaster (NSW) BCC RBOB POB POG
19/01/19 Manawatu KA #1 Mrs Ikuko Nagazako (Brazil/Japan) RBCC POB
19/01/19 Manawatu KA #2 Mr Luiz Cabral Costa (Brazil) BCC RBOB POB POG
20/01/19 Kapi Mana KS #1 Mr Daniel Kwee (Indonesia) RBCC POB
20/01/19 Kapi Mana KS #2 Mr Ho Jeng-Long (Taiwan) BCC RBOB POB
02/02/19 Hibiscus Coast #1 Mr Shane Thomas (AUST) BCC POB
02/02/19 Hibiscus Coast #2 Mrs Vicki Schneider (AUST) POB POG
03/02/19 AEC #1 Mr Zlatko Kraljic (Croatia) BCC RBOB POB POG
03/02/19 AEC#2 Mr Y Tutera (India) BCC RBOB POB
08/03/19 Hamilton KC Mr Cristian Stefanescu (Romania) JOG
30/03/19 Wairoa KA #1 Mrs P Johansen (QSLD) BCC BOB JOB
30/03/19 Wairoa KA #2 Mr S Warry (WA) BCC
31/03/19 Napier KC #1 Mrs V Carter (Sth Aust) RBCC
31/03/19 Napier KC #2 Mr P Foster (Qsld) BCC RBOB
06/04/19 Cambridge KA #1 Michelle Reichsmuth (NZ) BCC JOB
06/04/19 Cambridge KA #2 David Smith (NSW) RBCC JOB
07/04/19 Cambridge KA #3 Audrey Vandersteen (Sth Aust) RBCC
19/04/19 Sth Island Boxer Club Linda Naslund (Sweden) RBCC RBISS JISS
19/04/19 Nth Canterbury KA #1 Mrs R Williams (NSW) RBCC JOB
20/04/19 Nth Canterbury KA #2 Mr D Kill (Qsld) BCC RBOB JOB
20/04/19 Nth Canterbury KA #3 Mr D Tidswell (Sth Aust) RBCC JOB
22/04/19 Mackenzie County A&P Society Ms Jill Hocking (Aust) RBCC JOB
27/04/19 The Boxer Club Inc Sandra Parle (UK) JISS
27/04/19 Central Boxer Club Dawn Thomas (Ireland) JISS
11/05/19 EOP Chris Woodrow (QSLD) BCC BOB RBOG JOG
12/05/19 EOP Miss Rosemary Green (Qsld) BCC BOB JOG JIS
08/06/19 AEC Mr Nigel Trainer (NZ) RBCC JOB
09/06/19 AEC Mrs D Smith (Qsld) BCC BOB JOB
15/06/19 Hauraki CA #1 Ms Carol Gunn (Qsld) BCC BOB JOB JOG
15/06/19 Hauraki CA #2 Robyn Williams (NZ) BCC RBOB JOB

Loki's Pedigree
AM GCH HO-PA'S GRAND SLAM (USA)
AM GR CH CARILLON'S M V P
AM CH CAPRI'S WOODS END SPELLCASTER
AM CH WOODS END CROWN SABLE
AM CH RUMMER RUN'S CAPRI
AM CH CARILLON ELLIE'S GRAND FINALE
AM CH DONRAY'S BUTCH CASSIDY THE KID
AM CH CARILLON ELEGANCE RUMMERRUN
AM CH HO-PA'S PENNY FOR YOUR THOUGHTS
AM CH PORT O CALLS FIRST MATE
AM CH SAMPSON CAY
KARIZMA SEASIDE COOBERPEDY
PORTOCALLS BLACK DIAMOND
AM CH RUMMER RUN'S HIGH NOON
CJ'S FINAL ANSWER
CH KADENCE ROCK YOUR SOCKS OFF (AI)
ENG CH LICHDEL UNCLE SILAS TO WINUWUK (JW) (UK)
CH WINUWUK LUST IN THE DUST
CH IR CH BLUEPRINT BEERN SKITTLES AT WALKON (IMP)
CH ROAMARO SCOTCH MIST OF WINUWUK
LICHDEL SAPPHIRE
LAYWIND TUMBLING DICE OUT OF LICHDEL
LICHDEL SOLITAIRE
SPR CH&SPL GR CH&AUST SUP CH KADENCE LUV AT FIRST SIGHT
GR CH WINUWUK BRIEF ENCOUNTER (IMP-UK)
ENG CH WINUWUK LUST AT FIRST SIGHT
FAERDORN CHICK FLICK AT WINUWUK
CH NATURA HOW YOU DOIN AT KADENCE
EISCHIED COLLABORATION
VIVYD SUMMERTIME (IMP-UK)
Contact Details
Aynsley Downie
Pukekohe, Auckland, NEW ZEALAND
Phone : 021 831007
Overseas Ph : +6421 831007
Email : [email protected]