Nitro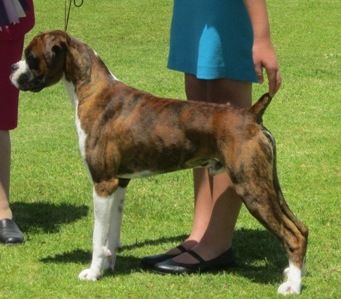 CH KADENCE NITRO WILD (AI)
DOB 07/02/2011
21 DCC - 14 RDCC
Wow what a start to this young pup's show career... First time in the ring and he is awarded Res Dog CC then to carry on and win Baby Puppy of Group & then Baby Puppy in show was just amazing..
And then to do exactly the same the next day was just awesome
This young man @ only 3mths of age can hold his gait and just strides around the ring with presence confidence and attitude which is great to see in a pup so young...
Nitro is handled and owned in partnership with Jaana Downie
---
Judges Critique..........
Mrs Faye Crooks -
Tyeanbo Boxers(Victoria Australia)
PUPPY DOG
CLAS
S
1
ST
#4. Kadence Nitro Wild (
AI)
9 month
old brindle puppy
very nice type with classic well proportioned head, dark eyes, well placed ears, correct mouth,
arched
neck flowed into
well
placed shoulders
well angled for and aft with short back,
good tail set. Moved correctly with reach
and drive and
well presented
.
RESERVE CHALLENGE DOG
---
NITRO'S RESULTS AT CHAMPIONSHIP SHOWS........
DOG CHALLENGES
25 Sept 2011 - Taupo Kennel Ass - Mr Nigel Trainer (NZ) (POB)
22 Oct 2011 - Manawatu Kennel Assn - Mr Geoff Whitfield (NZ) (POB)
29 Oct 2011 - Rotorua Kennel Assn - Mr Chris Graham (NZ) (POB)
11 Dec 11 - East Coast Ladies KA - Mrs L Black (Vic) (POB POG)
28 Jan 2012 - Northland CA - Mr Glen Vernon (NSW)
28 Jan 2012 - Bay Of Island CA - Mr S Sim (Philippines) (RBOB POB POG)
29 Jan 2012 - Northland CA - Mrs D Jovanovic (Qsld) (BOB POB)
4 Feb 2012 - Hibiscus Coast KA - Mrs K Hardwick (NZ) (RBOB POB POG)
4 Feb 2012 - Hibiscus Coast KA - Marie Patten (NSW) (RBOB POB POG)
5 Feb 2012 -AEC - Mrs K Graham (NZ) (RBOB POB)
12 Feb 2012 - CNINSUDA - E Blake Watts (NZ) (JOB)
26 Feb 2012 - North Shore KA - Margaret Supronowicz (Poland)
24 March 2012 - New Plymouth KC - Jeanette Lees (Vic)
31 March 2012 - Wairoa KC Pm Show - S Rickard (Vic) (BOB JOB JOG)
1 April 2012 - Napier KC Am Show - Kenneth Hodge (NSW) (BOB JOB JOG)
1 April 2012 - Napier KC Pm Show - Ben Luxton (Sth Aust) (RBOB)
6 April 2012 - ANSUDA - Janet Brownlee (Vic) (BOB JOB JOG)
8 April 2012 - Auckland KC - Kevin Summers (Aust)
14 April 2012 - Kumeu KA - Mrs Kaye McGhie (Qsld) (BOB JOB)
1 July 2012 - Hauraki Canine Ass #1 - Mrs Helen Weil (Qsld) (RBOB)
1 July 2012 - Hauraki Canine Ass #2 - Mrs Teena Sloan (Tas) (BOB NZOB)
RESERVE DOG CHALLENGES
07 May 11 - Eastern Bay Of Plenty Kennel Assn - Mr Robert (Alf) Fitzgerald (Bris)
08 May 11 - Eastern Bay Of Plenty Kennel Assn - Mr Peter Martin (Sth Aust)
10 Sept 11 - Huntly & Districts Kennel Assn - Mr Robert Whitney (Canada)
23 Oct 2012 - Manawatu KA - Mrs Esther Joseph (Vic)
27 Nov 11 - The Boxer Club Inc - Mrs Faye Crooks - Tyeanbo Boxers (Australia)
10 Dec 11 - East Coast Ladies KA - Mr J Black (Vic) (POB POG)
21 Jan 2012 - Kapi Mana KA - Val Carter (Sth Aust)
22 Jan 2012 - Manawatu KA - Osamu Toyokawa (Japan)
29 Jan 2012 - Bay Of Island CA - Mr D Strachan (Thailand)
30 Jan 2012 - Northland KA - Mr J Perfect (NZ) (POB)
5 Feb 2012 - AEC - Mr A Stretton (NZ)
25 Feb 2012 - North Shore KA - Geoff Corish (UK)
24 March 2012 - Central Boxer Club - Lucille Corbett (NSW)
31 March 2012- Wairoa KC AM Show - H Beasley (NSW)
STAKES
The Boxer Club Inc - 27 Nov 2011 - Mrs Faye Crooks - Tyeanbo Boxers (Vic Aust) - BEST MOVER
BABY PUPPY IN SHOW
07 May 11 - Eastern Bay Of Plenty Kennel Assn - Mr Robert (Alf) Fitzgerald (Bris)
08 May 11 - Eastern Bay Of Plenty Kennel Assn - Mr Peter Martin (Sth Aust)
BABY PUPPY OF GROUP
07 May 11 - Eastern Bay Of Plenty Kennel Assn - Mr Robert (Alf) Fitzgerald (Bris)
08 May 11 - Eastern Bay Of Plenty Kennel Assn - Mr Peter Martin (Sth Aust)
PUPPY OF GROUP
25 Sept 2011 - Taupo Kennel Ass - Mr Nigel Trainer (NZ)
10 Dec 11 - East Coast Ladies KA - Mr J Black (Vic)
11 Dec 11 - East Coast Ladies KA - Mrs L Black (Vic)
28 Jan 2012 - Bay Of Island CA - Mr S Sim (Philippines)
4 Feb 2012 - Hibiscus Coast KA - Mrs K Hardwick (NZ)
4 Feb 2012 - Hibiscus Coast KA - Marie Patten (NSW)
JUNIOR OF GROUP
31 March 2012 - Wairoa KC Pm Show - S Rickard (Vic)
1 April 2012 - Napier KC Am Show - Kenneth Hodge (NSW)
6 April 2012 - ANSUDA - Janet Brownlee (Vic)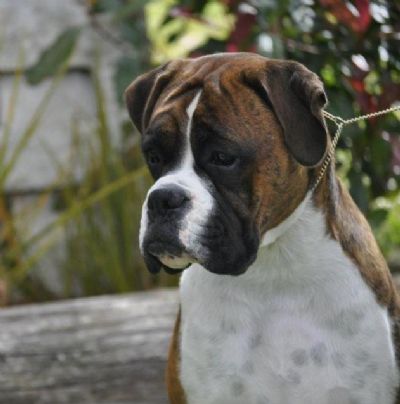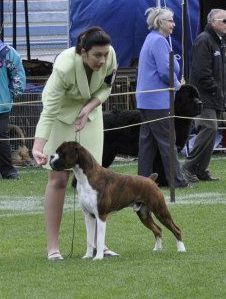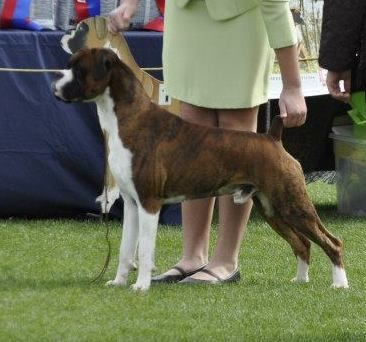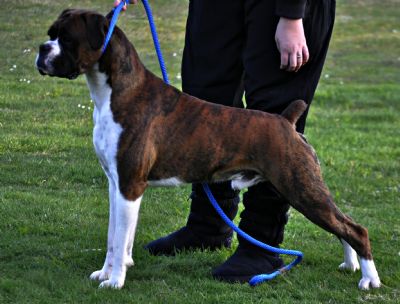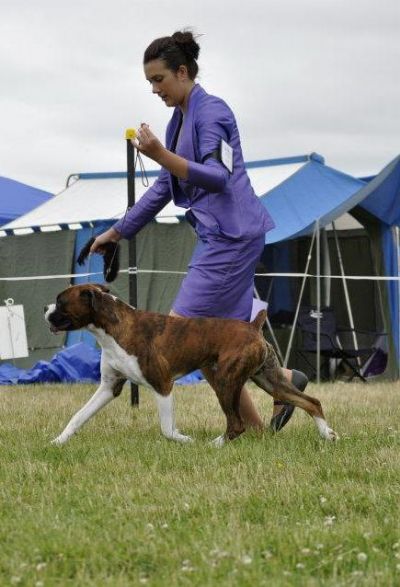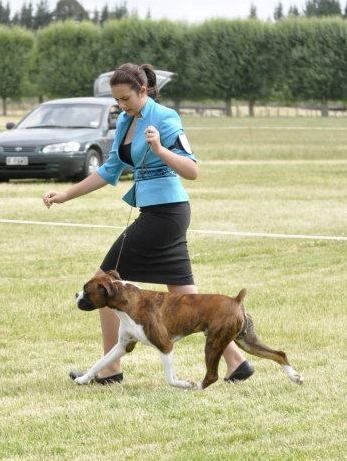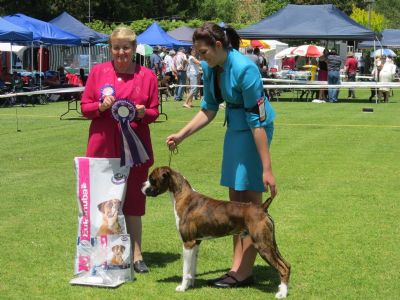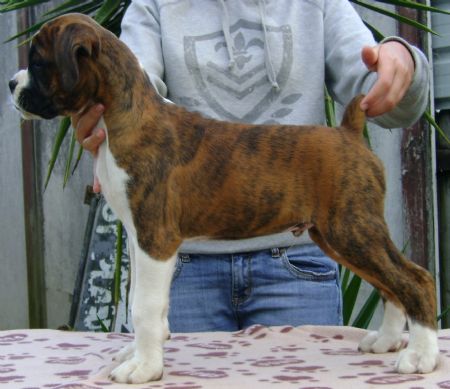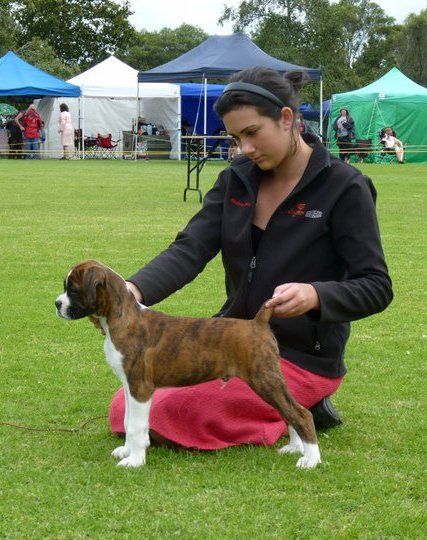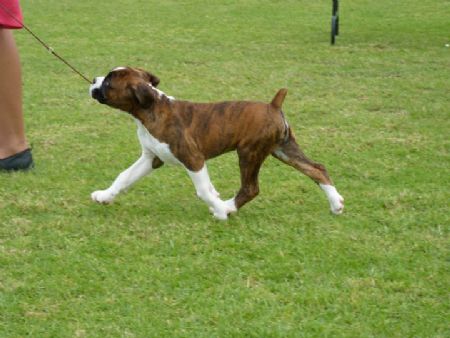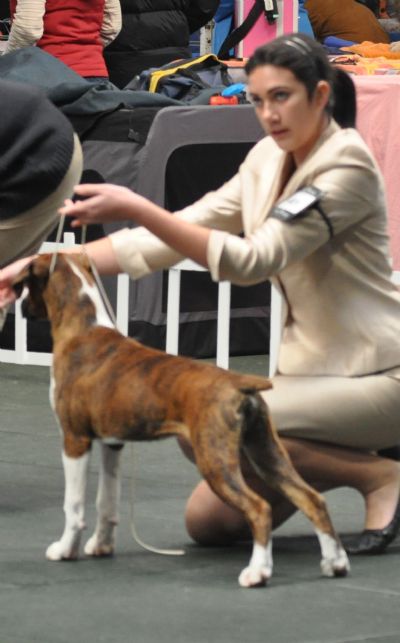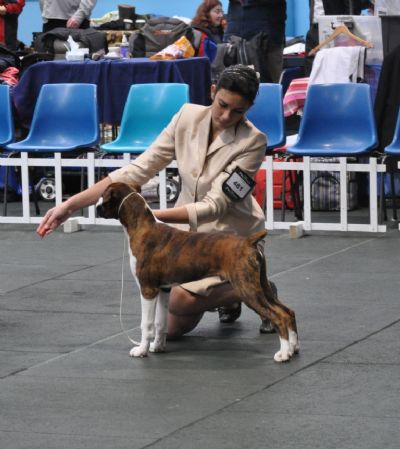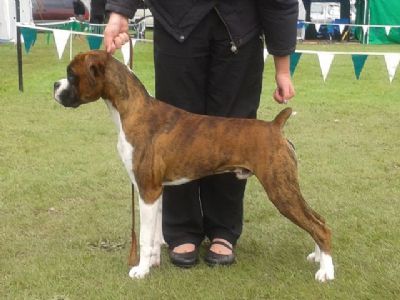 AUST CH GALICAR CONTRADICTION JW ShCM (Imp UK)
ENG/IR CH Belvern Premenition (JW)
ENG CH Surfstone Hot Property
ENG CH Tyegarth Pacherenc At Seacrest
Surfstone Susannah
Boxberry Star Struck At Belvern (Imp Aust)
AUST GR CH Belvurn Too Hot T'Handle (Imp UK)
Ozstock Stars Inner Eyes
Daltamie Rise N Shyne Over Galicar
ENG/IR CH Bucksteps Charlie Brown
ENG CH Carinya Rye N Dry
Bucksteps Easy Virtue
Roseanne At Daltamie
Bucksteps Back To Basics At Daltamie
Gilly Passional
NZ CH NATURA HOW YOU DOIN AT KADENCE
Eischied Collaboration
AUST/ NZ GR CH Valeska Lock Up Ya Daughters
Lock Stock'N Barrel Of Brunden (Imp UK)
NZ CH Valeska Going Scot Free
CH Eischied Justice Seeker
NZ CH Valeska Front Page Newz
Eischied Poetic Justice
Vivyd Summertime (IMP UK)
ENG CH Vivyd Stars'N Stripes
ENG /IR CH Bucksteps Charlie Brown
Vivyd Hellucination
Vivyd Sun'N Shadow
ENG CH Ashgate Able Seaman Of Seefeld
Vivyd Hellucination
Contact Details
Aynsley Downie
Pukekohe, Auckland, NEW ZEALAND
Phone : 021 831007
Overseas Ph : +6421 831007
Email : [email protected]