Rocket
BISS RBISS CH KADENCE ROCK YOUR SOCKS OFF (AI)
ROCKET
DOB 11 JULY 2014
26 CC - 24 RCC

April 2019 Rocket goes Best In Specialty Show at The Boxer Club inc under Sandra Parle (UK)
BREAKING NEW: 04th October 2017, ROCKET WINS RESERVE BEST IN SPECIALTY SHOW - THE CENTRAL BOXER CLUB under Mr Luis Pinto Teixeira (Portugal) - 40 Boxers entered
Oct 2017​, Rocket goes Best of Breed (22) & RESERVE BEST OF GROUP / BEST OPEN OF GROUP at the National Dog Show under Mrs Christina Chaplin (UK)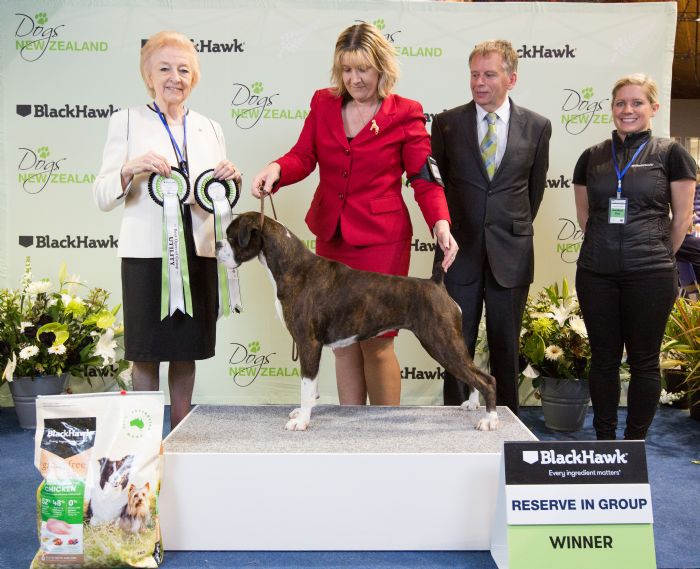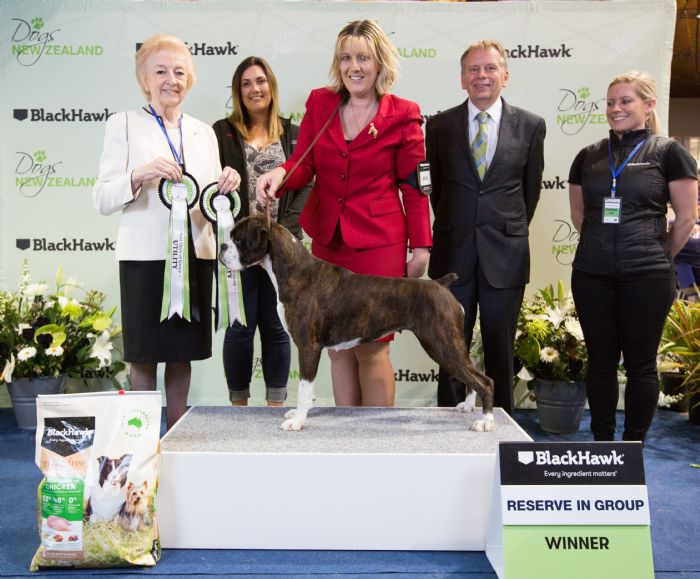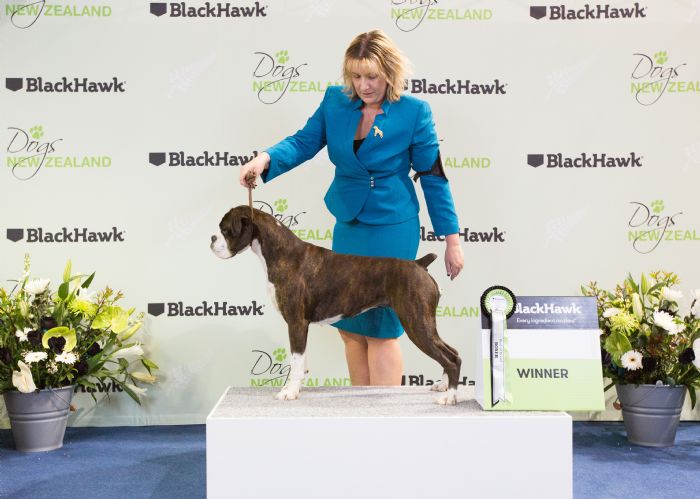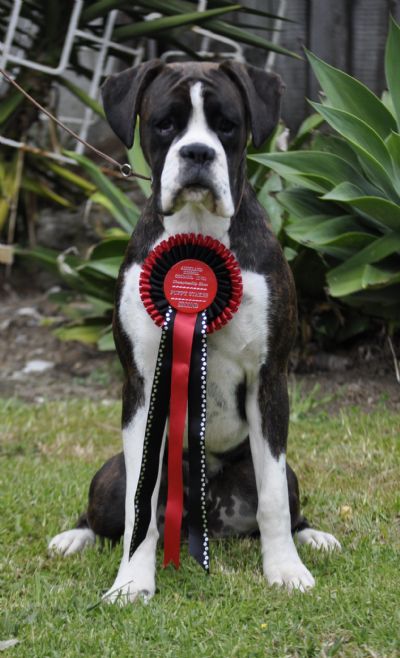 Rocket with her 2nd Puppy Stakes Ribbon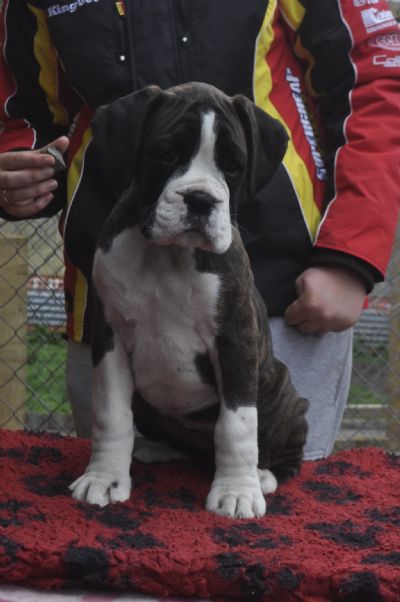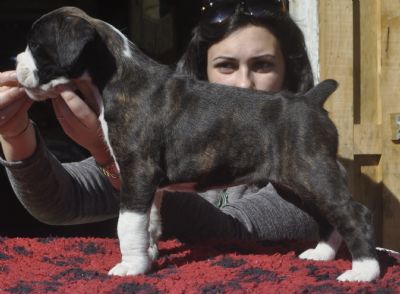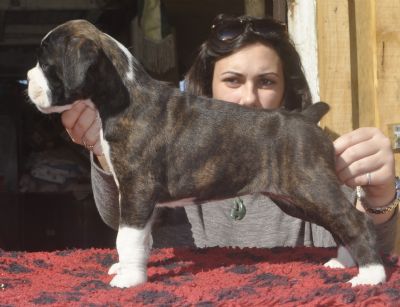 6 weeks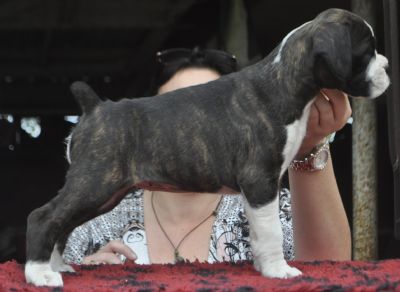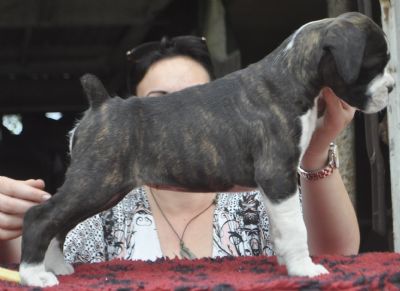 7 weeks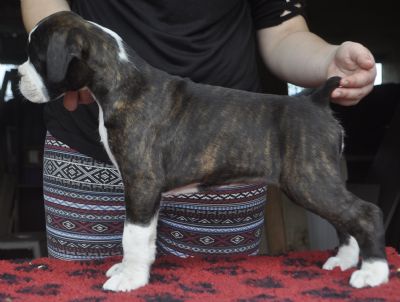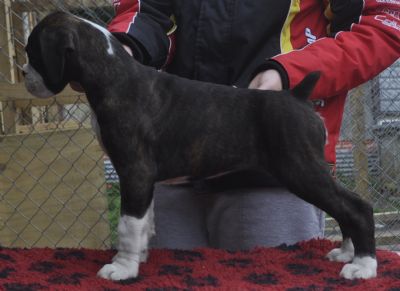 8 weeks 9 weeks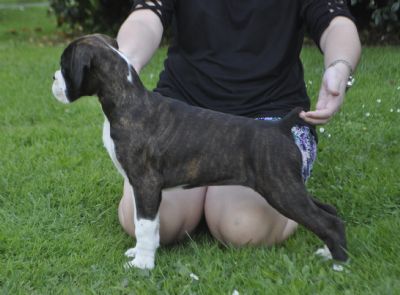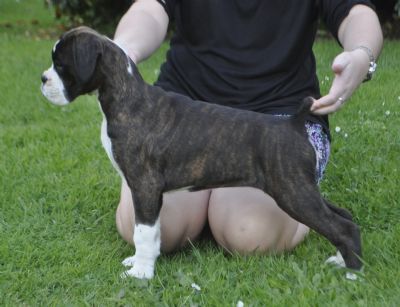 11 weeks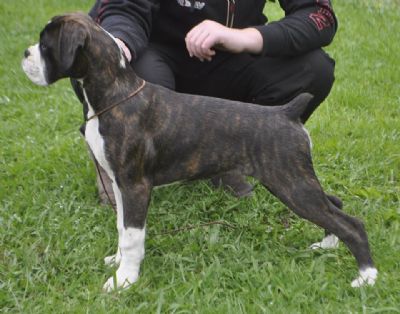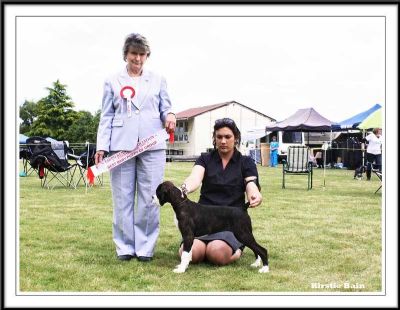 3 1/2 months Best Baby Puppy Of Group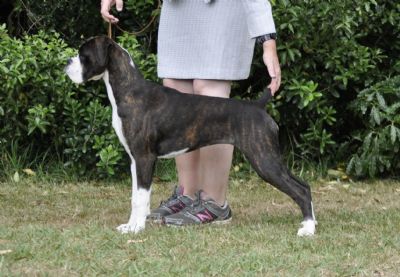 6 months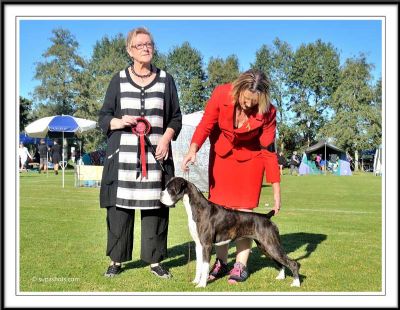 04 April 2015 AKC - 2nd Puppy Stakes
Judge: Ms A Whitmarsh (Sweden)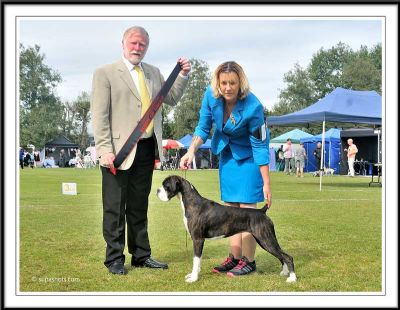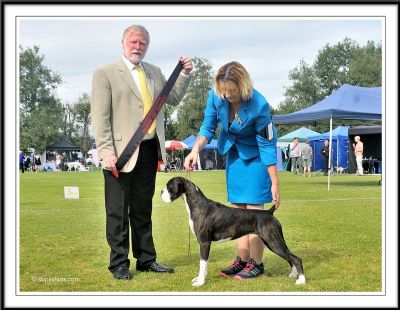 05 April 2015 AKC BEST PUPPY OF GROUP
Judge Mr B Harris (NZ)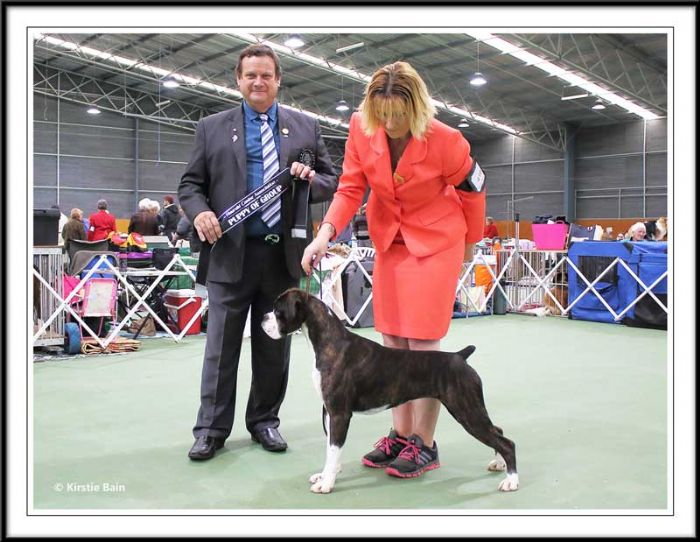 27 June 2015 HKC BEST PUPPY IN SHOW
Judge Mr Chris Woodrow (QSLD)​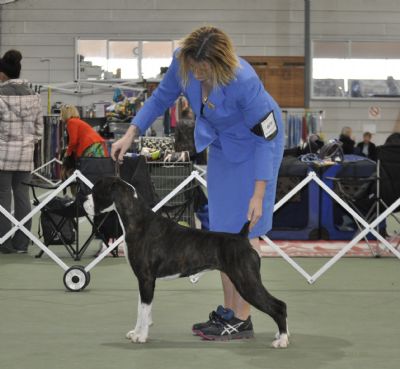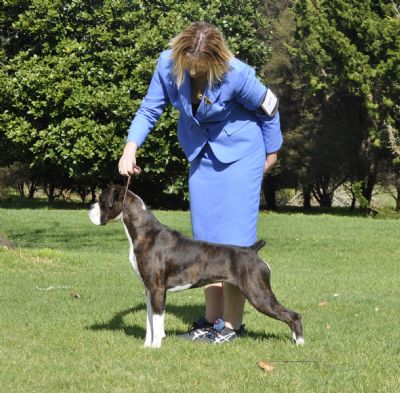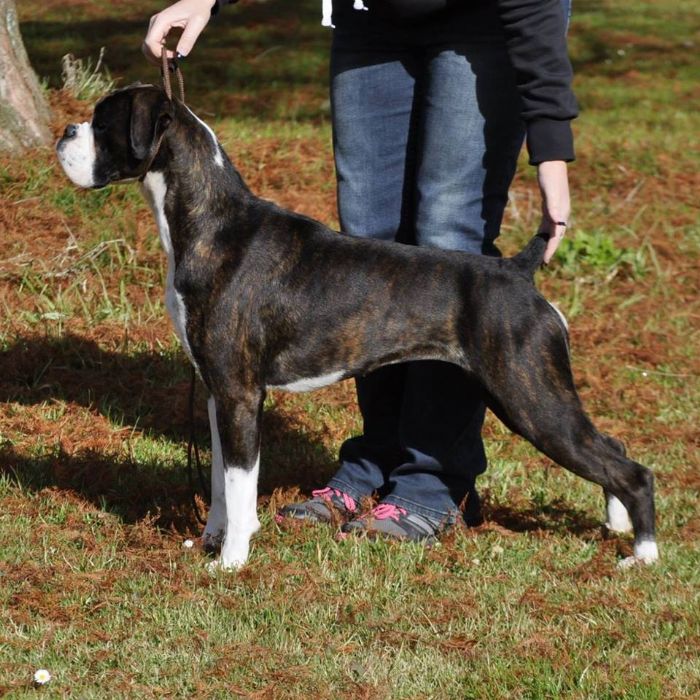 13months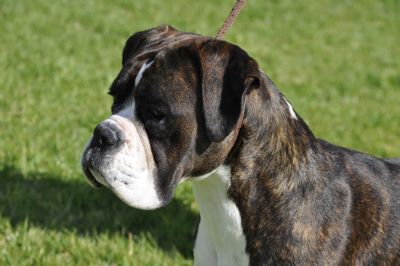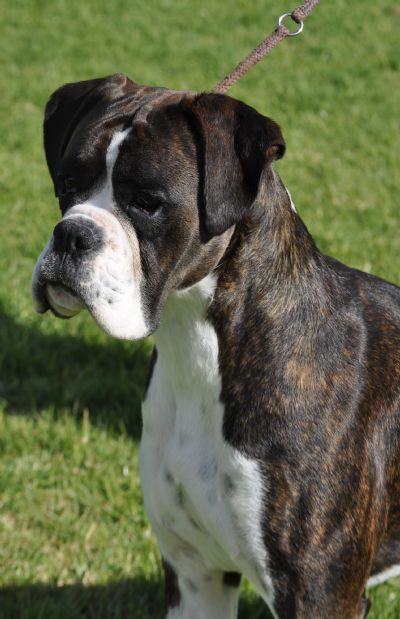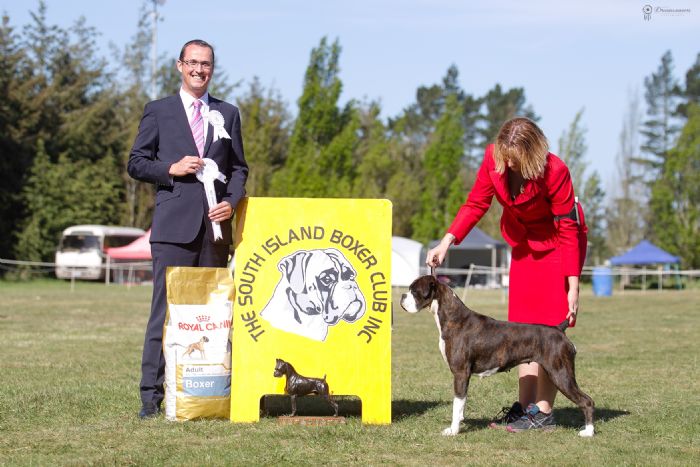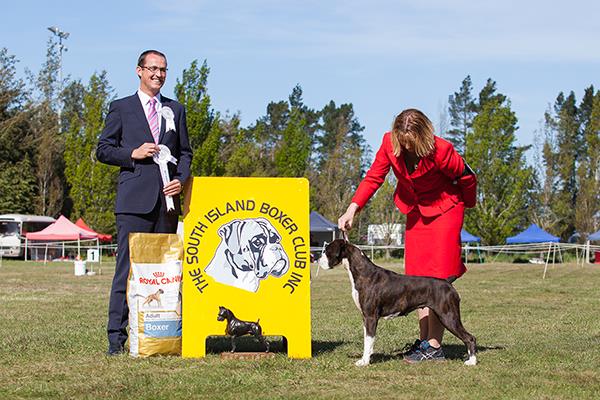 Rocket - Best Junior In Show - Judge Mr Tim Hutchings (Winuwuk Boxers UK)​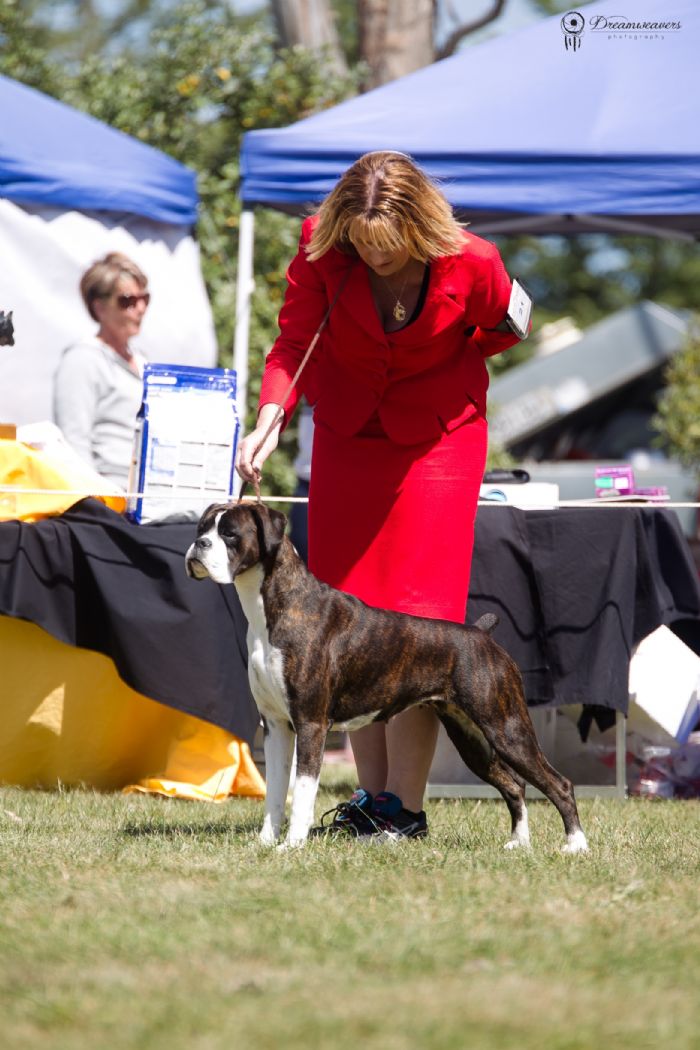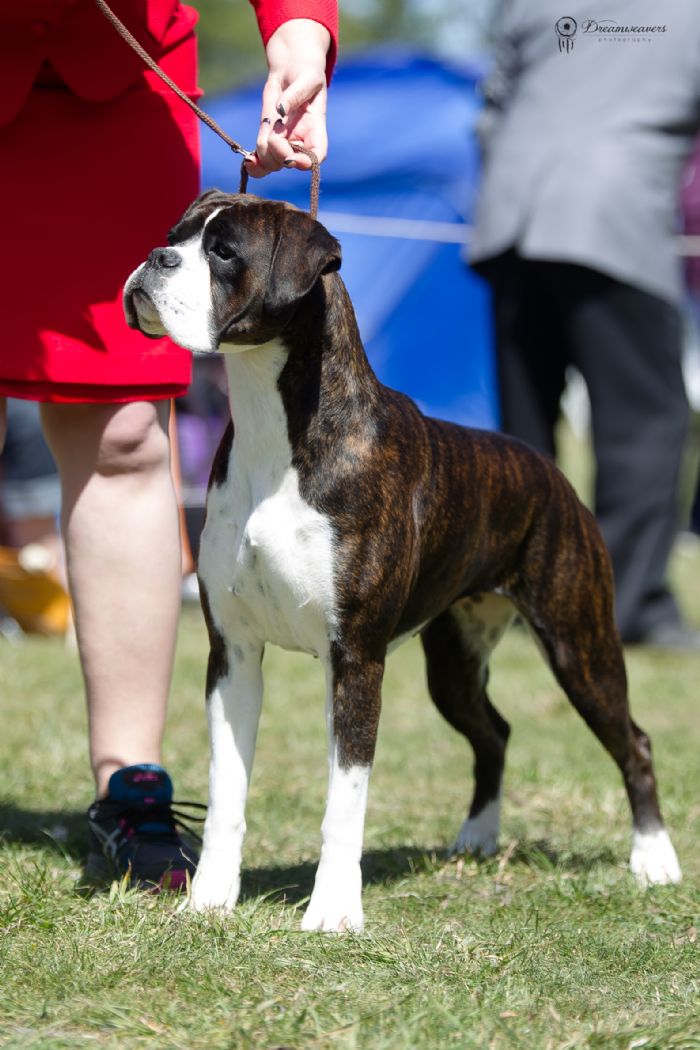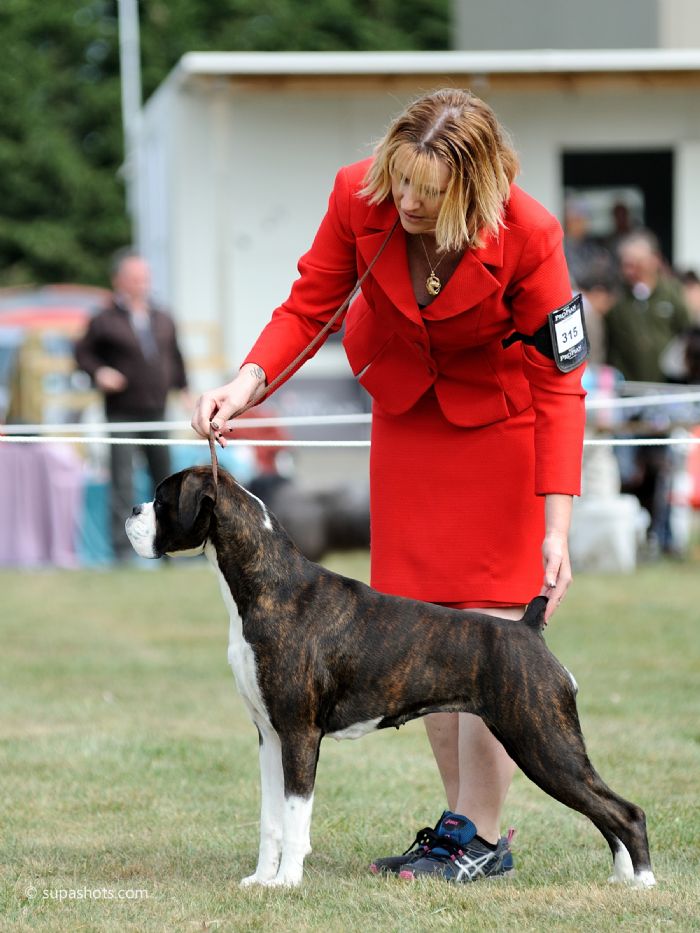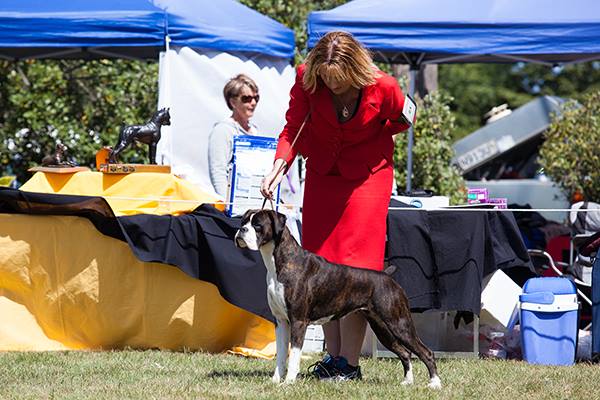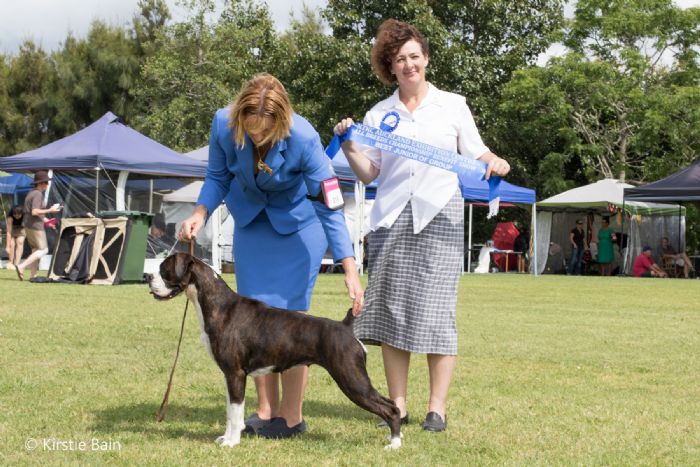 AEC 31/01/2016 - BCC RBOB JOG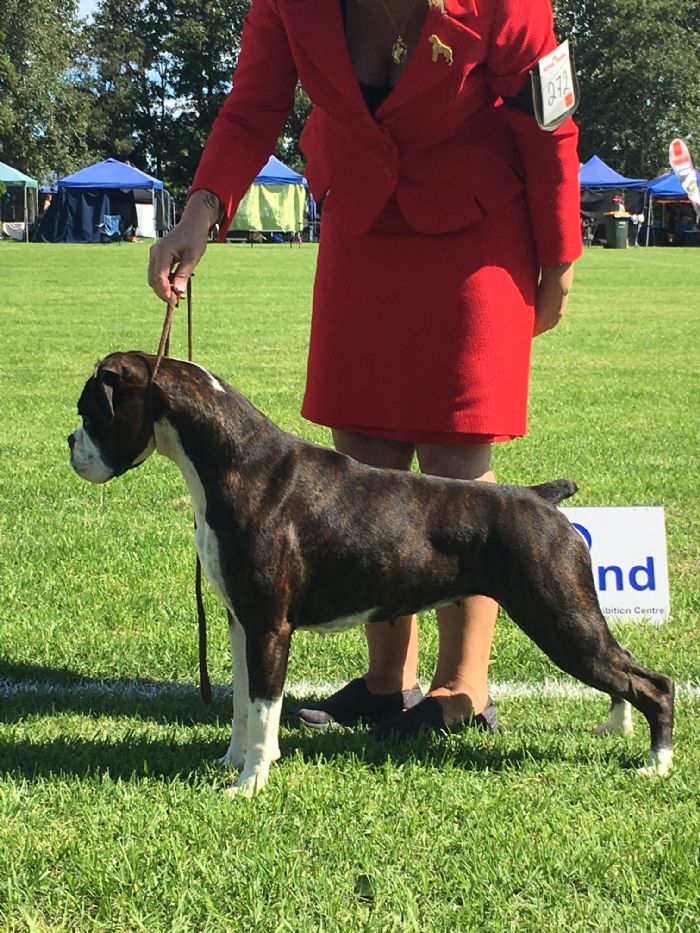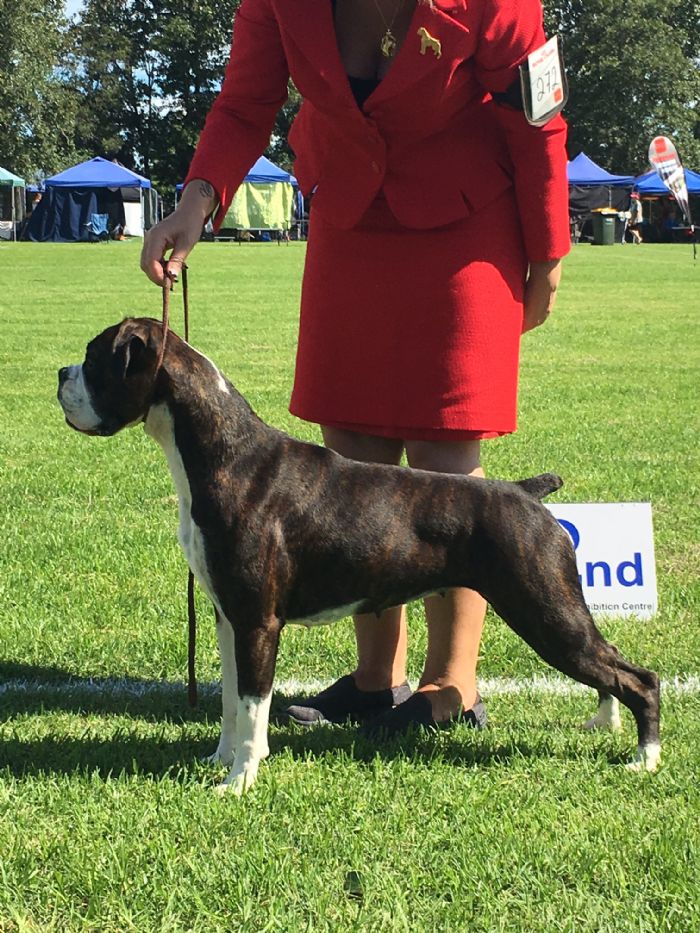 Rocket @ 1 1/2 Years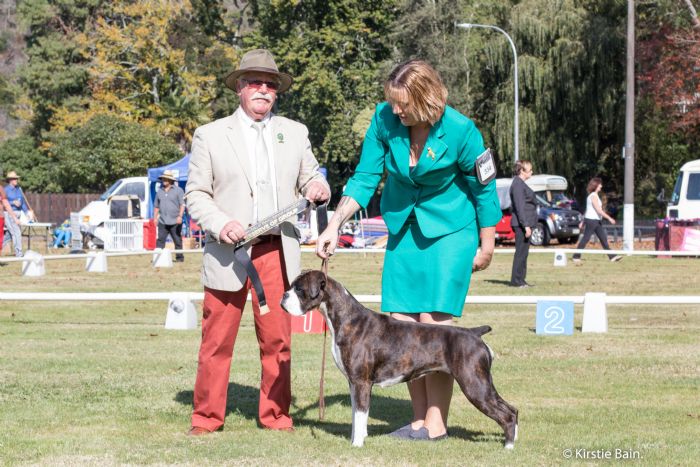 ​Rocket winning RESERVE OF GROUP under Mr Jim Black (VIC -AUST)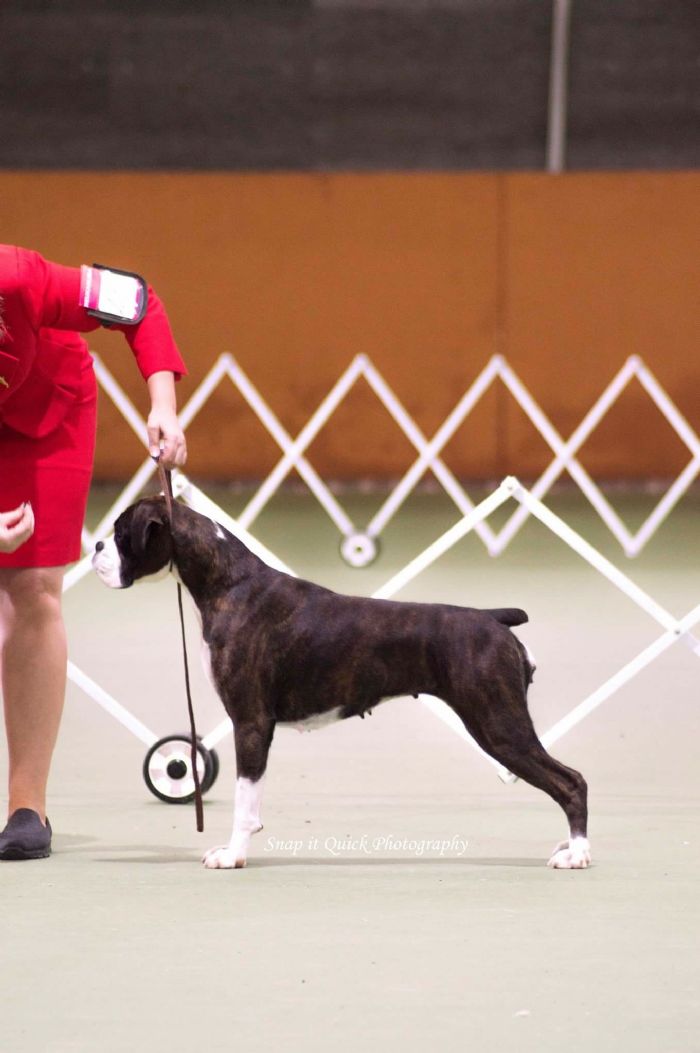 Rocket out in the ring - 23 months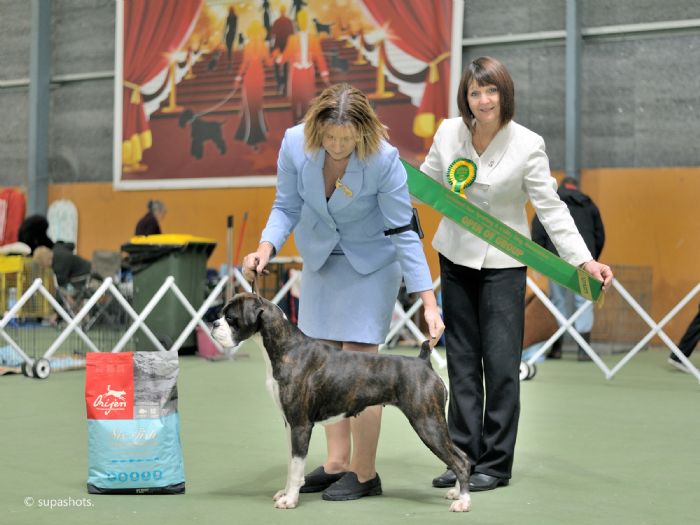 ​10/07/16 Rocket winning OPEN OF GROUP @ ANSUDA under Mrs Joyce Sullivan (VIC - AUST)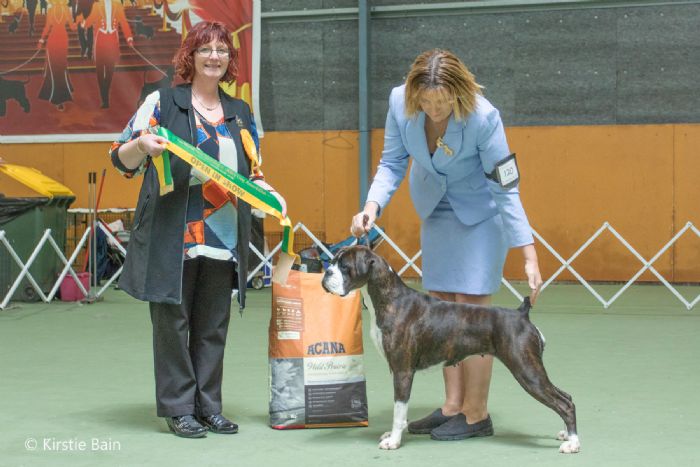 ​10/07/16 Rocket winning OPEN IN SHOW @ ANSUDA under Mrs Cathy Wallace (NZ)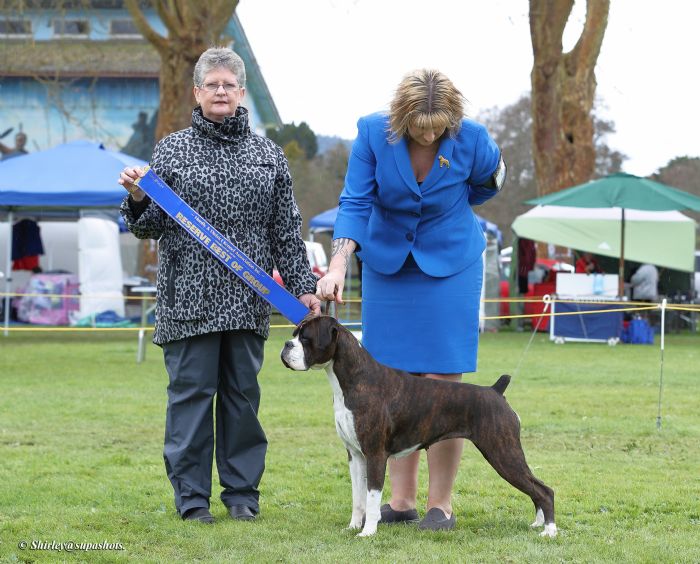 ​Sept 17 Rocket goes RESERVE BEST OF GROUP & OPEN OF GROUP under Ms Lynn Harrison (Sth Aust)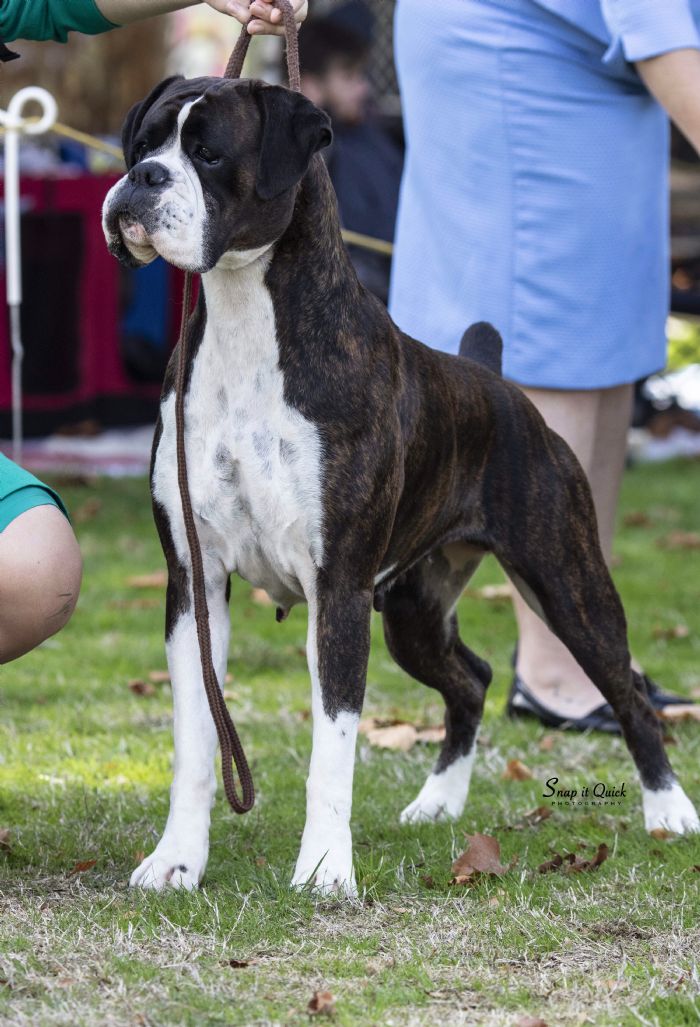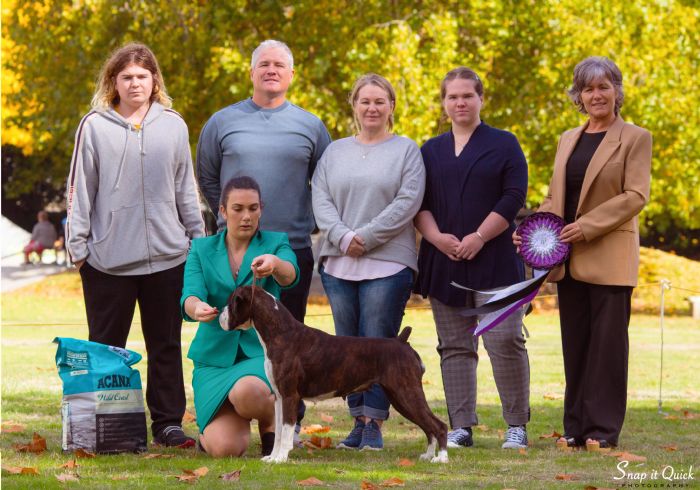 2019 BEST IS SHOW - JUDGE: SANDRA PARLE (UK)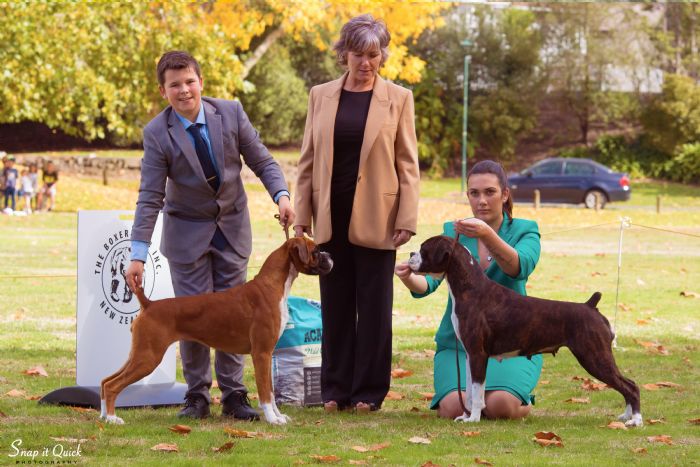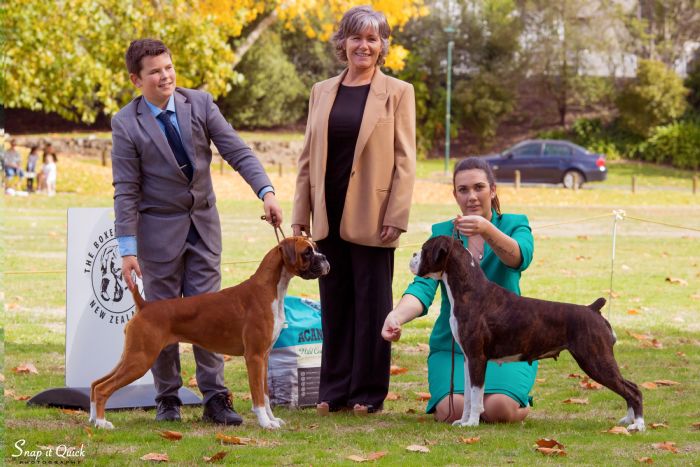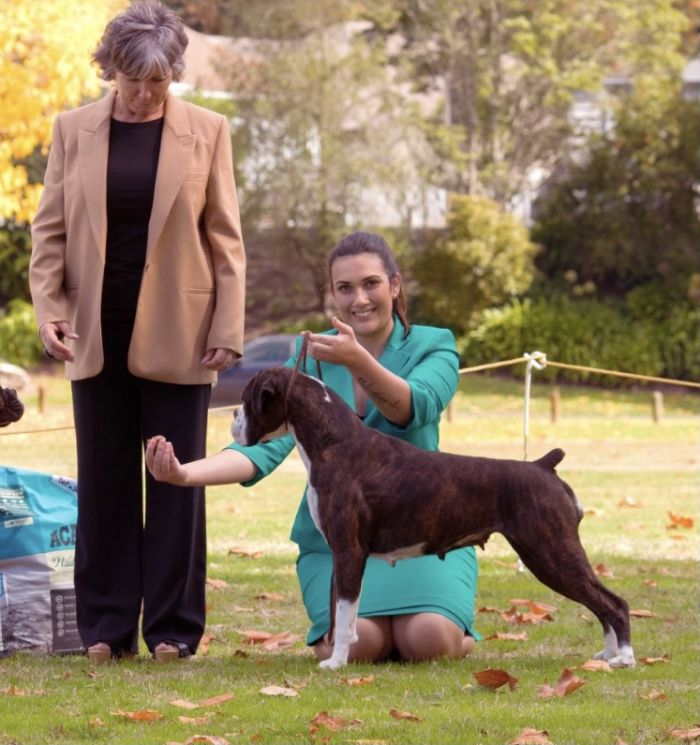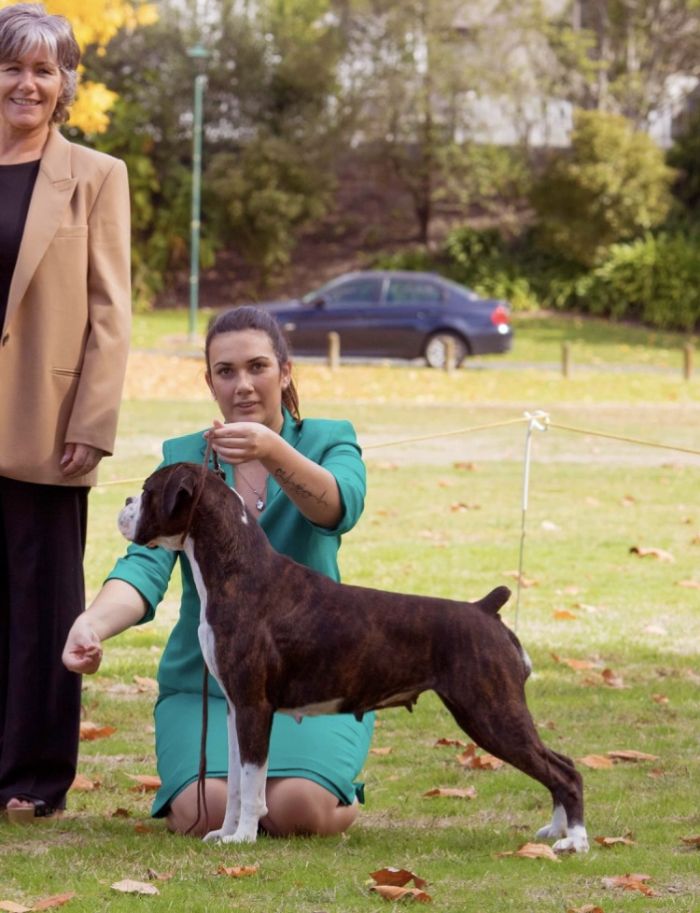 Show Results
02/11/14 Taupo Kennel Club Best Baby Puppy Of Group - Judge Mrs Sandra Patterson (NSW)
04/04/15 Auckland Kennel Club 2nd Puppy Stakes - Judge Ms A Whitmarsh (Sweden)
05/04/15 Auckland Kennel Club Best Puppy Of Group, RBCC - Judge Mr B Harris (NZ)
28/06/15 Hauraki Kennel Club Best Puppy In Show, RBCC - Judge Mr Chris Woodrow (Qsld)
- Qualified for PUPPY OF THE YEAR 2015/16
09/08/15 Ladies Kennel Ass #1 BCC, JOB - run for JOG - Ms Anne Collyer (Vic)
06/09/15 Huntly Kennel Ass BCC, JOB - Mrs Julie Dickinson-Franks (NSW)
24/10/15 South Island Boxer Club JIS - Mr Tim Hutchings (UK)
31/10/15 Taupo Kennel Club BCC, RBOB, JOB - Mr Kenneth Buxton (USA)
01/11/15 Taupo Kennel Club RBCC, JOB - Mrs Donna Buxton (USA)
​21/11/15 Franklin Kennel Ass RBCC JOB - Ms Catherine Loft (ACT)
​31/01/16 Auckland Exh Centre BCC, RBOB, JOB, JOG - Ms G Fletcher (NZ)
​31/01/16 Auckland Exh Centre RBCC - Ms L Diamanti (NZ)
​06/02/16 Tokoroa Canine Ass RBCC - Ms Sandra Marshford (Vic)
​07/02/16 Tokoroa Canine Ass RBCC, RBOB, JOB - Mr Steve Meredith (NZ)
​05/03/16 Hamilton Kennel Ass BCC, RBOB, JOB - Mr Ken Iggleden (Aust)
​27/03/16 Auckland Kennel Cou BCC, RBOB, JOB, JOG - Ms Margaret Joyce (Vic)
02/04/16 Wairoa Kennel Ass #1 RBCC, OOB- Mr S Pizzomo (Uruguay)
​02/04/16 Wairoa Kennel Ass #2 BCC, BOB, OOB - Run for final 4 of Group - Mr J Rowton (Canada)
​03/04/16 Napier Kennel Centre #1 BCC - Mrs O Gagne (Canada)
​03/04/16 Napier Kennel Centre #2 RBCC - Mr C Fynmore (Aust)
​30/04/16 EBOP Kennel Club BCC, BOB, OOB, RBOG - Mr Jim Black (Vic)
​01/05/16 EBOP Kennel Club BCC, RBOB, OOB - Mrs L Black (Vic)
​10/07/16 ANSUDA Open Of Group - Mrs Joyce Sullivan (VIC)
10/07/16 ANSUDA OPEN IN SHOW - Mrs Cathy Wallace (NZ)
​14/08/16 Ladies KA #1 BCC, RBOB - Mr Raymond Goldstone (Canada)
​14/08/16 Ladies KA #2 BCC, RBOB, OOB - Mr Matgo Law (Hong Kong)
​28/08/16 Rotorua KA BCC, BOB, OOB, OOG - Mr Chris Graham (NZ)
​03/09/16 Huntly & District KA RBCC - Mrs Stephanie Richard (Vic)
​23/10/16 Tauranga KA BCC RBOB - Mr Peerapong Pisttwuttinan (Thailand)
​29/10/16 Taupo KA #2 RBCC OOB - Mrs Maija Kavcic (Slovenia)
30/10/16 Taupo KA #3 BCC RBOB OOB - Mrs Maree McKenzie (NZ)
​13/11/16 Wairarapa KA RBCC OOB - Mr Fred Salud (Phillipines)
​14/01/17 Manawatu KA #2 BCC RBOB - Mr Andi Hudono (Indonesia)
​15/01/17 Kapa Mana #1 RBCC - Mr Dedy Tjahjono (Indonesia)
​09/07/17 Kumeu KA #1 RBCC - Ms Glenda Goller (QSLD)
​09/07/17 Kumeu KA #2 RBCC RBOB OOB Mr Andrew Burt (VIC)
12/08/17 Ladies KA #1 BCC BOB OOB Mr Antonio Capistrano (Brazil)
02/09/17 Huntly & District KA RBCC RBOB OOB Ms Linda Buckley (ACT)
​03/09/17 Huntly & District KA BCC BOB OOB RBOG OOG Ms Lynn Harrison (Sth Aust)
​04/10/17 The Central Boxer Club BCC RBISS OISS - Mr Luis Pinto Teixeira (Portugal)
​05/10/17 2017 National Dog Show BCC BOB OOB RBOG OOG - Mrs Christina Chaplin (UK)
​22/10/17 Tauranga KA #1 RBCC - Mr Joe Lobb (Canada)
​22/10/17 Tauranga KA #2 RBCC OOB - Mr Damian Bourne (Sth Aust)
​11/11/17 Wairarapa KA #2 BCC RBOB - Mr Robert Lucas (NSW)
​12/11/17 Wairarapa KA #3 RBCC - Mrs Lynn Carleton (NZ)
​19/11/17 Franklin KC RBCC OOB - Brad Santas (NSW)
​25/11/17 TNSUDS RBCC OOB - James Camac (NSW)
​25/11/17 Sth Taranaki KC RBCC, OOB- Mrs Diane Fenton (NSW)
​26/11/17 TNSUDS RBCC, OOB - Ms Glenda Cook (Vic)
​26/11/17 Sth Taranaki KC RBCC OOB - Mrs Gwen Hovey-Jacobs (QSLD)
07/10/18 CSK BCC, BOB, OOB - Mr Hiroshi Kamisota (Japan)
20/04/19 Nth Canterbury KA #2 BCC RBOB, OOB - Mr D Tidswell (Sth Aust)
21/04/19 Sth Island NS & U DA BCC OOB - Mrs Liz Gunter (NSW)
27/04/19 The Boxer Club inc BCC BISS OISS - Sandra Parle (UK)
27/04/19 Central Boxer Club OISS - Dawn Thomas (Ireland)
CRITIQUES
27 April 2019 - Central Boxer Club, Judge: Dawn Thomas (Ireland)
Open Bitch (4)
1. Ch Kadence Rock Your Socks Off, very smart bitch with correct angulation both front and back, good amount of bone for substance without being course, tight feet, well sprung rib, short coupled, topline held
well on the move, great width of second thigh, moved with drive around the ring, would like more padding under eyes to balance muzzle and upsweep of chin, eye large dark expressive. BEST OPEN IN SHOW
27 April 2019 - The Boxer Club Inc, Judge Mrs Sandra Parle (UK)
Open Bitch (3)(Bitch CC):
Heading a very nice, strong class.
1st: Downie' - Ch. Kadence Rock Your Socks Off (Bitch CC & BIS)
A 4 year b&w bitch that screamed quality and suited her name. A lovely girl who was so nicely balanced
throughout with a beautiful head piece. Expressive dark eye, beautiful wide, deep muzzle and excellent
mouth. She has a beautiful forehand assembly with pleasing lay of shoulder and well boned, straight
front legs down to firm pasterns and neat, tight feet. Her body was well knit, compact with deep chest,
well sprung ribs, straight toppling and firm loin. She was in good coat and condition with strong rear
quarters which she used to drive around the ring. She gave her handler her all and showed like a
veteran. Pleased to award this bitch the CC and BIS although she had to pull out all the stops to beat the
puppy bitch who was hot on her heels, but maturity won the day.
19 April 2019 -

South Island Boxer Club 65th: Judge Mrs Linda Naslund (Finland)
2. Downie's CH KADENCE ROCK YOUR SOCKS OFF (AI)
B/W Also very attractive. Slightly taller and longer than no. 1. And no. 1 has the better head. Would prefer a little more rise of scull on this bitch and more evident chin. Dark well-shaped eyes. Also lovely arched neck and excellent topline, well angulated, good brisket, excellent bone and feet. Moves with drive and reach and is in excellent condition. Nice temperament.
SHOW: South Island Boxer Club 24th Oct 2015
​JUDGE: Mr Tim Hutchings (UK) Winuwuk Boxers
Junior Bitch (4,1) This was an excellent class
1st Kadence Rock Your Socks Off - very smart brindle and white, turned out in top condition. Very good in topline and tailset with a powerfully made set of hindquarters. Well made in front and shoulder with good neck. Quality bone and feet. Pushed off well when asked to move and covered lots of ground in profile. Head is very well balanced with good muzzle to skull balance and good rise of skull. Would benefit from a little less flew and the large amount of white marking can initially be a bit distracting but this is a top quality Boxer who should do well. JIS​​​​​
SHOW: Central Boxer Club 26th June 2016
JUDGE: Mrs Brenda Grove (UK) Jimbren Boxers
OPEN BITCH 3rd
​Downie's CH Kadence Rock Your Socks Off
​This bitch has a lot to offer the breed, her head is clean and of correct shape, lovely eye with the most appealing expression, good length of neck, level topline but would prefer a better underline, shoulders good and moved with drive.
SHOW: The Boxer Club 26th June 2016
JUDGE: Mr Steve Hare (UK) Jimbren Boxers
OPEN BITCH 2nd
Downie's CH Kadence Rock your Socks off.
Very stylish B/W who is balanced and presents a pleasing picture, cleanest of heads with lovely chiselling, dark well shaped eyes good muzzle and mouth. Good angles front and rear, moved with drive around the ring.

​SHOW: Central Boxer Club 4th October 2017
JUDGE: Mr Luis Pinto Teixeira - Portugal
First - CH Kadence Rock Your Sock Off - Best Bitch and RBIS
​Correct type. Good proportions. Nice head. Good front. Good angulation at the shoulder. Correct top line. Good angulation behind. Moves well.
ROCKET'S PEDIGREE
ENG CH LICHDEL UNCLE SILAS TO WINUWUK

ENG / IR CH Winuwuk Lust In The Dust

ENG CH Blueprint Beern Skittles At Walkon

Jenroy Pop Back To Walkon

AUST GR CH Walkon Skittles

ENG CH Roamaro Scotch Mist Of Winuwuk

ENG CH Wrencliff Flying Scotchman Of Winuwuk

Jenroy Popsicle For Belmont

Lichdel Sapphire

Laywind Tumbling Dice Out Of Lichdel

Lichdel Neapolitan

Belmont Lizawake Of Laywind

Lichdel Solitaire

Lichdel Gambling Man

Lichdel Kazuri Belle

NZ SUPREME CH/ NZ SPECIALIST GRAND CH/ AUST SUPREME CH KADENCE LUV AT FIRST SIGHT

NZ GR CH Winuwuk Brief Encounter (IMP UK)

ENG CH Winuwuk Lust At First Sight

ENG CH Winuwuk Lust In The Dust

ENG CH Winuwuk Story Book

Faerdorn Chick Flick At Winuwuk

ENG CH Winuwuk Lust In The Dust

Faerdorn After The Show

NZ CH Natura How You Doin at Kadence

Eishied Collaboration

NZ/AUST GR CH Valeska Lock Up Ya Daughters

NZ CH Eischied Justice Seeker

Vivyd Summertime (Imp UK)

ENG CH Vivyd Stars'N' Stripes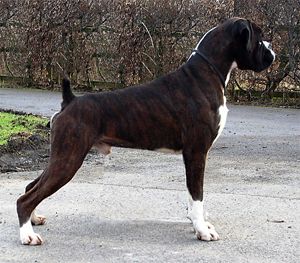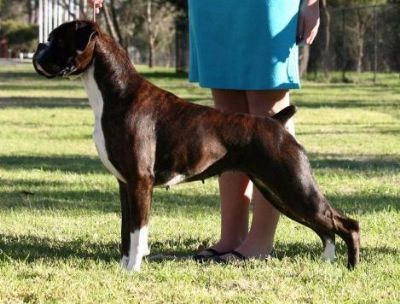 Contact Details
Aynsley Downie
Pukekohe, Auckland, NEW ZEALAND
Phone : 021 831007
Overseas Ph : +6421 831007
Email : [email protected]