SLAM
BISS RBISS KADENCE SLAM IT
DOB: 20 February 2018
10x DCC 11x RDCC
09 March 2020 Slam wins BEST IN SHOW at The Boxer Club Inc show
Judge Helene Owen (Ronin Boxers NZ)
April 2019 Slam goes Reserve Best In Specialty Show at the Central Boxer Club under Dawn Thomas (Ireland)
*2020 Slam is only lightly shown now and is mostly brought out for specialties due to our youngsters.
5 wks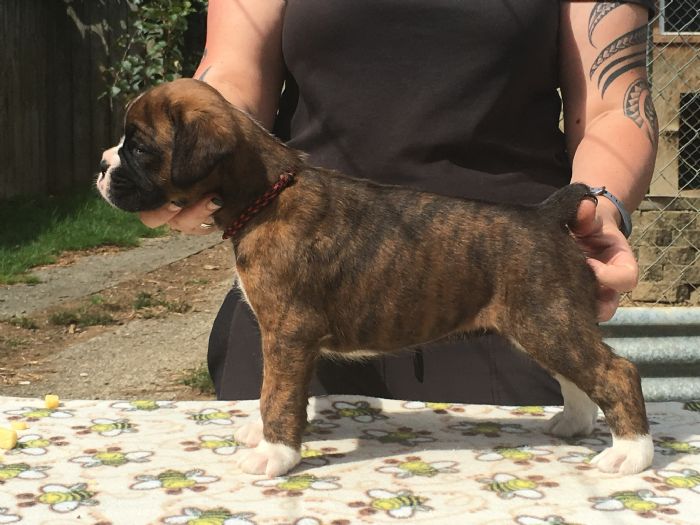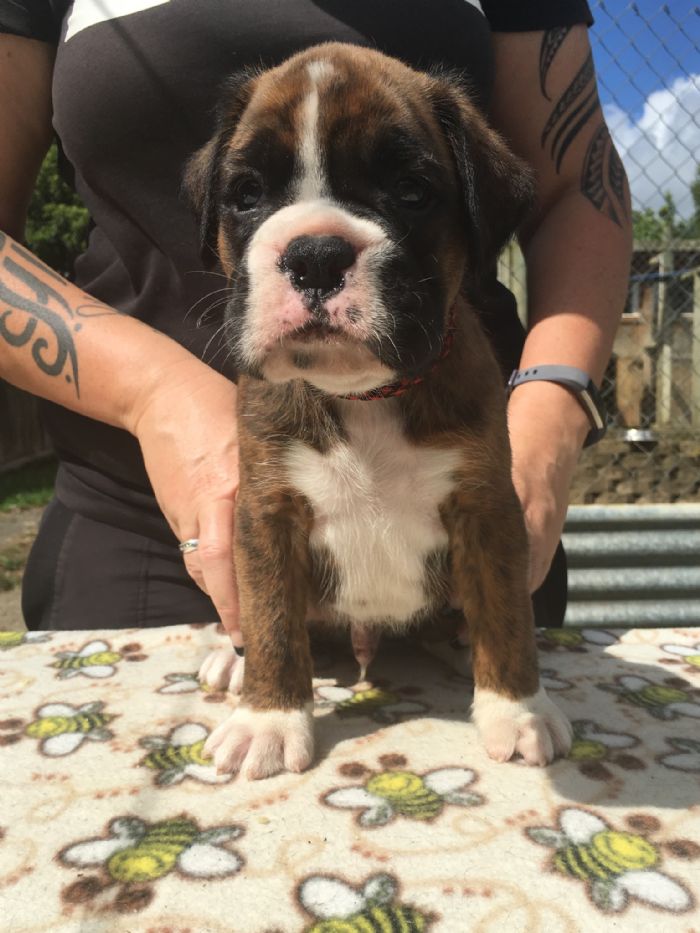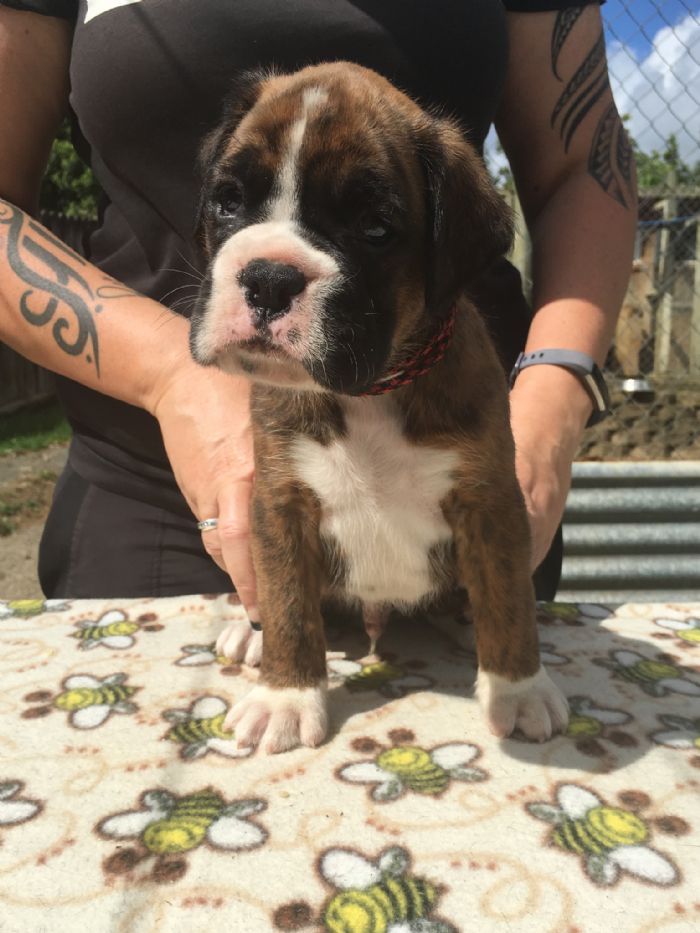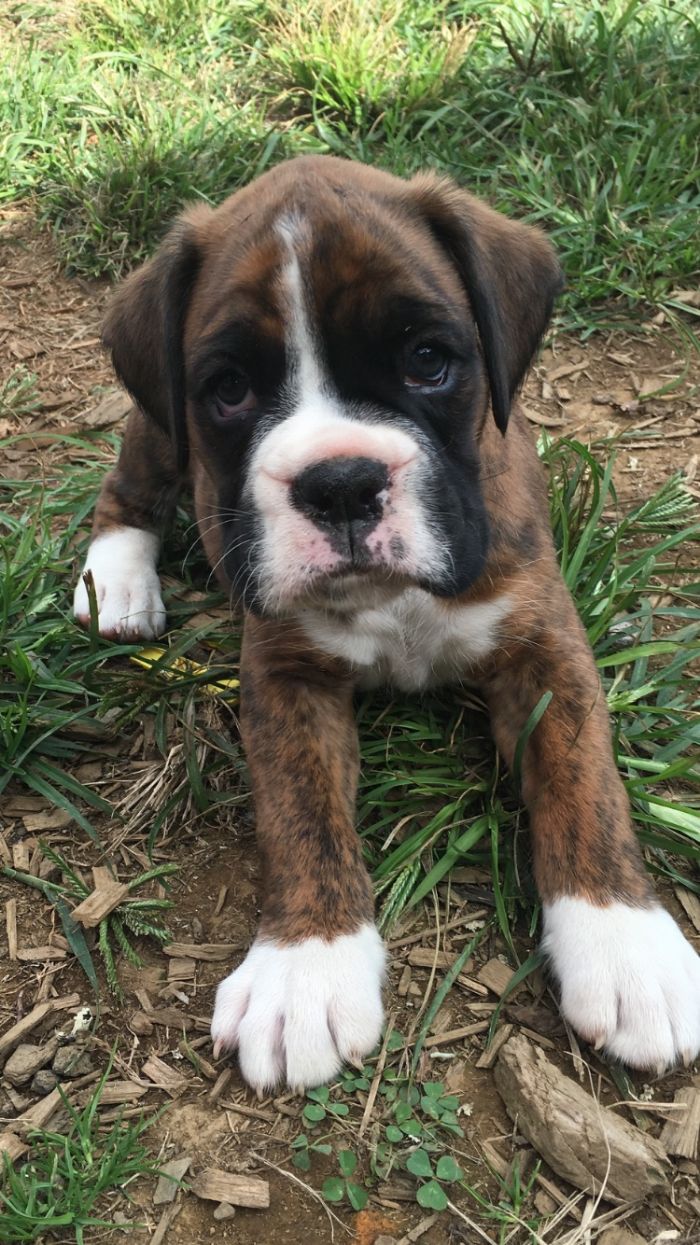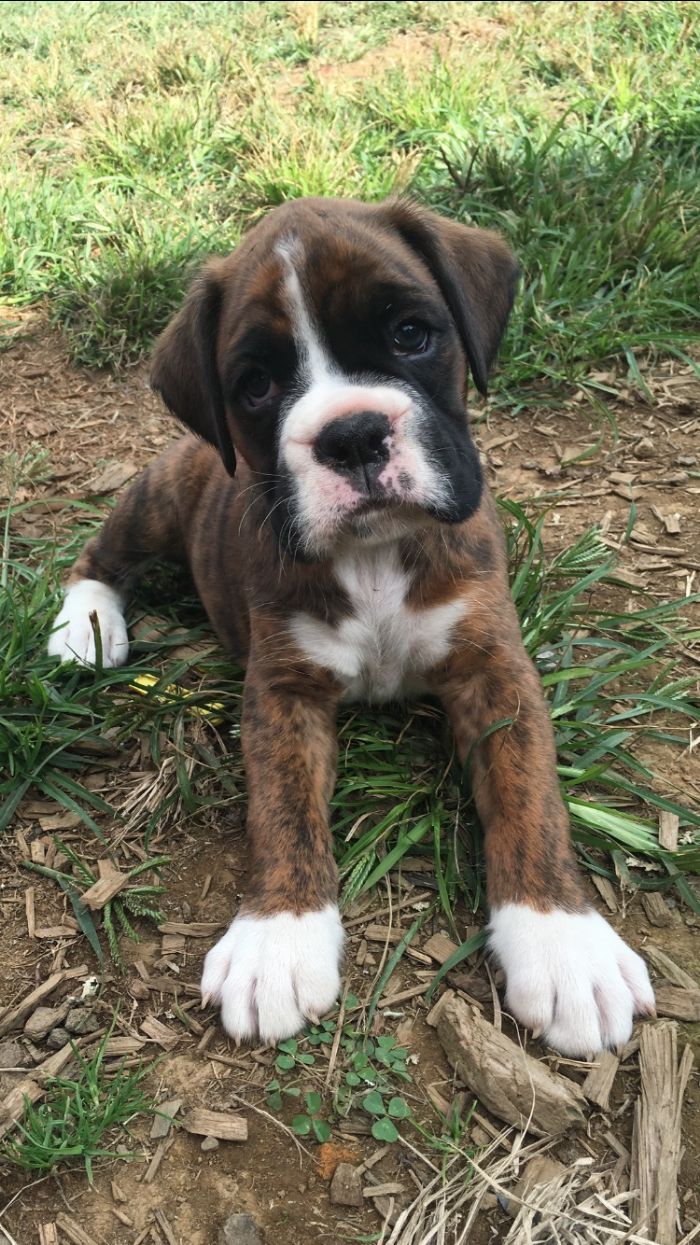 6 wks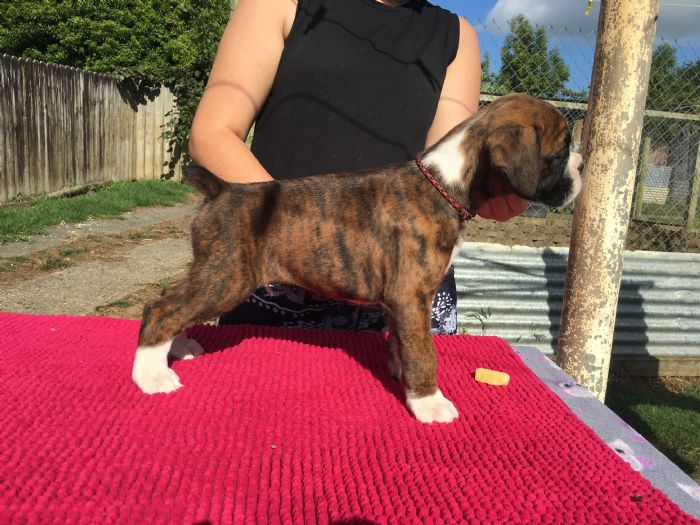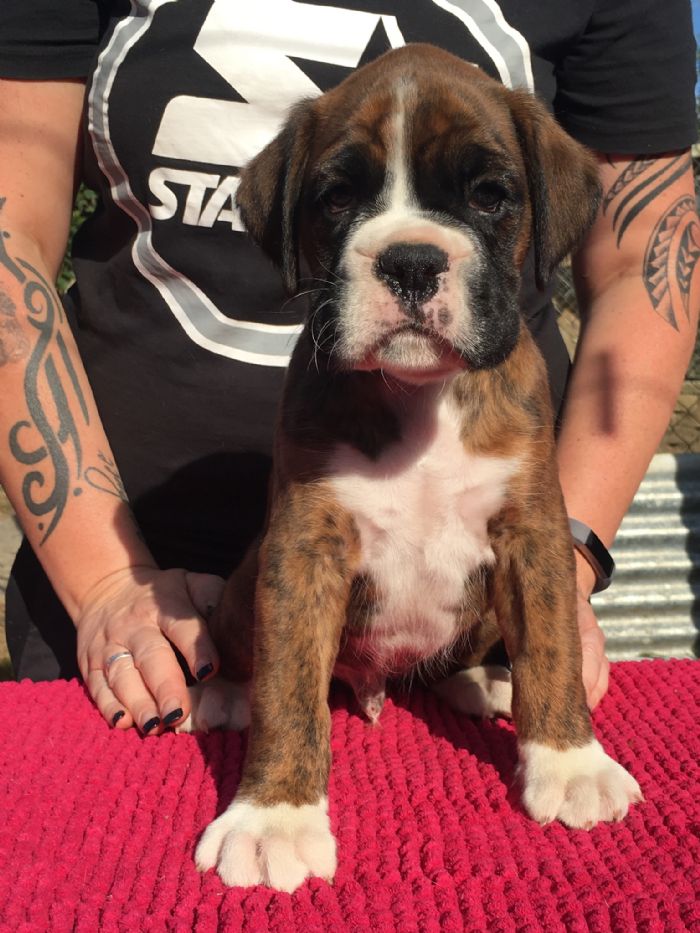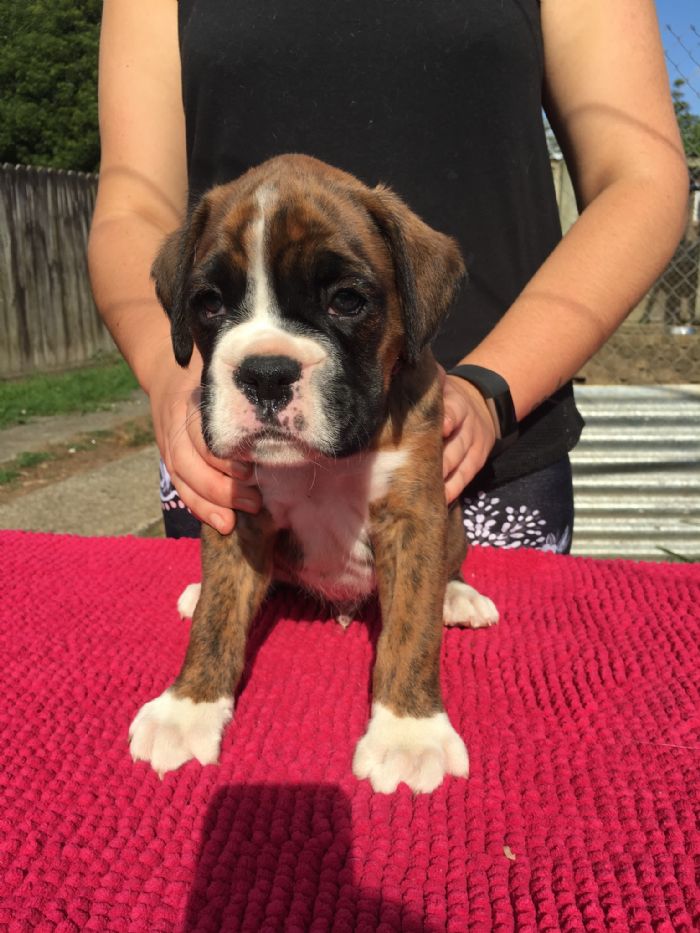 8 wks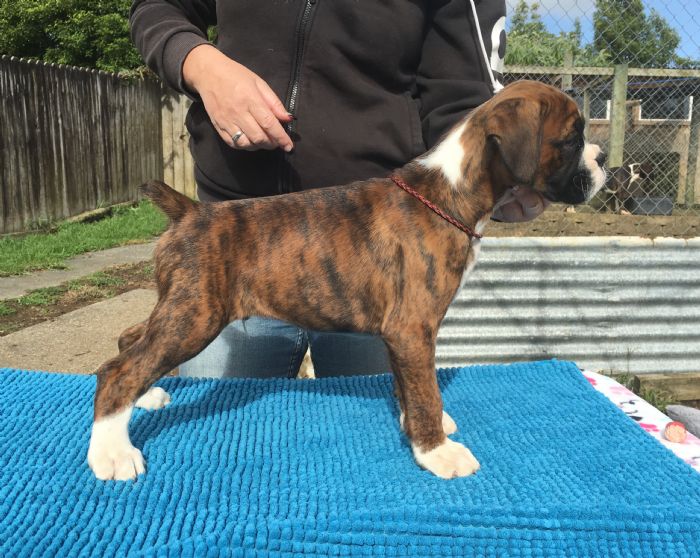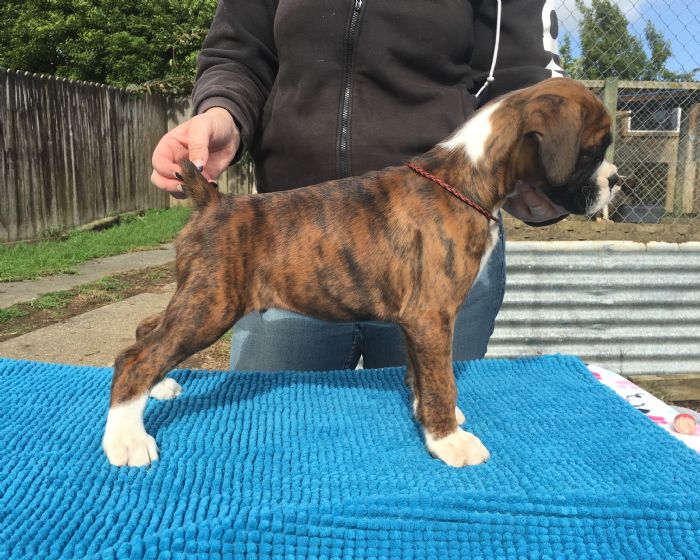 ​13 wks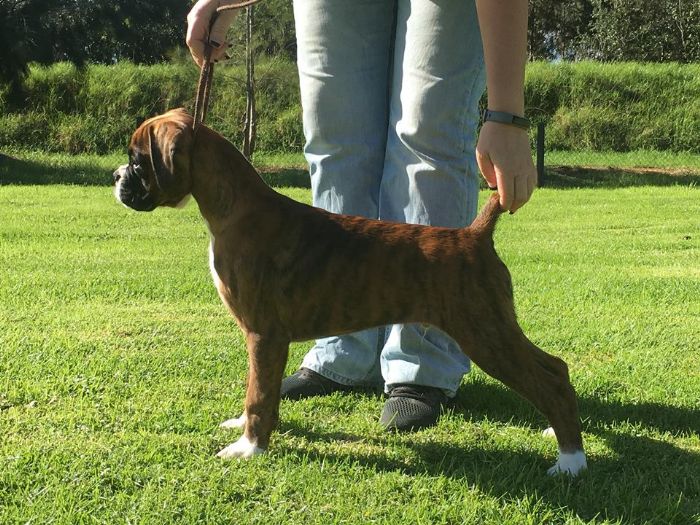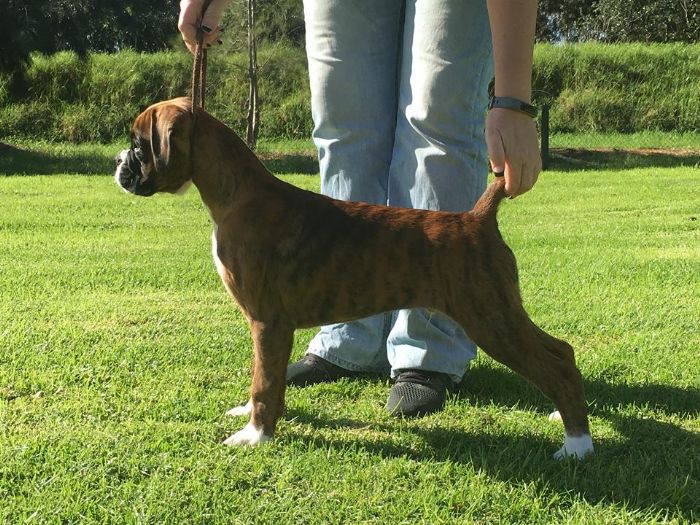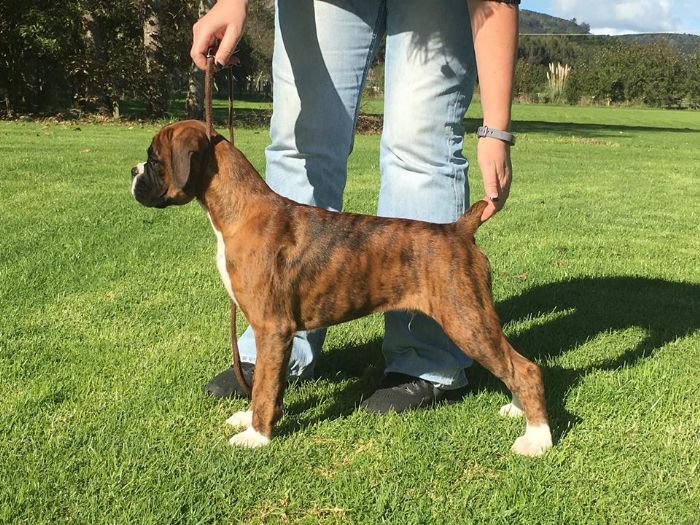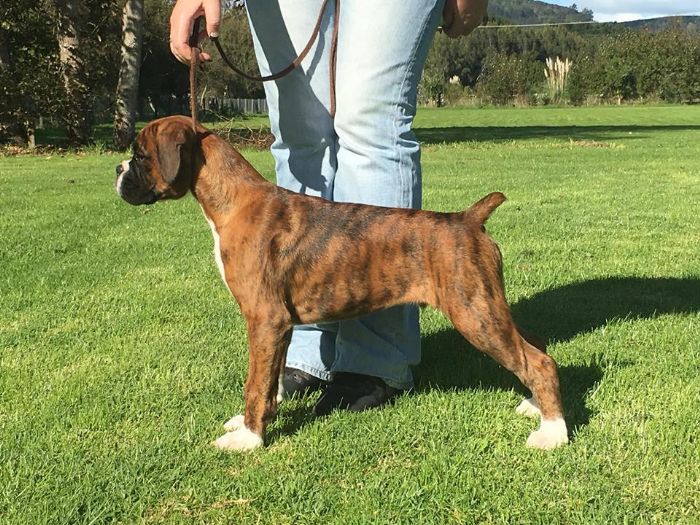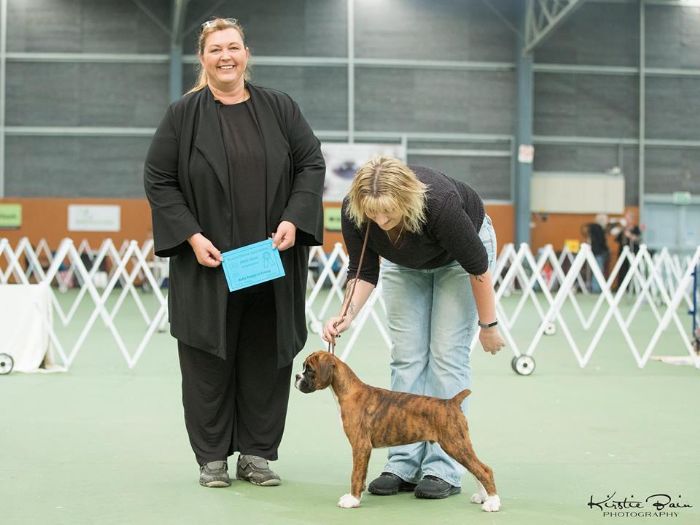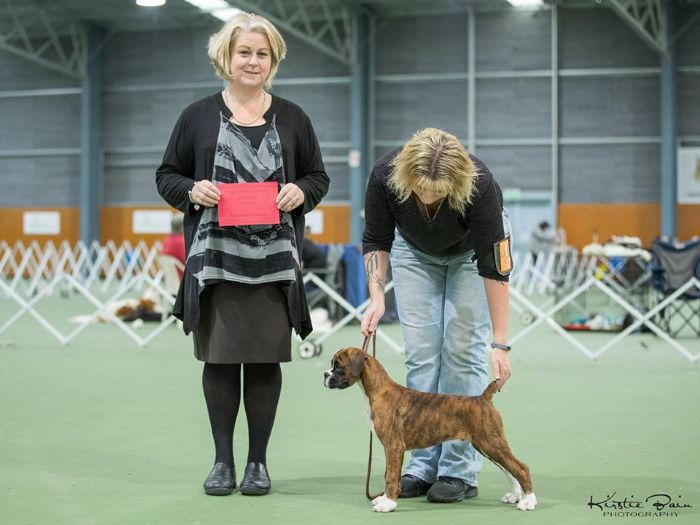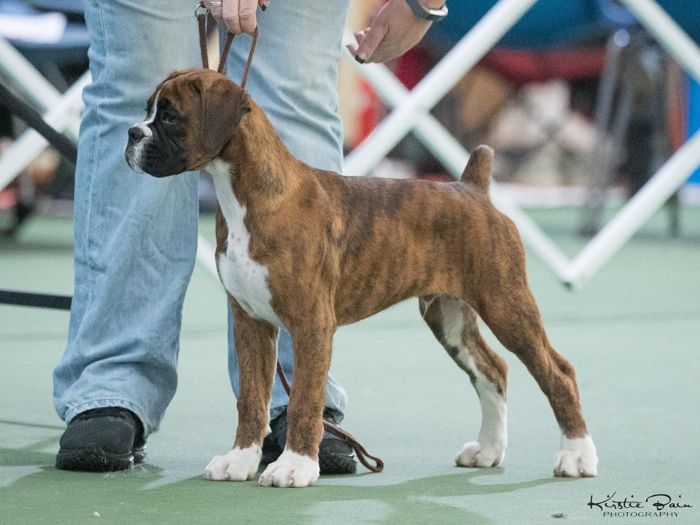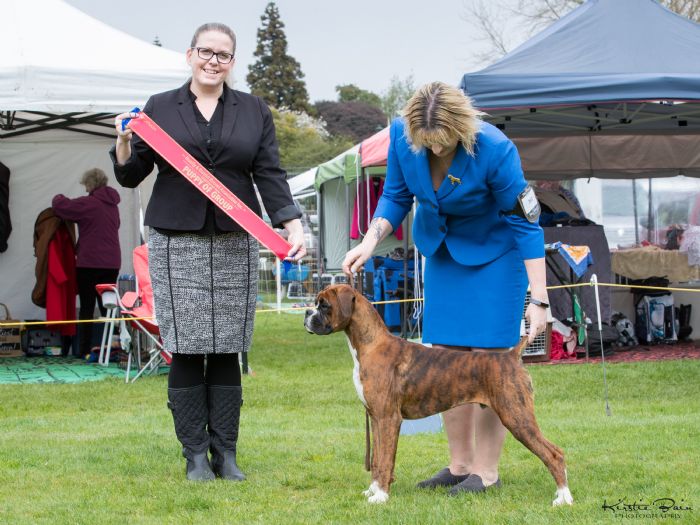 01/09/18: Slam 6mths going PUPPY OF GROUP under Ms Jessica Buckley (ACT)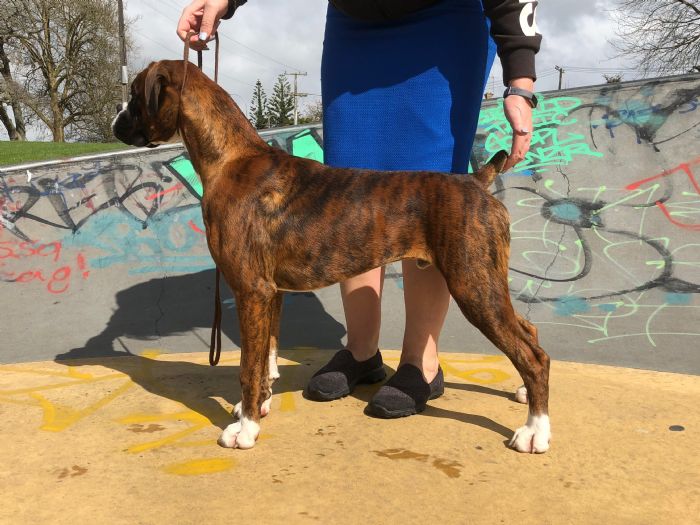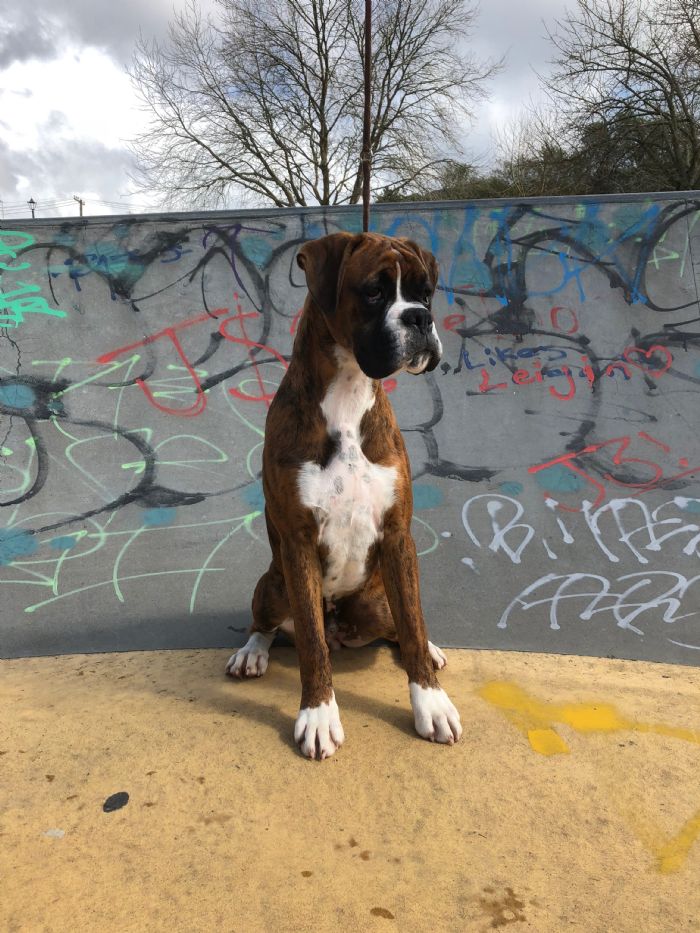 Slam 6mths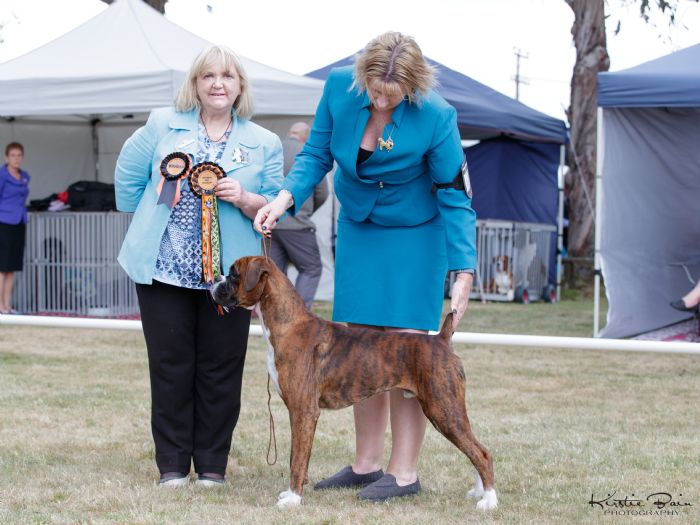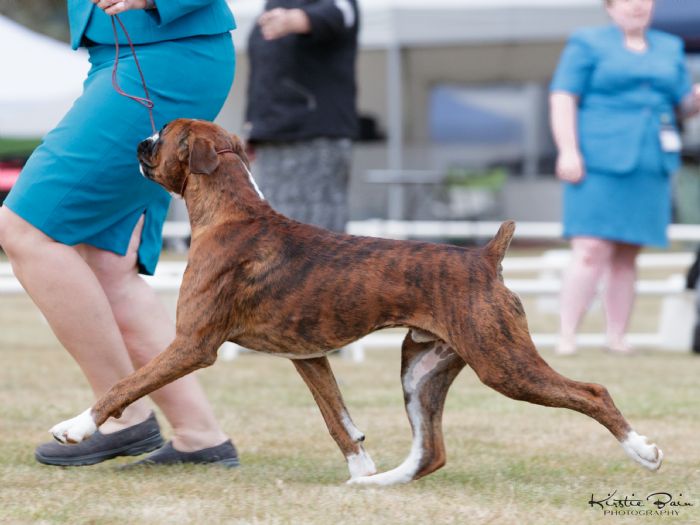 Taupo KA - Oct 18 PUPPY OF GROUP under Mrs J Mackenzie (Sth Africa)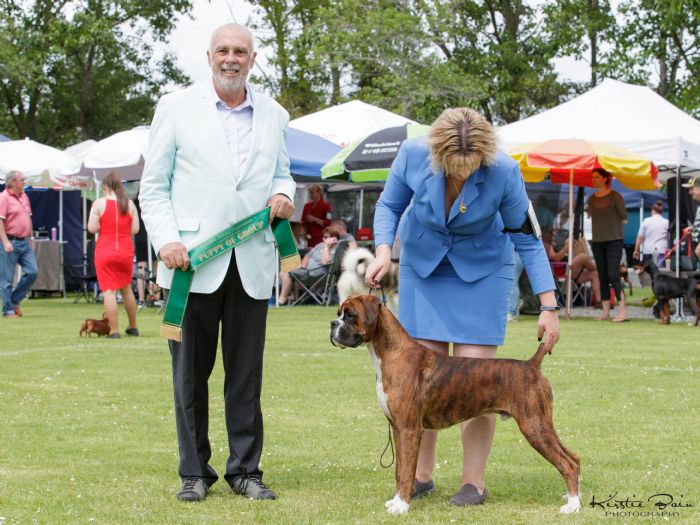 Franklin KC - Nov 18 PUPPY OF GROUP under Mr K Lovell (Aust)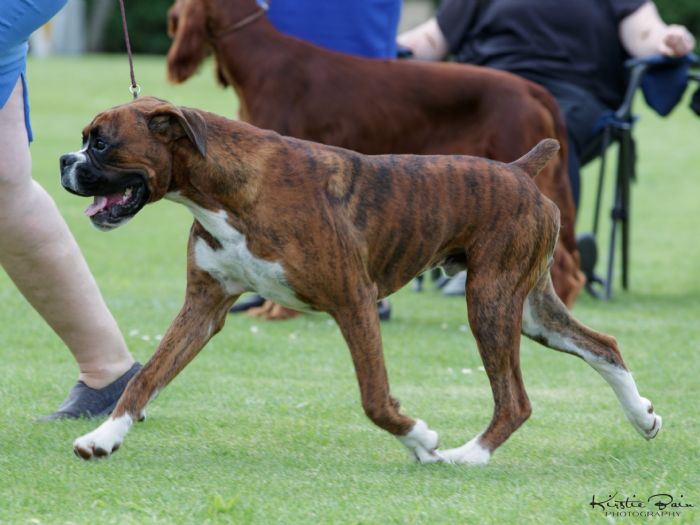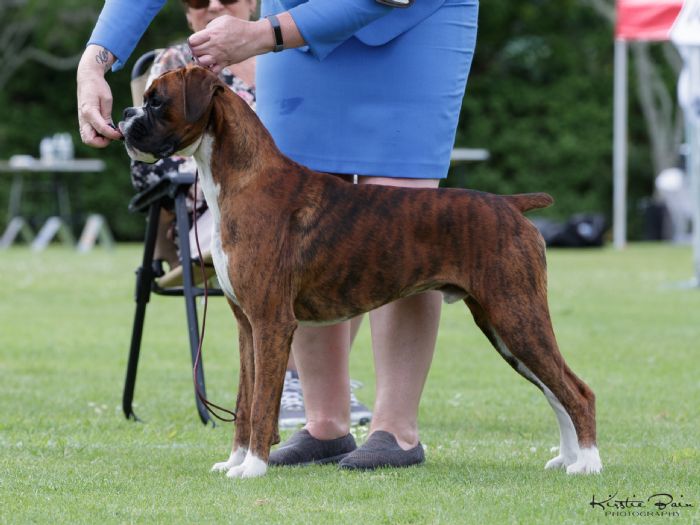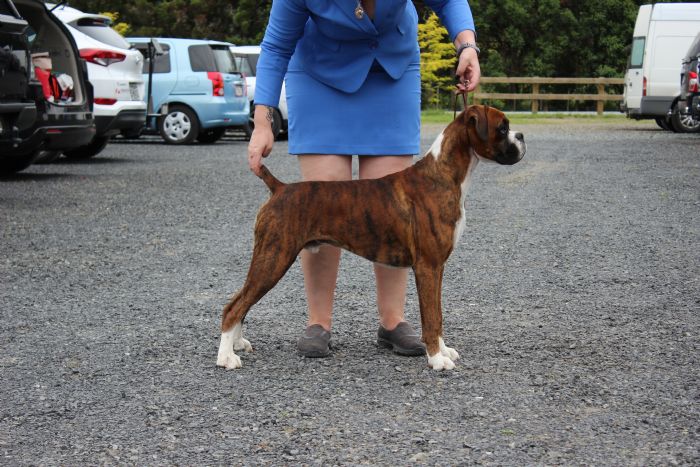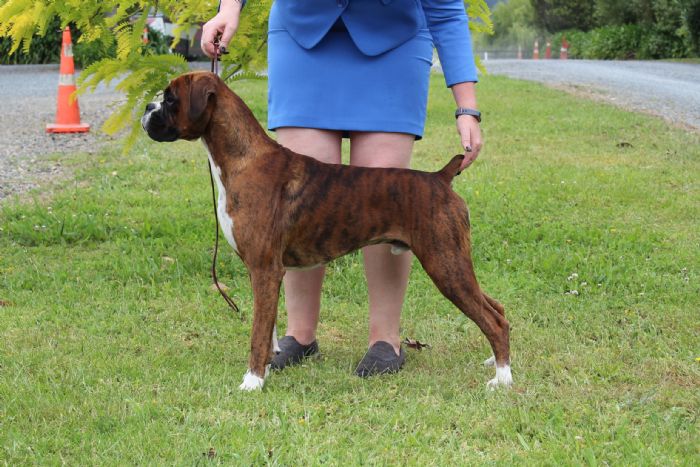 Slam 9mths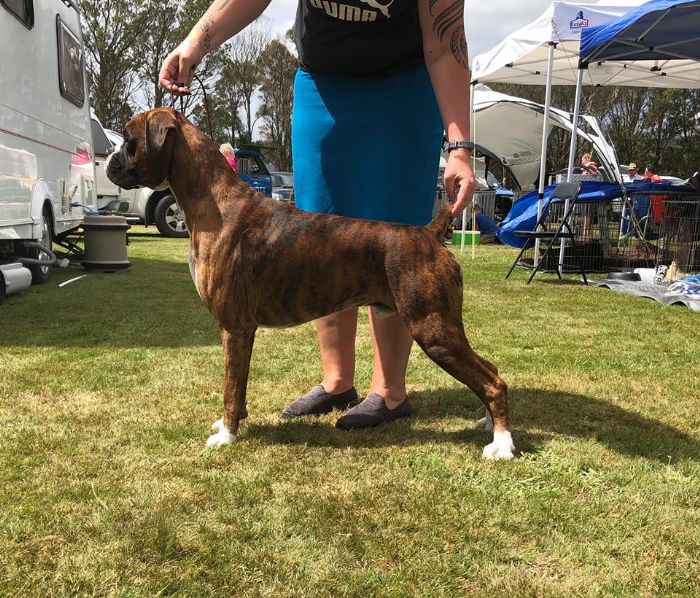 Slam 11mths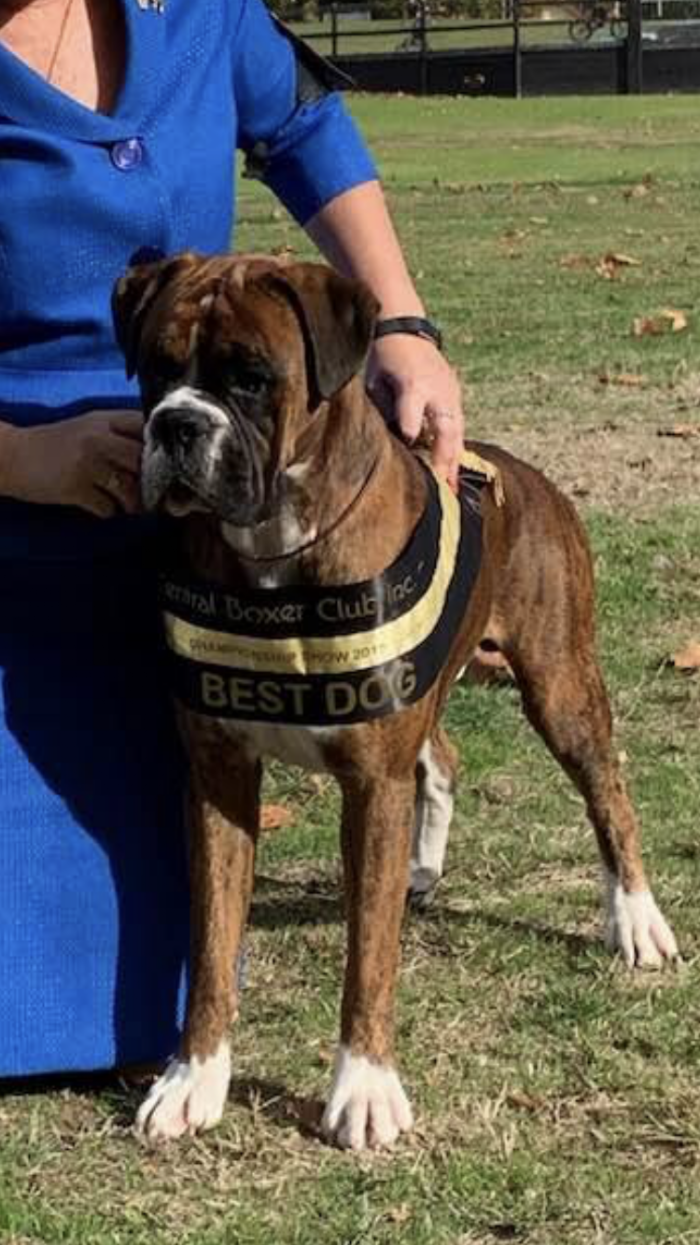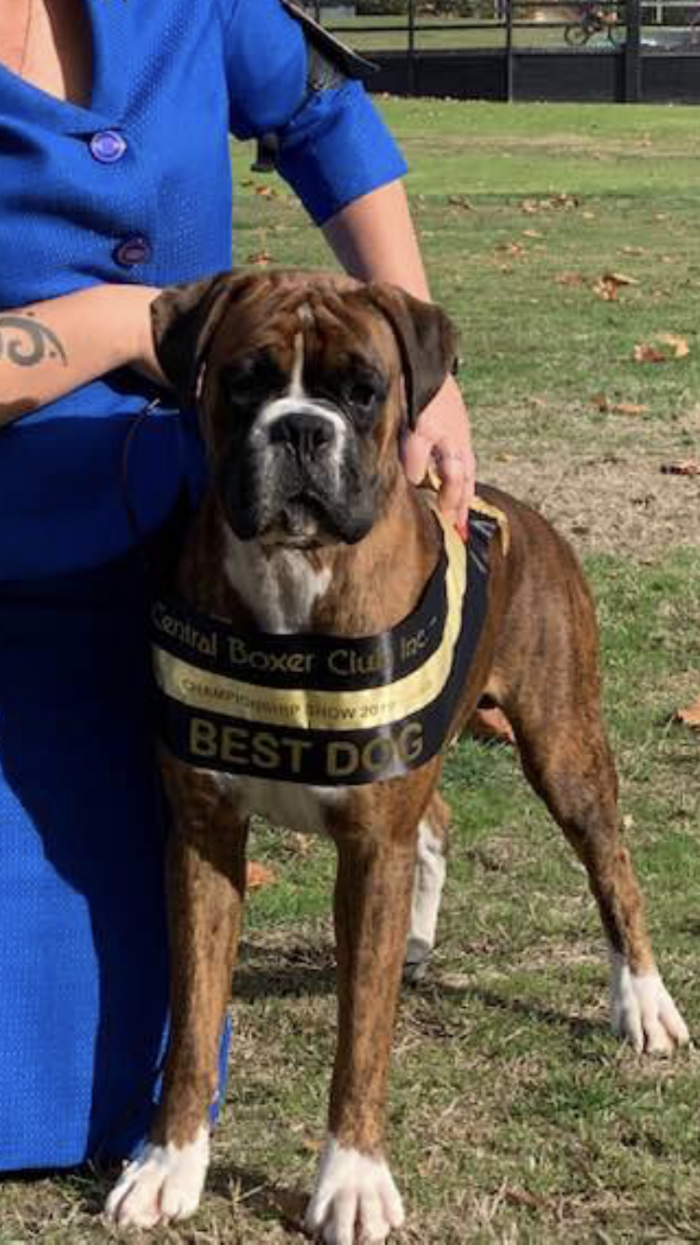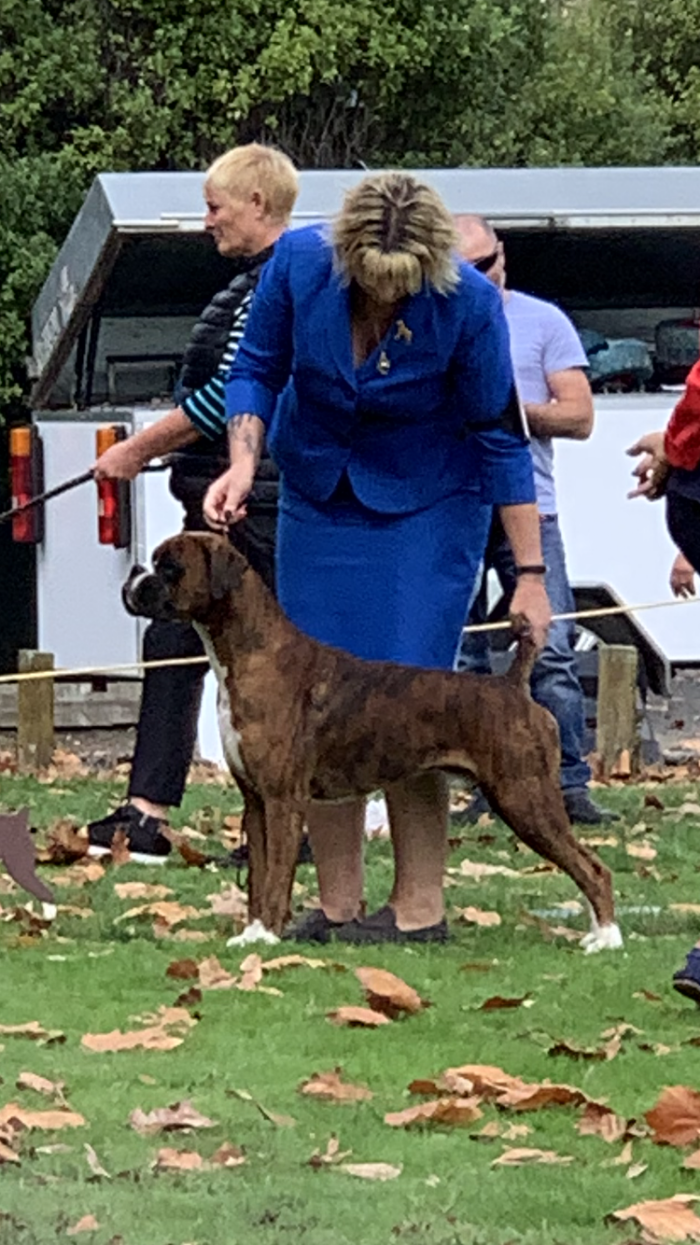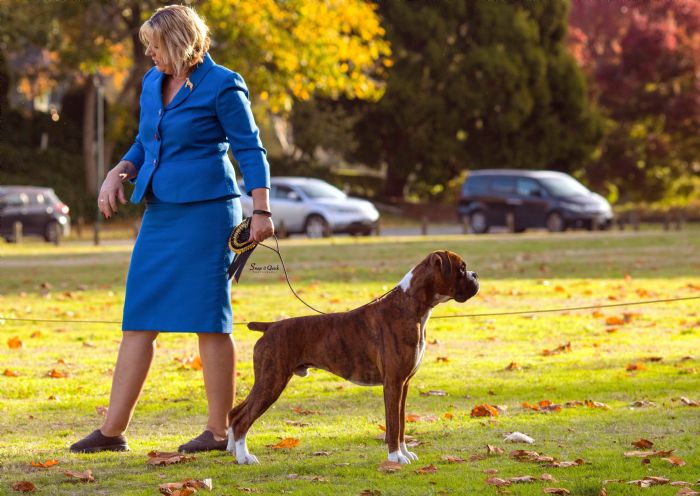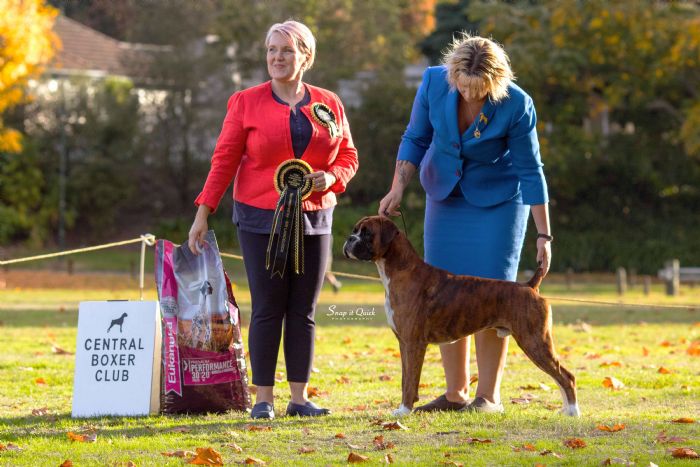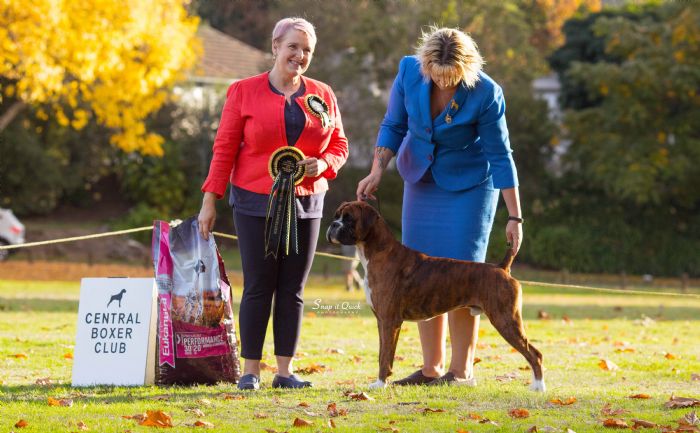 2019 RESERVE BEST IN SHOW - JUDGE DAWN THOMAS (IRELAND)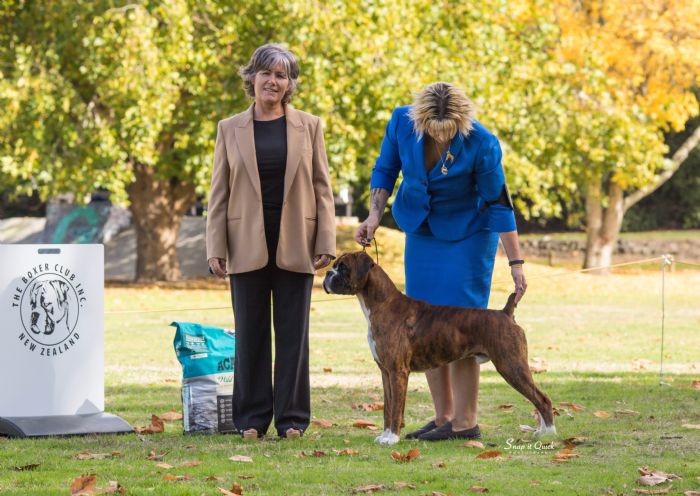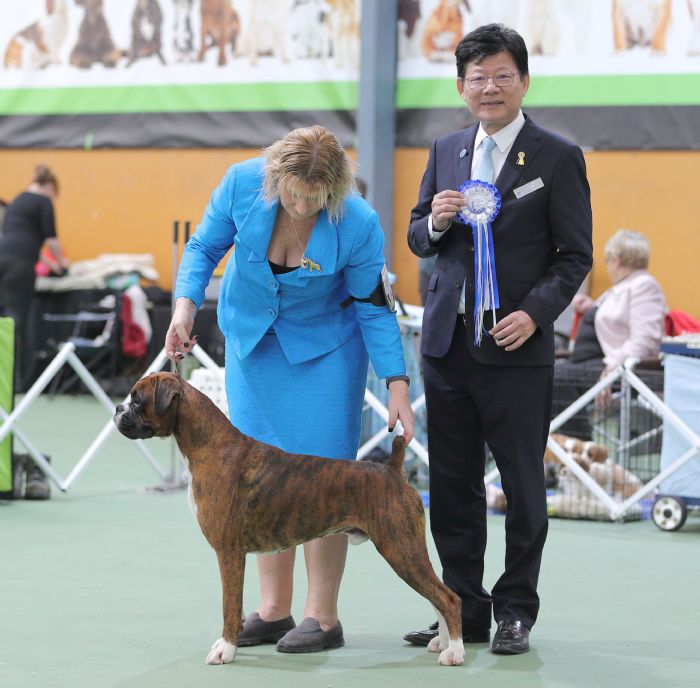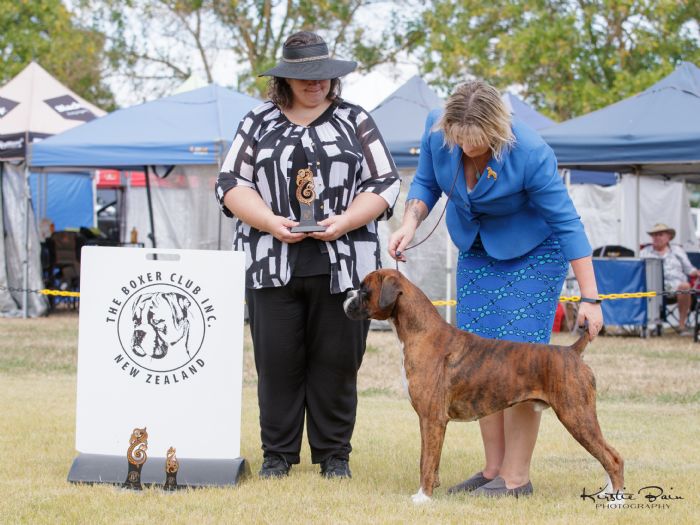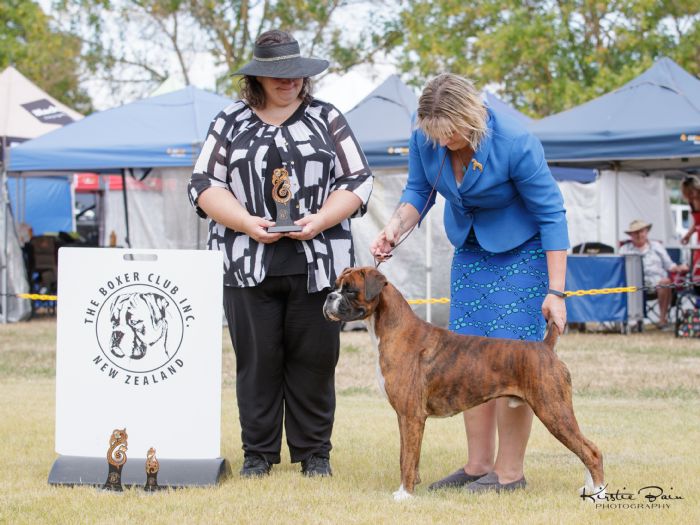 2020 BEST IN SHOW - Judge: Helene Owen (Ronin Boxers NZ)


Critiques:
09 March 2020 - The Boxer Club inc, Judge Helene Owen (Ronin Boxers NZ)
NZ Bred Dog (2)
1. CH KADENCE SLAM IT (DOG CC, Best in Show, Best NZB in Show, Best Mover)
A quality male with a smart, clean outline.
Square with good length of foreleg and excellent bone. Good shoulders, could have more rear angulation
but he makes excellent use of his rear on the move and when standing showing himself off.
Beautiful arched neck into strong topline. He has the strong body with long rib cage and short loin that I was
looking for. Strong sqaure muzzle giving balance to his typical head.
Wide straight mouth. Excellent mover, perfectly clean coming and going, and purposeful and strong in profile.
27 April 2019 - Central Boxer Club, Judge: Dawn Thomas (Ireland)
NZ Bred Dog (3)
1. Kadence Slam It, Clean head with well padded balance muzzle, dark
expressive eye, good mouth, nothing exaggerated about this dog, enough
lay back of shoulder, good spring of rib, short coupled, correct tail set well
muscled quarters. Good amount of bone, tight cat feet, moved with
purpose both up and down and on the around. BD, RBIS.
27 April 2019 - The Boxer Club Inc, Judge: Mrs Sandra Parle (UK)
New Zealand Bred Dog (3)
1st: Downie's - Kadence Slam It
16 month golden b&w. A lot to like about this dog. Balanced head with appealing expression, correct
eye shape, correct lip placement and good mouth. Flowing outline, good front assembly. Well muscled
quarters. Moved well and in good hard condition. - Best NZ Bred in Show
19 April 2019 -
South Island Boxer Club 65th: Judge Mrs Linda Naslund (Finland)
Limit Dog (2)
2. Downie's KADENCE SLAM IT (AI):
B/W Another attractive young dog, stylish with excellent top and underline. Prefer head & expression on no. 1. Good proportions muzzle to scull, dark eye, big nostrils but would like a little less wrinkles and more chin.
lovely arched neck, nice forechest, very good brisket and ribcage, a bit straight in upper arm, straight legs. Well handled & in perfect condition.
Show Results:
1x Best of Specialty Show
1x Reserve Best of Specialty Show
3x Best NZ Bred in Specialty Show
1x Reserve Best of Group
6x Best of Breed
3x Reserve Best of Breed
3x Puppy Of Group
2x NZ Bred of Group
​Slam's Pedigree
AM GCH HO-PA'S GRAND SLAM (USA)
AM GR CH CARILLON'S M V P
AM CH CAPRI'S WOODS END SPELLCASTER
AM CH WOODS END CROWN SABLE
AM CH RUMMER RUN'S CAPRI
AM CH CARILLON ELLIE'S GRAND FINALE
AM CH DONRAY'S BUTCH CASSIDY THE KID
AM CH CARILLON ELEGANCE RUMMERRUN
AM CH HO-PA'S PENNY FOR YOUR THOUGHTS
AM CH PORT O CALLS FIRST MATE
AM CH SAMPSON CAY
KARIZMA SEASIDE COOBERPEDY
PORTOCALLS BLACK DIAMOND
AM CH RUMMER RUN'S HIGH NOON
CJ'S FINAL ANSWER
CH KADENCE ROCK YOUR SOCKS OFF (AI)
ENG CH LICHDEL UNCLE SILAS TO WINUWUK (JW) (UK)
CH WINUWUK LUST IN THE DUST
CH IR CH BLUEPRINT BEERN SKITTLES AT WALKON (IMP)
CH ROAMARO SCOTCH MIST OF WINUWUK
LICHDEL SAPPHIRE
LAYWIND TUMBLING DICE OUT OF LICHDEL
LICHDEL SOLITAIRE
SPR CH&SPL GR CH&AUST SUP CH KADENCE LUV AT FIRST SIGHT
GR CH WINUWUK BRIEF ENCOUNTER (IMP-UK)
ENG CH WINUWUK LUST AT FIRST SIGHT
FAERDORN CHICK FLICK AT WINUWUK
CH NATURA HOW YOU DOIN AT KADENCE
EISCHIED COLLABORATION
VIVYD SUMMERTIME (IMP-UK)
Contact Details
Aynsley Downie
Pukekohe, Auckland, NEW ZEALAND
Phone : 021 831007
Overseas Ph : +6421 831007
Email : [email protected]