Scotty
BISS KADENCE LUV N LEAVE EM (AI)
SCOTTY
DOB 11 July 2014
1 DCC 3 RCC
​BREAKING NEW: 04th October 2017, SCOTTY WINS BEST IN SPECIALTY SHOW - THE CENTRAL BOXER CLUB under Mr Luis Pinto Teixeira (Portugal) - 40 Boxers entered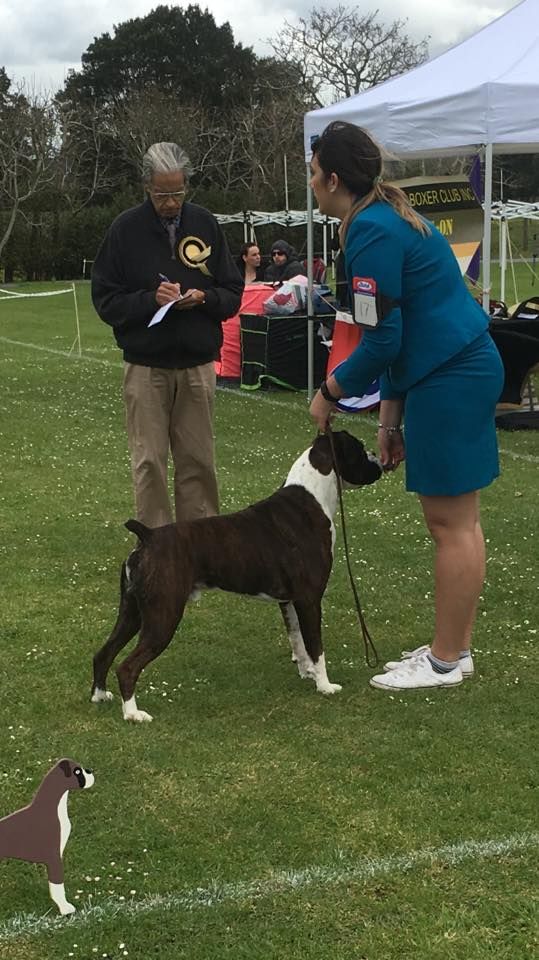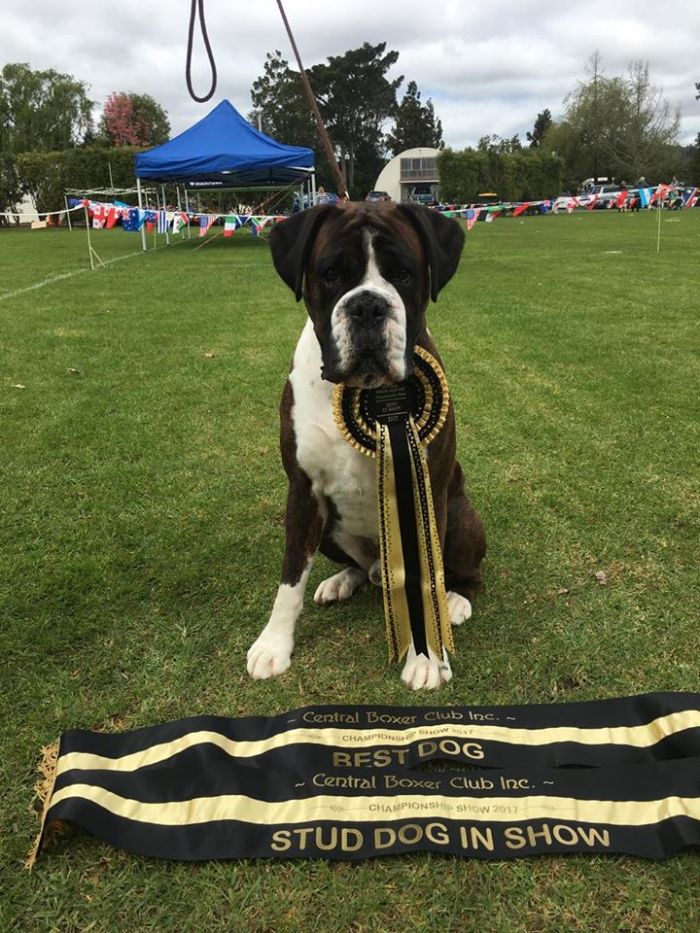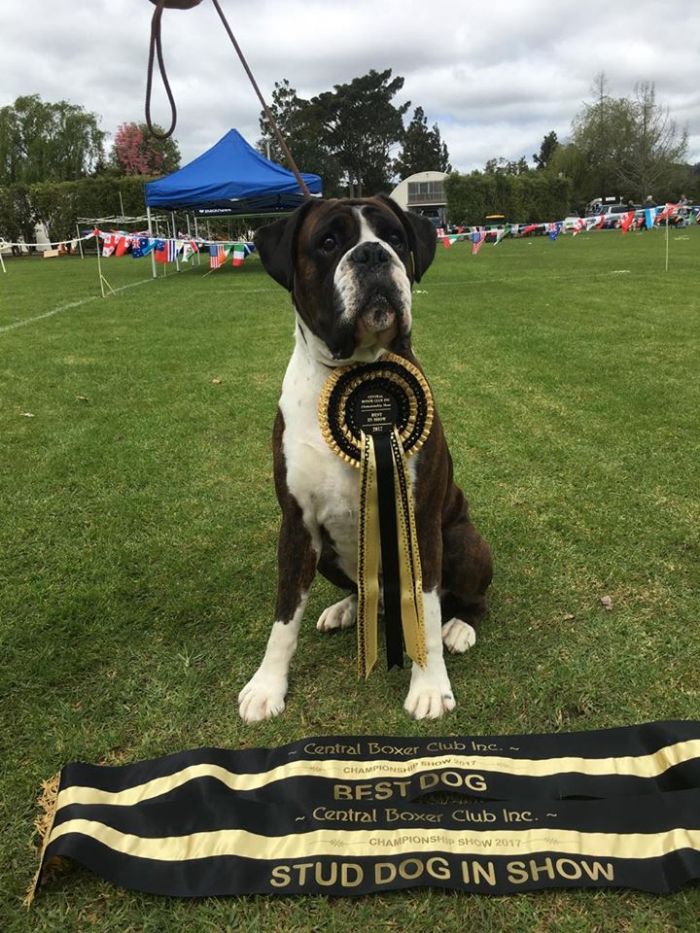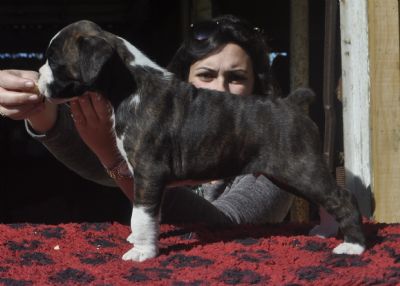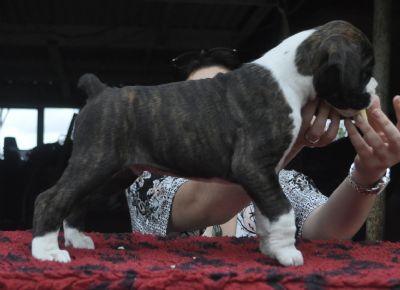 6 weeks 7 weeks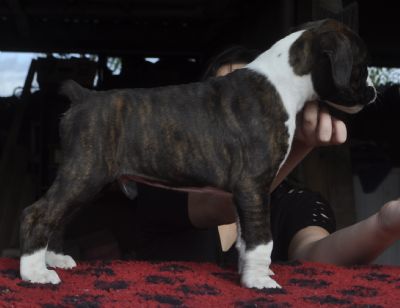 8 weeks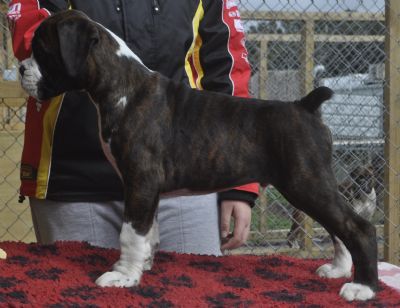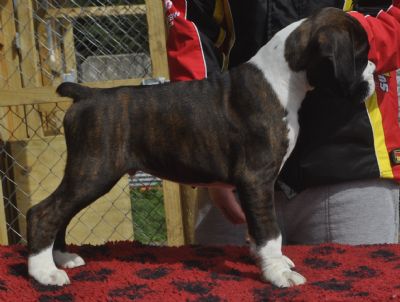 9 weeks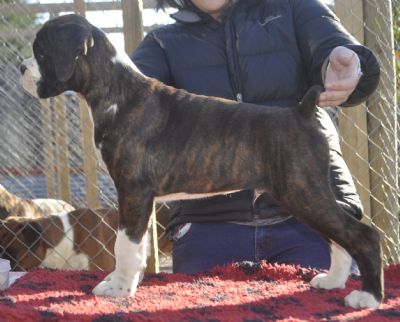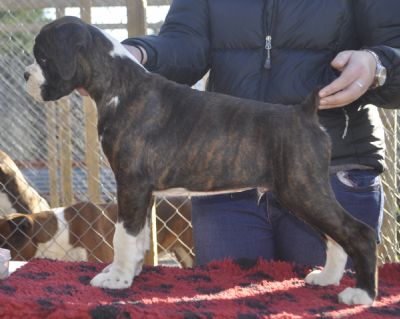 10 weeks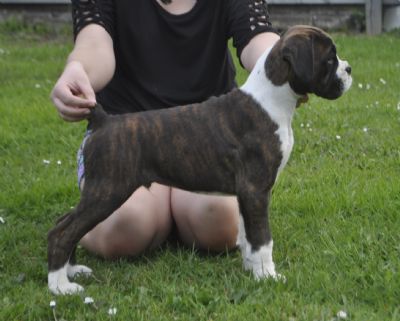 11weeks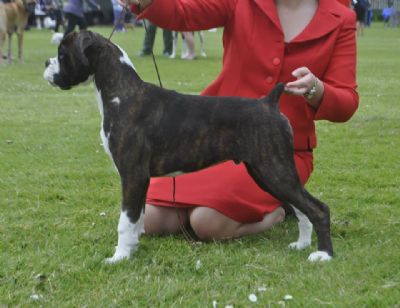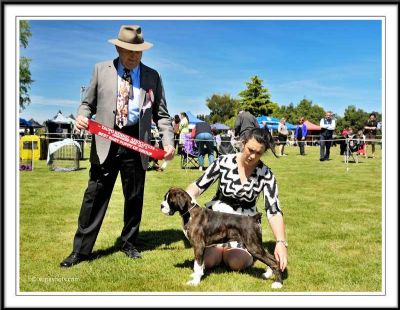 4 months Baby Puppy of Group 01/11/14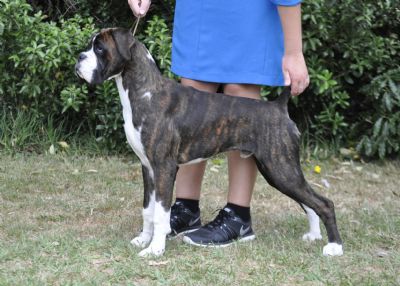 6 months

9 months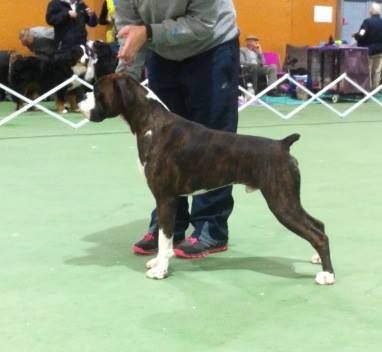 11 months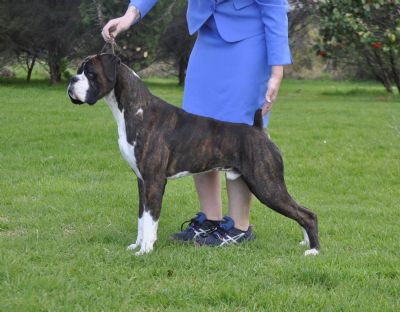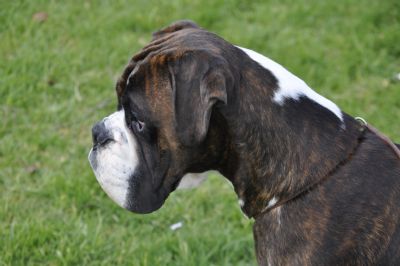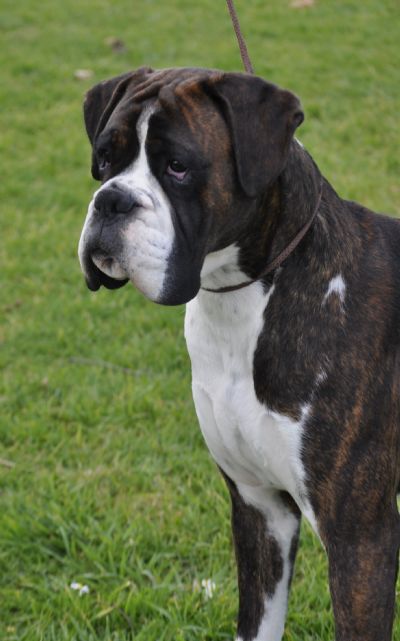 13 months

OCT 2015 saw Scotty winning a lovely Limit Dog Class under Mr Tim Hutchings - Winuwuk Boxers UK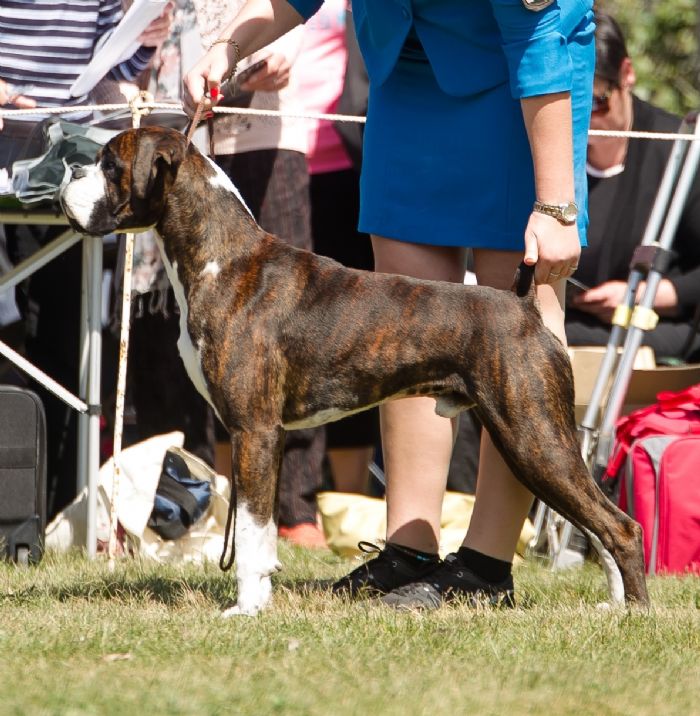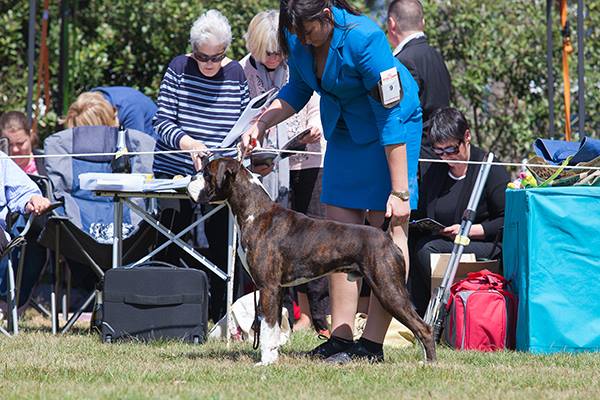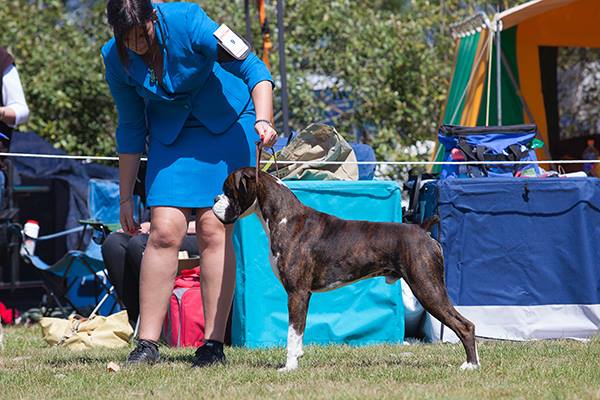 ​2016 saw Scotty brought back out for the first time at the Central Boxer Show under Mrs Brenda Hare - Jimbren Boxers UK to win a lovely JUNIOR IN SHOW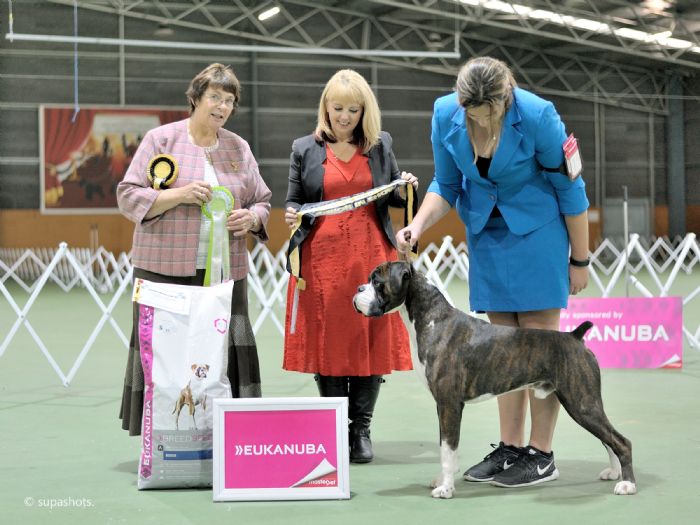 Show wins
01/11/14 Taupo Kennel Club Best Baby Of Group - Mr Ted Pickering NSW
05/04/15 Auckland Kennel Club RDCC - Mr B Harris (NZ)
26/06/15 Hauraki Kennel Club #1 RDCC - Mr Chris Woodrow (Qsld)​
24/10/15 Waimakariri Dog Show RDCC - Ms Kerry King (Sth Aust)​
​26/06/16 Central Boxers Club Inc Junior In Show - Mrs Brenda Hare - Jimbren Boxers UK
​04/10/17 Central Boxers Club Inc Best in Show - Mr Luis Pinto Teixeira (Portugal)
CRITIQUES
SHOW: South Island Boxer Club 24th Oct 2015
​JUDGE: Mr Tim Hutchings (UK) Winuwuk Boxers
1st Downie's Kadence Luv n Leave Em high quality male who, being of the slower maturing type, will be even better in a year's time when he has dropped back into himself a little more. Showed extremely well and really made the most of himself on the go-around reaching well out in front and driving off behind. Very good topline and tailset. Correct reach of neck. Very true in front with high quality bone. Good balance of head, lean in skull and with a well developed muzzle in all directions. Would benefit from a bit less flew.
SHOW: Central Boxer Club 26th June 2016
​JUDGE: Mrs Brenda Grove (UK) Jimbren Boxers
Junior Dog Class (3)
1st Downie's Kadence Luv N Leave Em
​Lovely outline with acceptable head shape, correct shape and colour eye. Good mouth, strong neck flowing into correct shoulder lay and level top line, good hind quarters, moved well. - BEST JUNIOR IN SHOW

SHOW: Central Boxer Club 4th October 2017
​JUDGE: Mr Luis Pinto Teixeira - Portugal
​First - Kadence Luv N Leave Em - Best Dog and BIS
​Nice dog with a correct type. Lovely head. Good square body. Good bone. Good dark eyes. Correct front. Deep chest. Good angulation in the hindquarters. Moves well.
SCOTTY'S PEDIGREE
ENG CH LICHDEL UNCLE SILAS TO WINUWUK

ENG / IR CH Winuwuk Lust In The Dust

ENG CH Blueprint Beern Skittles At Walkon

Jenroy Pop Back To Walkon

AUST GR CH Walkon Skittles

ENG CH Roamaro Scotch Mist Of Winuwuk

ENG CH Wrencliff Flying Scotchman Of Winuwuk

Jenroy Popsicle For Belmont

Lichdel Sapphire

Laywind Tumbling Dice Out Of Lichdel

Lichdel Neapolitan

Belmont Lizawake Of Laywind

Lichdel Solitaire

Lichdel Gambling Man

Lichdel Kazuri Belle

NZ SUPREME/ NZ SPECIALIST GRAND CH/ AUST SUPREME CH KADENCE LUV AT FIRST SIGHT

NZ GR CH Winuwuk Brief Encounter (IMP UK)

ENG CH Winuwuk Lust At First Sight

ENG CH Winuwuk Lust In The Dust

ENG CH Winuwuk Story Book

Faerdorn Chick Flick At Winuwuk

ENG CH Winuwuk Lust In The Dust

Faerdorn After The Show

NZ CH Natura How You Doin at Kadence

Eishied Collaboration

NZ/AUST GR CH Valeska Lock Up Ya Daughters

NZ CH Eischied Justice Seeker

Vivyd Summertime (Imp UK)

ENG CH Vivyd Stars'N' Stripes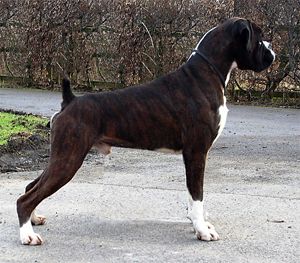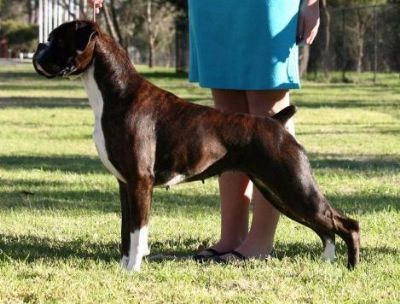 Contact Details
Aynsley Downie
Pukekohe, Auckland, NEW ZEALAND
Phone : 021 831007
Overseas Ph : +6421 831007
Email : [email protected]