Joey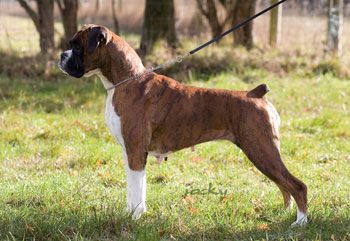 BISS NZ CH
NATURA
HOW YOU
DOIN AT KADENCE
DOB -20/12/2004
20 CC - 22 RCC
Kadence Boxers Foundation Bitch
25
April 2009 -
BEST IN SHOW
at
Central Boxer Club Speciality Show
Judge: Mr Serge Tassan - Phoenway Boxers (Qsld)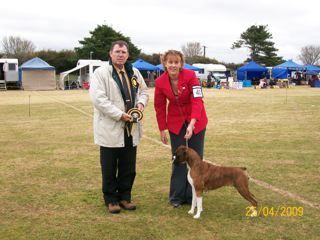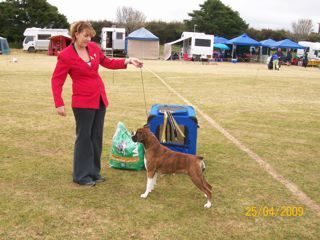 Joey is just the most outstanding red brindle & white bitch with a lovely headpiece and has substance
& elegance and movement to die for.
A huge thanks to
Shona Harrison (Natura Boxers)
for entrusting me with such a beautifully breed bitch,
I hope we make you proud...
Joey now has out of her 2 litters- 6 being shown,
4 New Zealand Champions & 1 NZ SUPREME Champion.
3 Australian Champion & 2 Australian SUPREME Champion (1st ever duel NZ/AUST Supreme CH in NZ History)
She is also a Dam of 2 BIS winners (Jordi & Kaos) & RBIS winner (Dakota)
And is also a Grand Dam to 1 Australian Champion
JOEY is now a DOM - Dam of Merit
Multi BIS RBIS BISS NZ SUPREME CH & AUST SUPREME CH

Kadence Luv At First Sight - Multi BIS RBIS BISS winner

NZ CH Kadence Viva La Bam

RBIS RBISS AUST SUPREME CH Kadence Elusive Encounter (EXP NZ - IMP

AUST) - RBIS winner
Joey's 2nd litter see 3 more of her progeny hitting the ring
NZ CH Kadence Nitro Wild (AI)

NZ CH Kadence Wild At Heart (AI)

BIS AUST CH Kadence Kausin Kaos (AI) (Exp NZ- Imp Aust) - BIS winner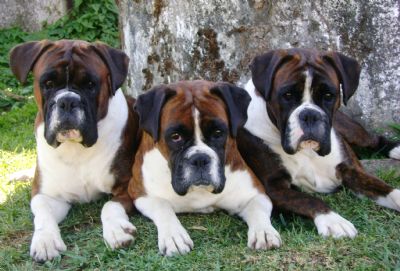 Joey with her 2 babies Bam & Jordi
Awarded the Bronze Merit Certificate - 20CC - November 2010
---
Health Tests Completed:
Joey has been Heart Tested
by a M.R.C.V.Sc, Cert. VC (Cardiology) Dip. VCS (Dist) Certified Cardiac Examiner
and was certified
CLEAR of any Heart Mumurs & Arrhythmia by Auscultation & Echocardiogram
- 12th November 2007
& 31st July 2009
Joey is HEART TESTED CLEAR
HT/0
Joey is 5th Generation
CLEARED
Hip & Elbow Scored
(NZVA) - 4th June 2009
---
Judges Critique ..........
Mr Jack Ireland (Pinepath Boxers - Canada)
Natura How You Doin' At Kadence -
Lovely attitude,
well balanced, nice head and eye showing good planes, well balanced, beautiful sidegaiting
Mr Paul Harding (UK)
b/w expressive dark eye well padded muzzle super outline and very well balanced well ribbed with
a strong short topline moved with purpose pushing one all the way
Mr Serge Tassan (Phoenway Boxers - Qsld Aust)
4 yrs old brindle bitch. Head of correct
proportions, well set dark eyes,
wide jaw, well placed teeth. Well pigmented, neck well arched,
strong boned without taking away the elegance.
Deep chest. Correct angulation, tight feet, short hock. Moved with reach and drive.
My challenge bitch and
Best In Show.
---
SOME OF JOEY'S RESULTS........
BEST IN SHOW
25 April 09 - The Central Boxer Champ Show - Mr Serge Tassan
- Phoenway Boxers (Qsld)
BEST NZ BRED IN SHOW
20
Sept 08 - The Boxer Club Champ Show - Mr Jack Ireland - Pinepath
Boxers (Canada)
25 April 09 - The Central Boxer Club Champ
Show - Mr Serge Tassan - Phoenway Boxers (Qsld)
BEST OF GROUP
12
Sept 2010 - Huntly & District Kennel Assn
- Mr M Martin (Canberra)
RESERVE BEST OF GROUP
30 August 08 - Rotorua Kennel Assn - Leah Ryan (NSW)
BEST INTERMEDIATE OF
GROUP
6 Oct 07 -
Bay Of Island Canine Ass
-
Mrs Daphne
Zipperer (Qld)
7
Oct 07 - Bay Of Island Canine
Ass - Ms Cathy
Camac
(
VIC
)

BEST NZ BRED OF GROUP
26 Jan 08 - Northland Canine Ass - Mr AJ Lim (Sth Aust)
20 April 08 - Kumeu Kennel Ass - David Tidswell (Sth Aust)
BEST OPEN OF GROUP
12 Sept 2010 - Huntly & District Kennel Assn - Mr M Martin (Canberra)
16 Oct 2010 - Bay of Island CA - Mr K Cronchey (Vic)
7 Nov 2010 - Taupo Kennel Assn - Mrs J Gotch (NSW)
---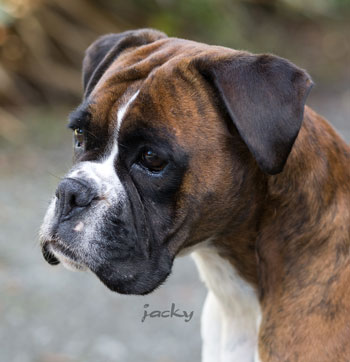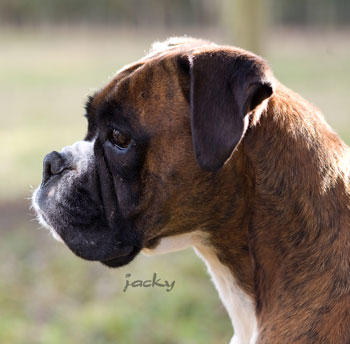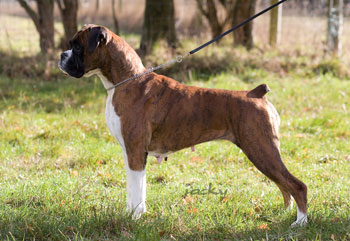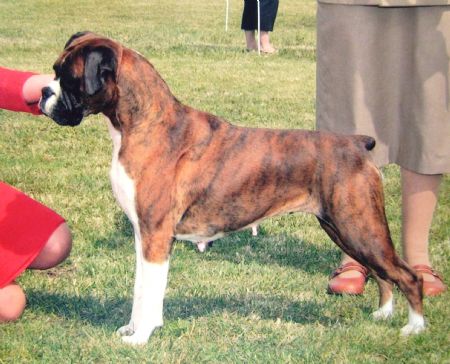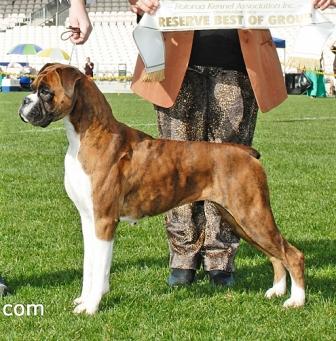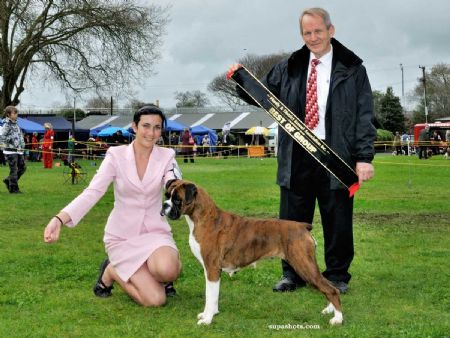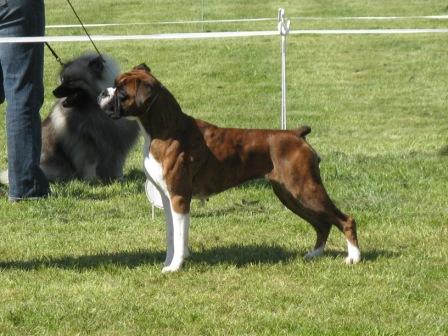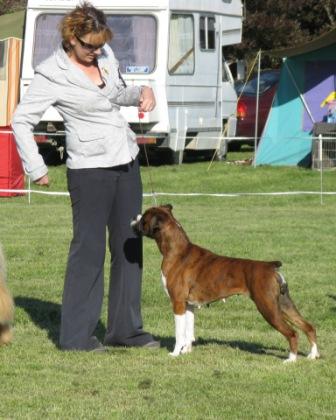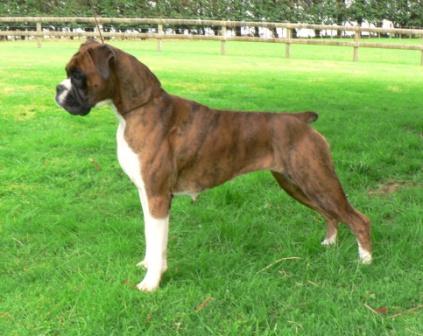 Joey's Pedigree
Eischied Collaboration

NZ/AUST GR CH Valeska Lock Up Ya Daughters

Lock StockN Barrel Of Burnden (imp uk)

Burnden Calling The Shots

Jade Dee Spark

Valeska Going Scot Free

NZ CH Ozstock Sumo Wrestler (imp Aust)

CH Valeska Going For Gold

CH Eischied Justice Seeker

CH Valeska Front Page Newz

NZ CH Cheers For Carinya (imp UK)

Valeska Going For It

CH Eischied Poetic Justice

Jenroy Glenbernie (imp UK)

CH Eishied Mirror Image

Vivyd Summertime (imp UK)

CH Vivyd Stars'N Stripes

ENG/IR CH Bucksteps Charlie Brown

CH Carinya Rye'N Dry

Buckstep EasyVirtue

Vivyd Hellucination

CH Skelder Singing Sleuth

Yelesom Dancing Daze

Vivyd Sun'N Shadow

Eng CH Ashgate Able Seaman Of Seefeld

CH Eight Bells Of Seefeld

Seefeld Coral Fan

Vivyd Hellucination

CH Skelder Singing Sleuth

Yelesom Dancing Daze
Contact Details
Aynsley Downie
Pukekohe, Auckland, NEW ZEALAND
Phone : 021 831007
Overseas Ph : +6421 831007
Email : [email protected]